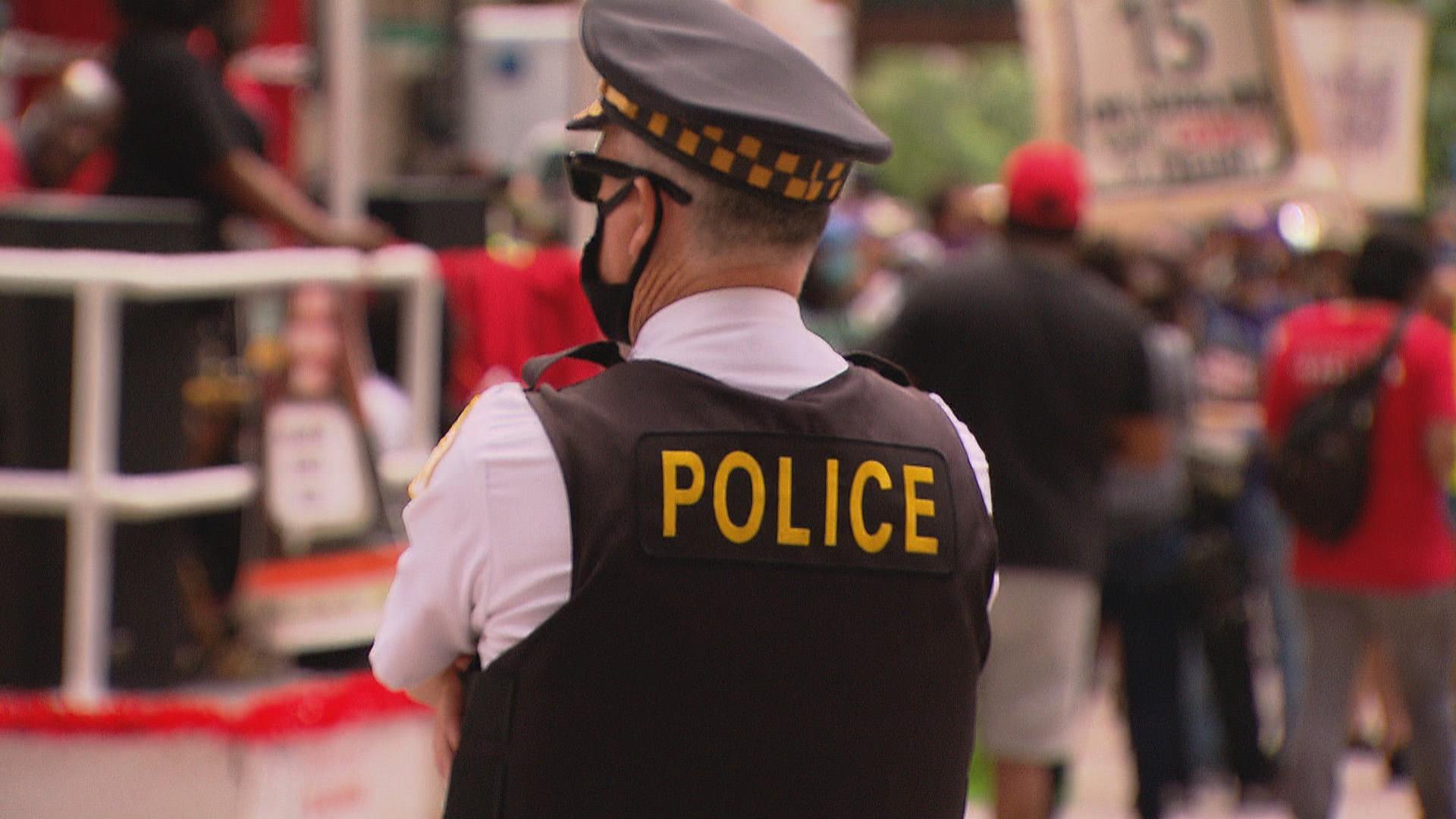 Demonstrators march in Chicago on Wednesday, June 24, 2020 to show their support for removing police officers from schools. (WTTW News)
Amid a continuing outcry over the decision to allow Chicago police officers to patrol schools, Chicago Public Schools officials announced Monday they would slash spending on the program at the center of the debate over defunding the police department by more than half.
The $18 million cut from the program's budget will be used "to support the district's investments in high-quality instruction," according to a statement from the district announcing the release of the district's budget for the 2020-21 school year.
"We've committed to reforming this program," CPS CEO Janice Jackson said.
CPS will spend no more than $15 million to pay Chicago police officers to patrol schools this year, and that amount will be reduced by the number of days the district is closed to in-person learning, Jackson said.
Schools have until Friday to approve or reject school resource officers, and the Board of Education is scheduled to approve a new agreement with the Chicago Police Department on Aug. 26.
Five schools — Back of the Yards College Prep, Roberto Clemente High School, Benito Juarez Community Academy, Northside College Prep and Hancock Academy — have voted to remove their officers from campus so far.
The school district's 2019-20 budget set aside $33 million for the School Resource Officer program last year, which assigned 144 officers to CPS schools as well as 48 mobile school officers and 22 staff sergeants, according to the Chicago Board of Education.
Last year's CPS budget will be revised to reflect a $15 million cut "to remove charges associated with days in which [School Resource Officers] did not work in schools," officials said.
The district will spend $75 million to respond to the coronavirus pandemic by purchasing devices to allow students to learn remotely. Mayor Lori Lightfoot and Jackson announced Aug. 5 that officials had scrapped efforts to start the school year with a hybrid model that would have had most students in class for two days a week.
The district handed out 128,000 devices after the pandemic forced schools to close in the spring, and will hand out an additional 36,000 devices, said CPS Chief Operating Officer Arnie Rivera. 
CPS received $205 million in federal relief funds to respond to the coronavirus pandemic and must share some of that funding with private and charter schools, according to the federal government.
CPS's $8.4 billion operating budget calls for $97 million to increase special education services, $18 million to expand full-day pre-kindergarten programs and $13 million to hire more nurses and social workers as called for by the district's contract with the Chicago Teachers Union.
In all, the district plans to spend an additional $125 million next school year, officials said.
The budget relies on an additional $350 million in federal relief funds that Congress has yet to approve. Negotiations between President Donald Trump and Democratic leaders ground to a halt on Friday with no agreement.
"I remain optimistic" that an agreement will be reached, Jackson said. "I'm very confident."
Contact Heather Cherone: @HeatherCherone | (773) 569-1863 | [email protected]
---