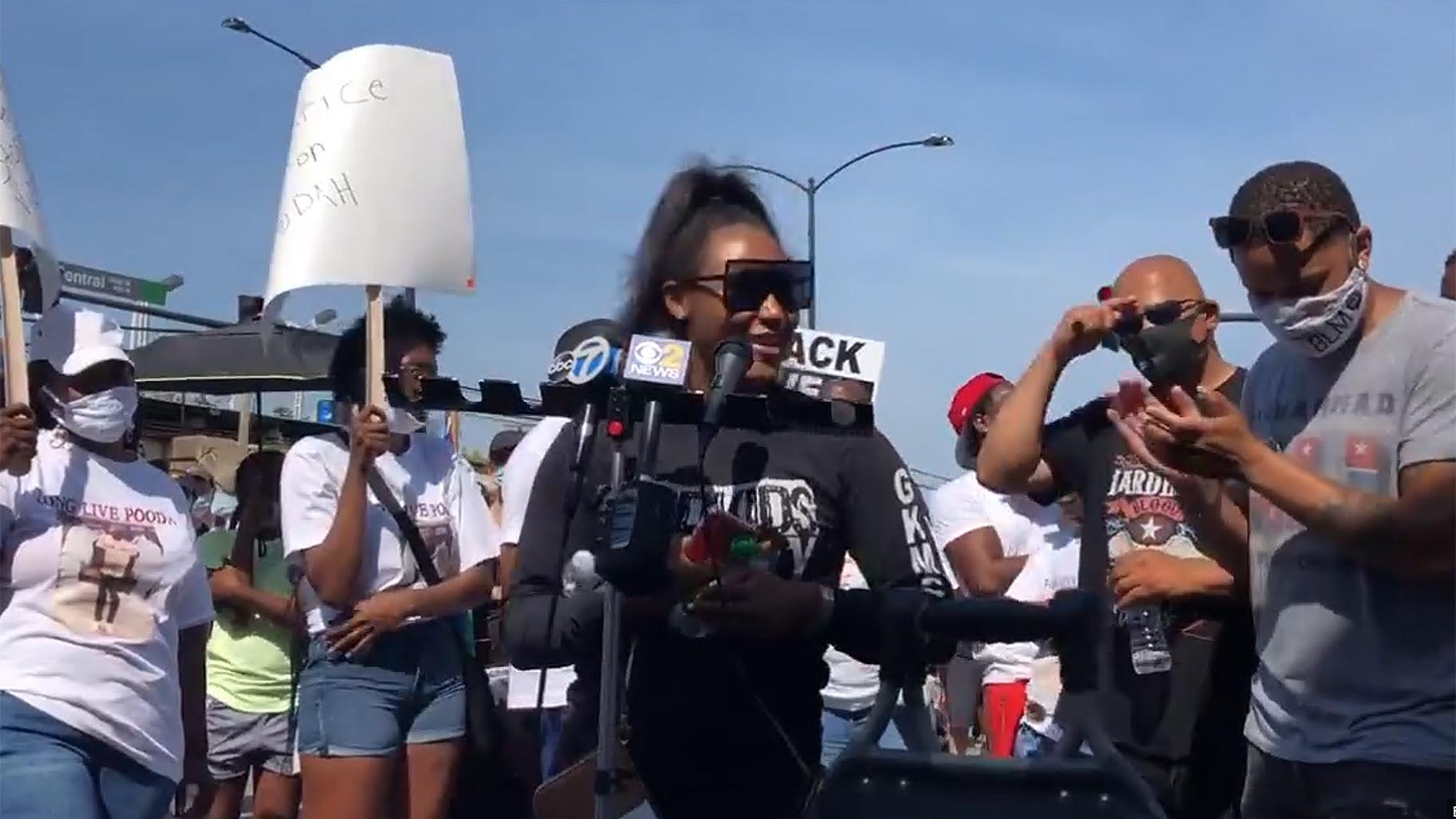 Miracle Boyd of GoodKids Mad City speaks at the "Love March" event on Saturday, July 25, 2020. (WTTW News)
Several hundred people marched through Chicago's West Side on Saturday afternoon as part of a "Love March" against gun violence. 
Organized by the youth-led group GoodKids MadCity (GKMC) and several other organizations, the march comes as neighborhoods across Chicago have seen a spike in violence in recent months — and as the city prepares for an influx of federal agents to crack down on crime at the behest of President Donald Trump.
"We want to show Chicago that we have love, we need love to survive," said Nita Tennyson, one of the march's organizers. "The reason I'm here is because I'm tired of burying my friends. I'm tired of my brothers and my cousins and my best friends being in caskets and urns. We need to change the story." 
At the corner of Central and Corcoran in Austin for the Love March against gun violence organized by @GKMC18 and many others. The plan is to march East to Garfield Park pic.twitter.com/7PIcElPPAg

— Quinn Myers (@rquinnmyers) July 25, 2020
---
Starting at the corner of Central Avenue and Corcoran Place in Austin, the march moved east along Lake Street under the L tracks to Garfield Park. 
Along the way, attendees sang and yelled chants like, "Hand Up, They Still Shoot" and "Defund the Police."  
They blasted music, danced and periodically broke up for speeches about the trauma and impact of gun violence on their lives and communities. 
Many present were victims and family members of victims of gun violence. 
That includes Donald Williams, an Englewood resident whose 13-year-old son was shot and killed in March 2019. 
Williams says he was invited to attend by GKMC organizers, and came to the march "just to be with other people and let them know, everybody want to hold the police accountable, but also you gotta hold your neighborhood accountable too. So before we start pointing fingers, we gotta point them back at ourselves."
One of the march's leaders was Miracle Boyd, the 18-year-old GKMC member who was captured on cellphone video last week getting hit in the face by a Chicago police officer during a protest at the Christopher Columbus statue in Grant Park. 
Miracle Boyd of @GKMC18 speaking now pic.twitter.com/kqj0KLIbs2

— Quinn Myers (@rquinnmyers) July 25, 2020
---
Boyd is calling for the officer in question to be relieved of his police duties, and to attend a restorative justice peace circle with her. And she echoed calls to defund the Chicago Police Department and reinvest the money in Chicago's communities. 
"We have to have a non-violent attitude, we can't approach things with violence," she said. "We come to protests and we show up with banners and songs and dance and prayers, and police show up with batons, and tear gas and Mace. That ain't right." 
The "Love March" was the latest in a number of similar events held across Chicago by GoodKid MadCity. The group says it plans to hold more in other neighborhoods. 
GKMC member Matthew Wilbourn said Saturday's march offered a chance to bring the group's message back to members' communities.  
"Another part of it that we're trying to practice for ourselves is that black joy is just as important as being a disruptor or taking up space," he said. "So bringing all of our work that we do downtown in front of all the pretty cameras and all the lights and stuff, bringing it back to where we're originally from. And that just lets the people we represent [know] that we're not disconnected, we're not just doing this for the cameras." 
Crossing Pulaski to wind things up in Garfield Park pic.twitter.com/WklQLN6NEU

— Quinn Myers (@rquinnmyers) July 25, 2020
---