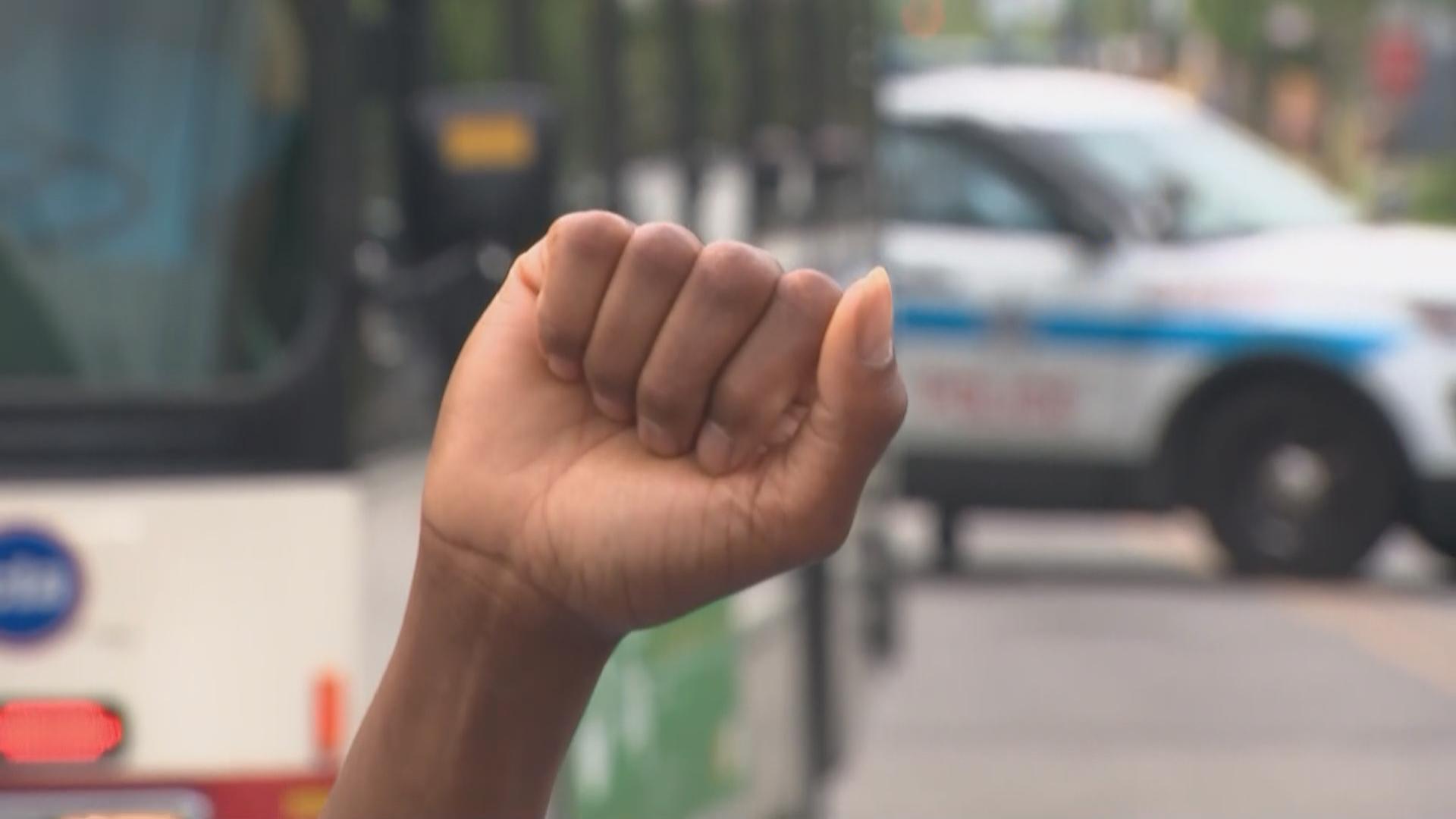 A demonstrator raises a fist during a peace rally organized by St. Sabina Church on June 4, 2020 in Chicago. Some activists and officials are concerned that federal agents coming to Chicago will exacerbate violence, including clashes between protesters and police. (WTTW News)
A coalition of Chicago-area politicians and community groups issued an open letter Saturday demanding that local officials not cooperate with federal agents being sent to the city by the Trump administration. 
Addressed to Mayor Lori Lightfoot and Cook County Sheriff Tom Dart, the letter lists four specific demands, including that local authorities refuse to share resources with the federal agents, and expand "sanctuary zones" to include city properties like libraries and park buildings. 
"We are writing to you to ask that the City of Chicago and the Cook County Sheriff's Office cease cooperation with the federal agents being deployed by the Trump administration," the letter reads. "Donald Trump has repeatedly demonstrated both his callous disregard for Black, indigenous, and immigrant lives, and his increasing inclination towards fascism and authoritarianism." 
The letter is signed by 31 Democratic state politicians, Chicago aldermen and Cook County commissioners. They're joined by various progressive groups like Black Lives Matter Chicago, United Working Families and the Chicago Teachers Union.
President Donald Trump announced Wednesday that "hundreds" of federal agents from the FBI, DEA, ATF and other agencies would deploy to Chicago to crack down on violent crime. 
While federal officials have stressed the agents' mission is different in nature than the paramilitary forces seen in Portland, Oregon, in recent weeks, they offered no timeline for the deployment of the additional agents, nor did they say how long they would be assigned to Chicago.
In a video released on social media Friday evening, Lightfoot reiterated that federal agents would work only on ongoing investigations into gangs and gun violence, under the oversight of John Lausch, the U.S. attorney for the Northern District of Illinois.
"They will have a limited mission, and are coming to Chicago to support our ongoing fight against violent crime. And to be clear, these are not additional ICE or Border Patrol agents," Lightfoot said. 
I remain committed and focused on the safety of all our residents and will never let the federal government ignore or trample on your Constitutional rights. pic.twitter.com/lTWUeJBjIM

— Mayor Lori Lightfoot (@chicagosmayor) July 25, 2020
---
Still, Lightfoot asked Chicago residents to be "diligent," and to report any incidents of rogue behavior to 911 or her office. 
"We will hold the federal government to its commitment, and if any line is crossed, I will not hesitate to use every tool possible to stop them in their tracks," she said. "I want to take the federal government at its word, but I am not naive and neither are you." 
But some of the activists who signed the open letter say any promise about the nature of the deployment can't be trusted, especially after reports of police violence at recent protests in Chicago. 
"There is no doubt in the minds of so many folks that these federal agents are only here to exacerbate, and replicate, and amplify that very same violence," said Tanya Watkins, executive director of Southsiders Organized for Unity and Liberation (SOUL), one of the groups that signed the letter.
Watkins also reiterated the letter's call for reinvesting money spent on police into community development and social services. 
"Until we address the systemic inequity problems in Chicago, we will never be safe," Watkins said. "And you can throw millions of dollars behind militarized police, whose function is to brutalize residents, and we will still be in same, if not worse place, then we were before." 
Sheriff Tom Dart's office did not immediately reply to a request for comment. 
---