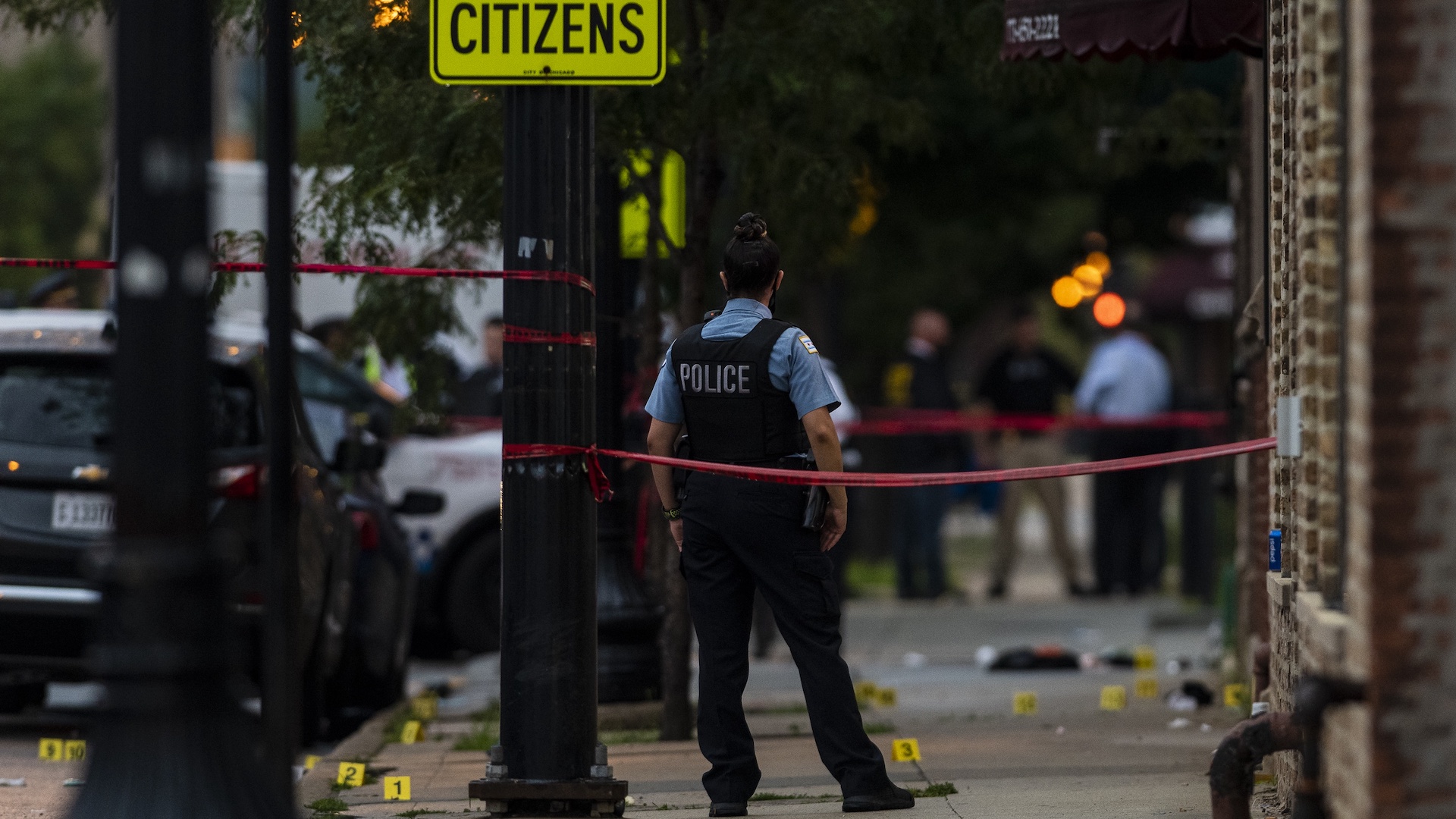 Chicago police investigate the scene of a mass shooting where more then a dozen people were shot in the Gresham neighborhood, of Chicago, Tuesday, July 21, 2020. (Tyler LaRiviere/Chicago Sun-Times via AP)
The shooting of 15 people outside a Gresham neighborhood funeral home Tuesday evening stemmed from an earlier gang conflict, which also claimed the life of the man being mourned at that funeral, according to Chicago police officials.
Police Superintendent David Brown and Mayor Lori Lightfoot on Wednesday morning pleaded with community members to come forward with any information about the shooters in this case and help break the ongoing cycle of gang violence in Chicago.
"Too many people have been touched by gun violence, and the response too often is picking up a gun to seek vengeance," Brown said. "There is no comfort in revenge. None. Put your guns down."
The shooting occurred around 6:30 p.m. Tuesday, when the occupants of a black Chevy Malibu in the 1000 block of 79th Street opened fire on a group of people who had attended a funeral at that location.
Some of those attendees returned fire and the vehicle fled from the scene on Carpenter before crashing. The occupants then fled on foot and have not yet been apprehended, according to officials. Police recovered around 60 shell casings from the scene.
The victims include 10 women and five men, ranging in age from 21 to 65. Chief of Detectives Brendan Deenihan said one of those victims is in "extremely critical" condition, another is in critical condition and the rest are expected to recover.
"There is no comfort in revenge. None. Put your guns down." -Superintendent @ChiefDavidBrown pic.twitter.com/y6nVOV0069

— Chicago Police (@Chicago_Police) July 22, 2020
---
Chicago has already recorded more than 400 homicides so far in 2020, according to CPD data, an increase of 51% over the same time period last year. The number of shootings – more than 1,600 so far this year – is also up 47% over 2019.
As of Tuesday evening, police officials said they were investigating whether more could have been done to prevent the shooting amid questions that the department had been tipped off about a potential attack.
The man being mourned at that funeral was reportedly 31-year-old Donnie Weathersby, who police say was killed in a drive-by shooting last Tuesday at 74th Street and Stewart Avenue in the Englewood neighborhood.
Deenihan said police investigated that shooting and found a gang connection. Because of that, Brown said the department deployed two squad cars to Tuesday's funeral and had a full tactical team "in the area" just as they would for any other gang-related funeral or wake.
"That's how we treat every one," he said.
Police believe there were three suspects inside the attacking vehicle, two of whom opened fire on congregants as they walked outside the funeral home. Deenihan said the department has some footage of the shooting, but not enough to identify any of the suspects.
Brown on Wednesday repeatedly spoke about breaking the "cycle of violence" in which people seek out revenge rather than justice by picking up a gun and confronting those who they believe are responsible for past shootings, particularly among gangs.
There are 117,000 gang members in Chicago split among 55 major gangs, Brown said. Within those, there are 747 factions and 2,500 subsets of those factions, and at any time, the superintendent said, there are "hundreds" of gang conflicts going on throughout the city.
Lightfoot implored those gang members to stop responding to violence with more violence.
"To the cowards behind these shootings, and cowards I think is the right word here, we have to ask you to find your humanity," she said. "This senseless violence, this cycle of retaliation, picking up a gun, many times in petty grievances, picking up a gun that solves nothing but causes so much lifelong pain. I pray for you, but I also pray that we find you and that we bring you to justice."
Anyone with information about the shooting is asked to contact Area Two detectives at 312-747-8271. Tips can also be submitted to 311 or anonymously at the CPD's tip line.
Contact Matt Masterson: @ByMattMasterson | [email protected] | (773) 509-5431
---