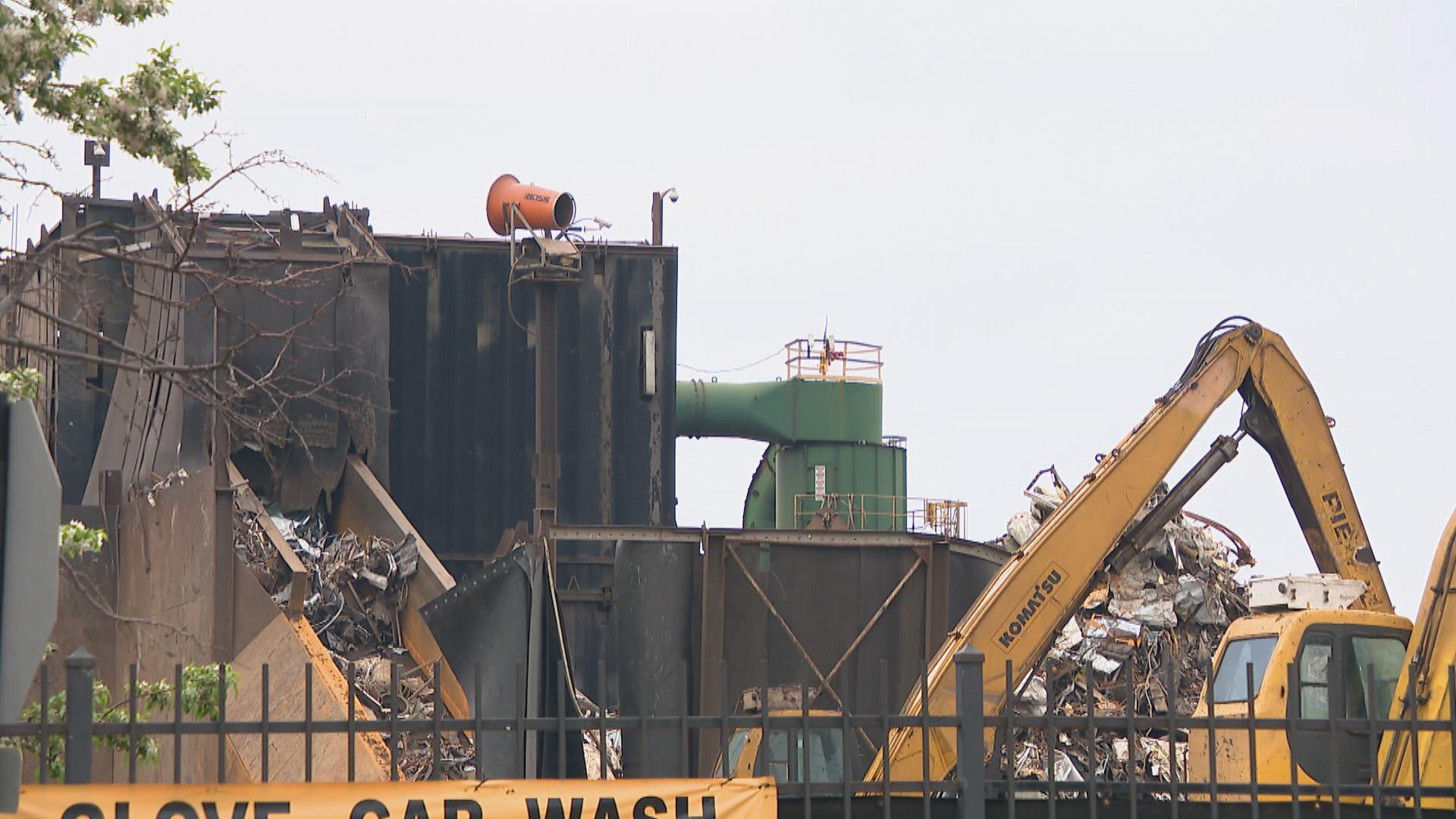 General Iron's Lincoln Park facility. (WTTW News)
Opponents of General Iron want the metal scrap recycler's Lincoln Park facility to remain closed during the COVID-19 pandemic, but say a "backroom deal" has been struck to allow the company to restart its controversial shredding operations which have been shut down since a May explosion. Officials dispute the charge of a "done deal," but acknowledge a "clear path" has been established for shredding to resume.
"The city has put a notorious polluter ahead of residents' health during the COVID-19 respiratory pandemic," said members of Clean the North Branch. The organization has been fighting General Iron's operation in Lincoln Park and held a press conference Tuesday to call for the continued closure of General Iron. 
During the press conference, Lincoln Park residents described the "fugitive dust" that has continued to gather on their doorsteps two months into the shredder's shutdown.
"It's scary to live near something I know is unhealthy," said Alex McGhee, whose young family lives "almost as close as you can get" to General Iron.
Clean the North Branch called on Mayor Lori Lightfoot to "nix" the deal giving General Iron permission to reopen on the North Side and to squash the company's plan to relocate to the Southeast Side.
Officials say there's no deal to nix. 
According to a statement from Lightfoot's office, a meeting was held Friday with several aldermen and representatives of city departments to outline the permitting process and timing of General Iron's move to the Southeast Side. (This move is actually an expansion of Reserve Management Group's existing operation in the area; RMG purchased General Iron's assets in fall 2019.) At the same meeting, the ongoing partial closure of General Iron's North Side facility was discussed. 
Alds. Susan Sadlowski Garza, whose 10th Ward is home to RMG, and Brian Hopkins of the 2nd Ward, where General Iron currently operates, were both present at the meeting.
Sadlowski Garza said the group talked about rules and regulations that would be imposed on RMG, which she said would be "some of the strictest rules in the nation," and plans for a virtual community town hall to talk through RMG's plan with her constituents. RMG, which received EPA approval for the Southeast Side move, has yet to apply for permits from the city, Sadlowski Garza said.
The EPA approval process has sparked conversation in Springfield regarding the criteria that should be taken into account when reviewing permit applications, said state Rep. Ann Williams, whose district includes General Iron's Lincoln Park site.
In granting a permit to General Iron, the EPA cited its directive to consider applications on their own merit, rather than the track record of the applicant.
"We shouldn't look at operations in a vacuum," said Williams, who participated in Tuesday's press conference.
Hopkins said it was an "exaggeration" to characterize General Iron's reopening in his ward as a "done deal," but conceded that the company will likely be able to tick all the boxes needed to restart metal shredding.
"They (city officials) did lay out a clear path for General Iron to resume in Lincoln Park eventually," said Hopkins. "It was clear General Iron will be able to check those boxes ... to do what is required of them."
The city has allowed General Iron to continue accepting materials for recycling, but no shredding has occurred since a May explosion was linked to a piece of equipment called a regenerative thermal oxidizer. The oxidizer helps control the emission of pollutants and was installed in 2019 as part of an EPA consent order, issued after General Iron violated air pollution standards in 2018.
By all accounts, the oxidizer was reducing emissions, Hopkins said, but it's possible that the device can't be operated safely without a risk of future explosions.
"It incinerates highly flammable gases," the alderman said.
Though a final report on the cause of the May explosion has yet to be released, Hopkins said if blasts are an "inherent risk" to running the oxidizer, that could be grounds for keeping shredding from resuming. The equipment will need to be recertified following an inspection.
According to a statement from General Iron, additional safety measures have been engineered to prevent a repeat of the explosion that occurred in May.
"We are looking forward to receiving all necessary approvals, and meeting the high standards of accountability that are being set, to resume full operations," the company said.
"No decision on the reopening of that facility will be made in advance of a robust review of these results," Lightfoot's office said in a statement.
Hopkins said he's holding out hope the report could provide the necessary fodder to keep General Iron closed during the pandemic. "But forgive my cynicism, they typically do get what they want," he said of the company, which he called "extraordinarily powerful."
"I'll be disappointed" if they reopen, said Hopkins, "but I won't be shocked."
Hopkins, who lives near General Iron, said there's been a dramatic difference in air quality in the two months the shredder has been shut down, with noticeable absence of smell, dust and "fluff" that residents say coats surfaces in the neighborhood. Should the shredder start running again, he expects those hazards to return.
Lara Compton, one of the founders of Clean the North Branch, called such an outcome "absolutely unacceptable," particularly during a respiratory pandemic.
"We can shut down bars not once but twice, but we can't shut down a serial polluter? We shouldn't have to fight this hard for clean air," Compton said.
But according to an Illinois EPA report of an inspection that took place May 13, five days before the explosion, with shredding still ongoing, "no nuisance odors, dust or litter were observed outside the facility."
RMG maintains that the facility being planned for the Southeast Side will be state of the art, as opposed to the legacy plant it inherited in Lincoln Park. 
"There's a lot of promises being made" for the 10th Ward, Hopkins said, and if those same standards were applied in Lincoln Park, it would be a different operation.
"There has to be a way you can recycle cleanly," said Sadlowski Garza. "There are things we can do to hold them accountable, and we will."
---
WHAT IS FLUFF?
General Iron recycles materials including crushed automobiles, some electronic waste, scrap metal from construction/demolition activity, metal turnings from machine shops, lead acid batteries and ballasts, according to a report from the Illinois EPA.
The scrap is shredded, and steel and iron are separated from non‐ferrous materials. These non-ferrous materials are further processed to sort metals (aluminum, copper, zinc, brass, etc.) from non-metallic waste, and it's the non-metallic material that's known as "fluff."
Per the Illinois EPA, "fluff" is a dense material with a consistency similar to wood chips. It contains small pieces of glass, plastic, foam, etc.
Ferrous metals are sent to steel mills; non-ferrous to smelters, mills or other recyclers; and fluff is transported to Indiana where it winds up in a landfill.
Approximately 165,000 tons of fluff are generated in a year, with 22 truckloads sent to Indiana daily.
According to the IEPA May 13 inspection of General Iron: "The fluff is conveyed directly from the sorting process into a three walled bin with a roof over it so it is virtually impossible for this material to become airborne and be blown off site by the wind. In addition, water is sprayed into the shredding unit as a dust suppressant so the fluff coming out of the shredder is very damp which also weighs this material down." 
---
Contact Patty Wetli: @pattywetli | (773) 509-5623 |  [email protected]