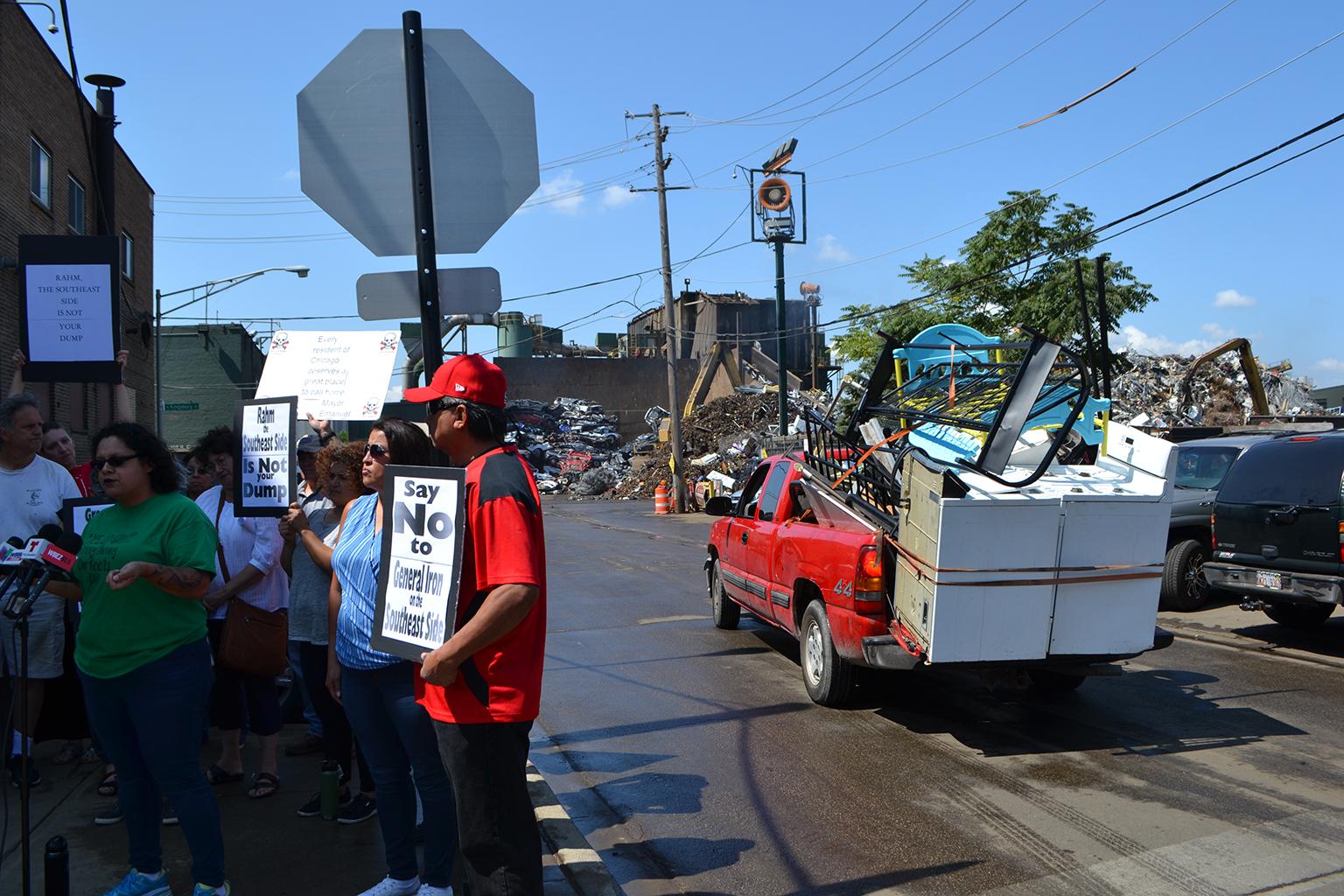 Protestors at General Iron's Lincoln Park metal shredding operation in 2018. (Alex Ruppenthal / WTTW News)
Following what's now revealed to have been two separate explosions on Monday, city officials have told General Iron to cease its metal shredding operation in Lincoln Park pending an investigation of the blasts and a review of the facility's structural soundness.
The damage was severe enough, General Iron said in a statement, that the company is unable to operate until sufficient repairs are made.
Department of Buildings Commissioner Judith Frydland and Fire Department Commissioner Richard Ford issued a joint emergency closure order, citing conditions "hazardous to occupants and emergency responders."
Under the order, General Iron is permitted to conduct maintenance and remove accumulated recycled materials but is not allowed to accept new material or perform any shredding.
"A review of the entire operation has to be conducted by the City of Chicago to ensure the appropriate safety measures are in place to prevent this from happening in the future," the commissioners stated.
But residents, who've been fighting for a total shutown of the plant, say the action doesn't go far enough.
"This is not a shutdown; this is a pause," tweeted Clean the North Branch. "The city created a big loophole for General Iron to start up again after repairs are made."
This is NOT a shut down; this is a pause.

The city created a big loop hole for General Iron to start up again after repairs are made:

"The order cannot be lifted until until a remediation and repair plan is approved and permits issued and work completed." https://t.co/XprSlhtbVn

— Clean the North Branch (@clean_nb) May 19, 2020
---
On Tuesday, Clean the North Branch shared a draft of a "citizen ordinance" the group has submitted for the City Clerk to be introduced at Wednesday's City Council meeting.
The ordinance asks for the shutdown of General Iron during the COVID-19 pandemic, until phase five of the Chicago's reopening plan is complete. 
"For years, residents have urged city and state leaders to take action and hold General Iron accountable for breaking the rules. Despite repeated illegal activity — violating building codes, breaking EPA air pollution rules, emitting volatile compounds, causing fires and creating explosions — elected leaders have turned a blind eye," the ordinance states.
The ordinance lists offenses committed by General Iron, including in July 2018 when the U.S. Environmental Protection Agency cited General Iron with multiple violations of the Clean Air Act for failing to control emissions of hazardous metals.
Given that COVID-19 is a respiratory illness, Clean the North Branch says General Iron "poses an immediate danger to the health and safety of residents."
General Iron is planning to vacate its Lincoln Park site at the end of 2020 and move its operation to the Southeast Side. The Illinois EPA is currently reviewing the company's permit application regarding that move and is expected to announce its decision by the end of June.
A coalition of community groups fighting General Iron's relocation issued a terse reaction to Monday's explosions: "Don't bring that mess down here." 
General Iron issued a statement Tuesday, noting that the company had engineers on site to continue a thorough investigation into the root cause of the explosions.
"We will comply with every reasonable request and condition that the city imposes to ensure that public health and safety, as well as our employees and customers, are fully protected before resuming operations," the company said.
Furthermore, General Iron asserted its commitment to environmental protection, saying that its pollution control equipment "ensures the lowest emission rates."
Contact Patty Wetli: @pattywetli | (773) 509-5623 |  [email protected]
---