General Iron Industries believes that two explosions at its scrap metal-shredding facility that shook Lincoln Park on Monday were connected to a new piece of pollution control equipment installed last year.
Initial reports had suggested the explosions may have occurred on the conveyor belt that feeds material into the shredder, but General Iron spokesman Randall Samborn told WTTW News on Wednesday that no longer appears to be the case.
"It appears that the locus of the explosion was in the new piece of pollution control equipment installed last year called a regenerative thermal oxidizer — an RTO — which is like a big oven that's on the back of the facility that sucks out the volatile organic compound emissions," said Samborn. "We believe it happened there."
Samborn also said that once repairs have been completed to the satisfaction of city inspectors, the facility would "be fully compliant with their requirements and then resume operations."
Ald. Brian Hopkins, whose 2nd Ward includes Lincoln Park, refused to accept that the repairs to the plant would allow safe operations to resume.
"Their assurances that that will be enough to protect the community from further instances like this. No. Of course I don't accept that," said Hopkins. "During my time as alderman this is now the third government-ordered shutdown that they've endured due to their operations and countless citations and fines in between those three shutdowns. There's a pattern where they have a violation, a major event, they promise to do better, some times go by and we repeat the process over again."
Hopkins said that the COVID-19 pandemic was a game-changer.
"We can't afford this additional element of risk layered on top of a respiratory virus that is out there threatening all of our health," he said.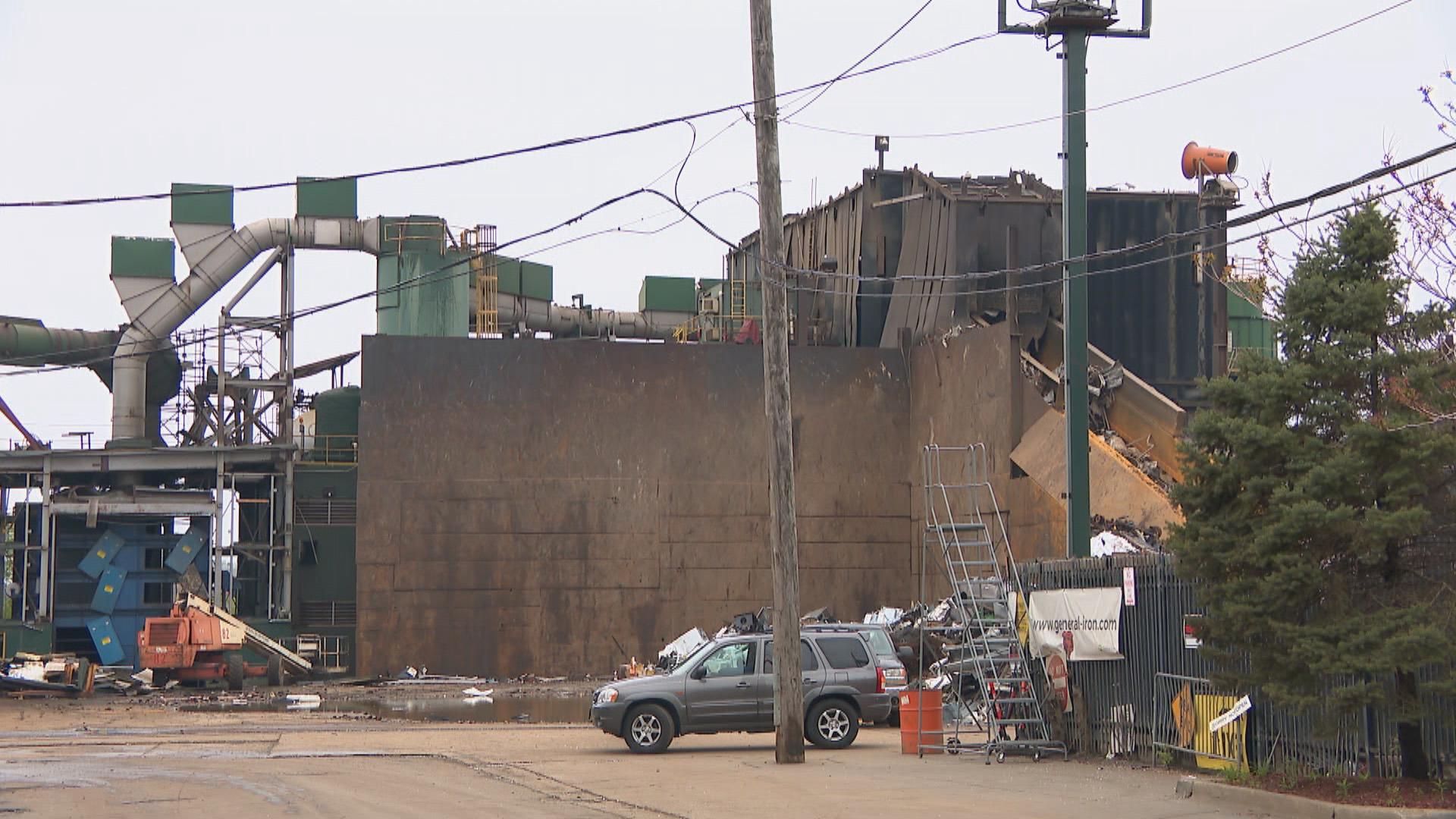 General Iron's metal-shredding operation in Lincoln Park. (WTTW News)
But Samborn disputes that the facility, which was operating under an administrative consent order it signed with the Environmental Protection Agency in 2019, had been polluting before the explosion. He also disputed that Monday's explosions had triggered a rise in pollution.
"At some point facts have to matter," said Samborn. "If you look at the readings on Sunday afternoon in the middle of the day and on Tuesday when the shredder at General Iron was not operating, those readings in the neighborhood were higher than on Monday after this explosion occurred. There has to be some scientific basis for the claims that the pollution is out of control and isn't being properly controlled because in early April we had a site visit from the Illinois EPA and some city officials and they were all persuaded at that time that the pollution control equipment was working effectively …and that we were in full compliance."
However, Hopkins insists that after the explosion pollution readings spiked before a breeze cleared the air. He also noted that residents have consistently experienced "burning and itching eyes and asthma problems" as well as odors, dust and fluff they say is a result of pollution from the plant.
"All of that is our experience," said Hopkins. "We're not scientists. We are neighbors that live in this area and we have experienced this. We know this is happening … (and) the science actually supports the notion that General Iron is a hazardous polluter despite the efforts they have made."
---