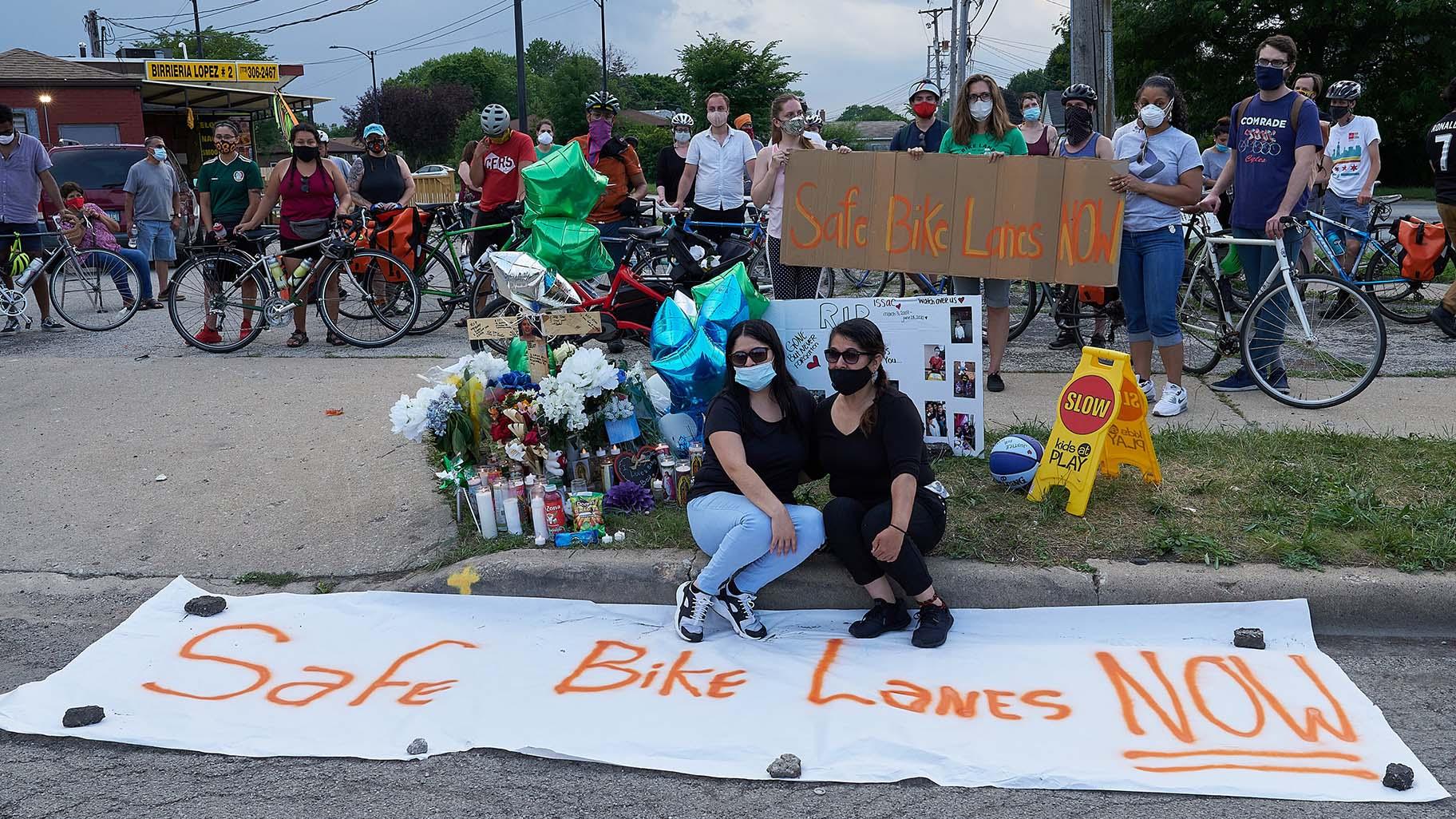 Demonstrators call for bike lanes following the death of Issac Martinez, who was cycling along Lawndale Avenue in June when he was fatally struck by a driver. (@bikelaneuprise / Twitter)
The family of Issac Martinez and members of Chicago's cycling community announced plans to gather Saturday to remember the 13-year-old killed last month and to push for safer conditions for cyclists.
Martinez was riding his bike on the 8300 block of South Lawndale Avenue with his cousins just before 7 p.m. on June 28 when he was struck and killed by Oscar Martinez Guerrero, according to Chicago police. He has been charged with felony counts of leaving the scene and failing to report an accident that resulted in injury or death.
"I want justice for my son. He didn't deserve to die like that," Martinez's mother, Itzel Dirzo, said at a vigil last month, according to Chicago Sun-Times.
Protesters have gathered multiple times in the wake of Martinez's killing to call for bike infrastructure. On Saturday, the family called a 2 p.m. memorial gathering featuring a live mural painting by artist Milt Coronado in the 3700 block of west Columbus Avenue.
Work in progress of a mural for 13 yr old Issac Martinez. He was killed while biking on a city of @chicago "bike route" that lacked any physical protection. He was legally required to bike in the street. His family & neighbors want safe bike lanes installed. So do we. #prevention pic.twitter.com/30XsJa4TiD

— Bike Lane Uprising® (@bikelaneuprise) July 18, 2020
---
Martinez is among several cyclists killed or seriously injured in recent weeks. On Thursday, 13-year-old Sam Yousif of Niles was struck and killed by a driver while riding his bicycle near the 8200 block of Waukegan Road, Niles police said. On June 23, a Chicago Department of Transportation employee driving a large department truck struck and ran over a cyclist in Avondale, critically injuring her. On June 19, 15-year-old Evan Melau was struck and killed by a driver while trying to cross the 1500 block of West 75th Street in Woodridge, officials said.
---