A crash involving a city-owned vehicle and a cyclist this week in Avondale points to larger problems within the city's biking infrastructure, cycling advocates say.
Chicago police say around 8:30 a.m. on Tuesday, a 31-year-old woman cycling north along Milwaukee Avenue was turning right onto Belmont Avenue when she was hit and dragged by a Chicago Department of Transportation truck, which was also turning right. Witnesses flagged down the driver and got him to stop; one witness captured the aftermath of the scene on his cellphone. 
The cyclist was taken to Illinois Masonic Hospital in critical condition.
"It's too easy to whip through and make your turn," said Joe Sislow, who represents the Northwest Side on the Mayor's Bicycle Advisory Council. He says there are dangerous intersections up and down Milwaukee Avenue.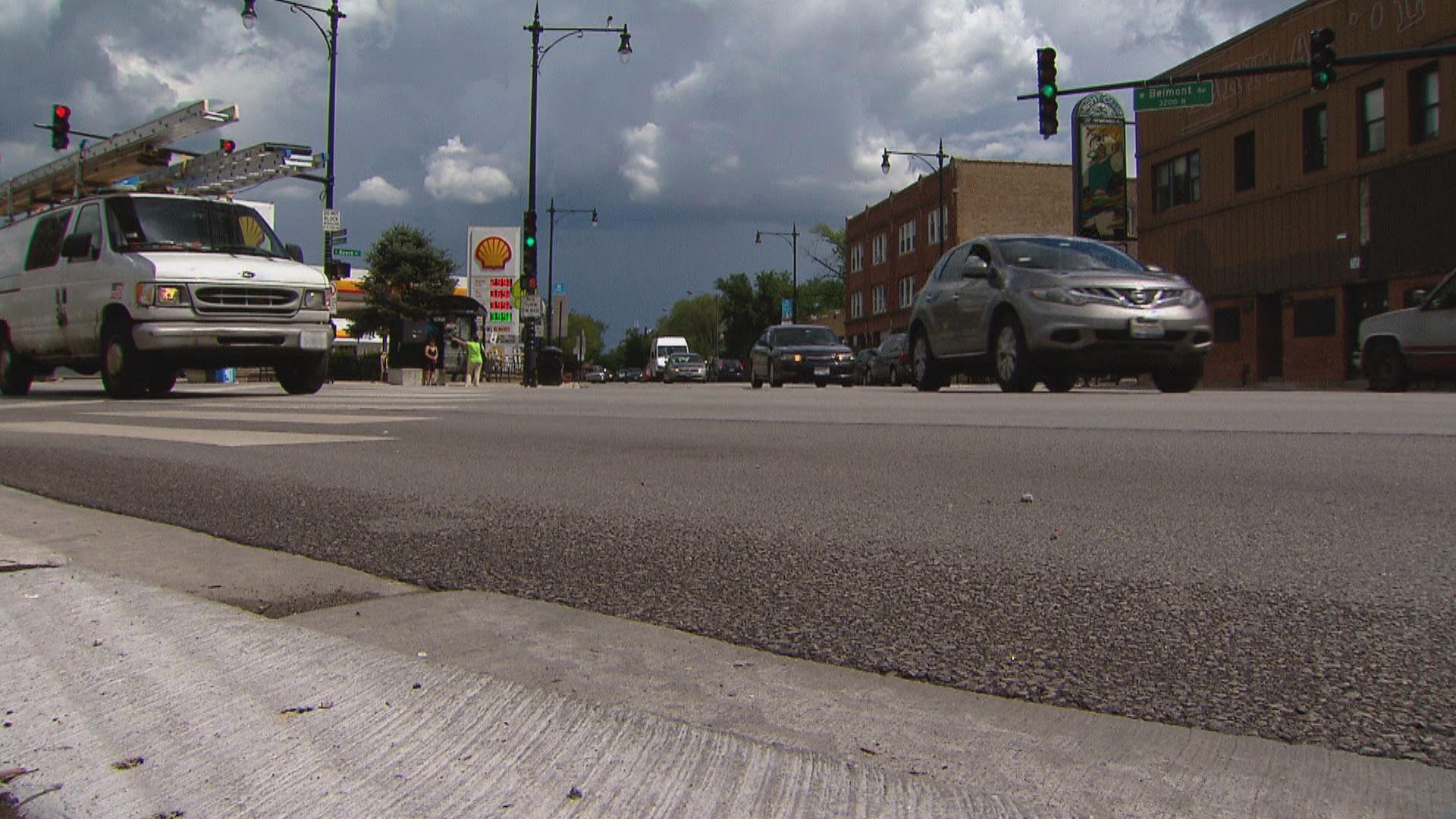 The intersection of Belmont and Milwaukee avenues in Chicago, where a cyclist and city truck collided on Tuesday, June 23, 2020. (WTTW News)
A hit-and-run driver killed pedestrian Christopher Sanchez at the same corner in 2016. Last November, a mile to the north, cyclist Carla Aiello was hit by a truck and died. Sislow says biking on the Northwest Side is tough, because it's less common and drivers can be hostile.
"I would say on my ride into the city, I get buzzed tightly three or four times, people yelling at me for what they think (is) riding too far out in the lane, and you just don't see that as much down in Wicker Park where there's a bunch more cyclists on Milwaukee," Sislow said.
Something else you don't see on this stretch of Milwaukee: bike lanes. Between Belmont Avenue and Logan Boulevard, there are none. It's the only section of Milwaukee Avenue without any. One of the aldermen whose ward covers this stretch says streetscaping, including painted bike lanes, is likely to start next year. But, Sislow says, "we need infrastructure, because paint just doesn't cut it."
Elsewhere in the city, CDOT has installed "bump-outs" that aim to slow drivers as they turn a corner and protected bike lanes that put a physical barrier between cyclists and cars.
Protected bike lanes are expected to come this year to another stretch of Milwaukee Avenue, between California and Western avenues, as part of a CDOT plan to add an additional 25-30 miles of bike routes throughout the city.
"What we've seen is that across the country, protected bike lanes are really the preferred design in terms of high comfort bike facilities, so where we can do that we want to do that," CDOT's David Smith said in a webinar Wednesday.
Christina Whitehouse of the group Bike Lane Uprising says bike lanes, especially protected ones, are important – but they're often blocked. (Construction workers unwittingly illustrated this point Wednesday afternoon as they, and their equipment, blocked portions of the Desplaines Street bike lane while Whitehouse spoke nearby with WTTW News.)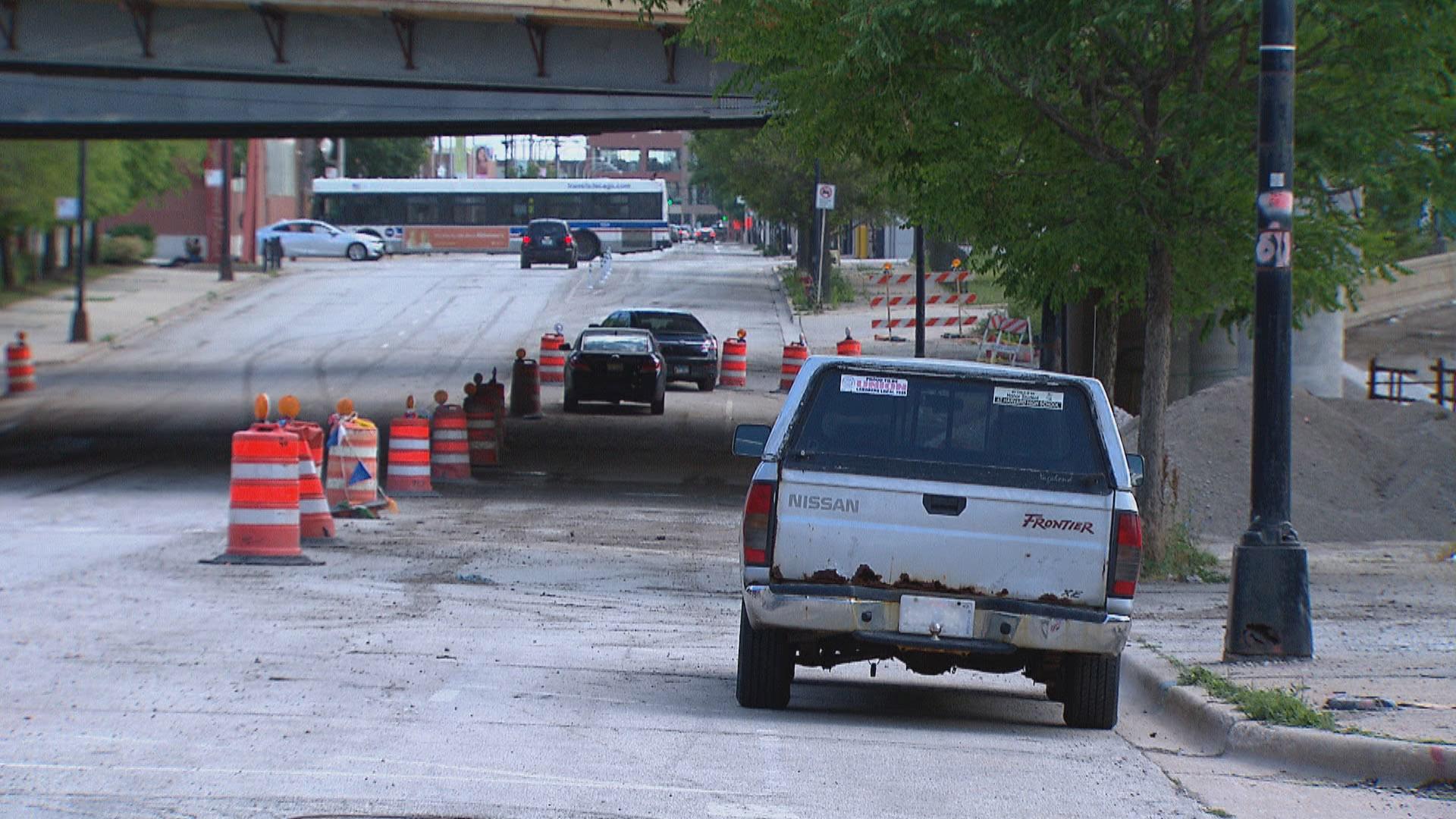 (WTTW News)
"Most of the bike lanes around the city of Chicago are used as free parking, as illegal construction sites that have been unregulated by the Department of Transportation, as well as being used as distribution centers," Whitehouse said.
Bike Lane Uprising users can submit lane blockages to a database — and Whitehouse says it's full of city employees flouting the law.
"There's actually 1,200 obstructions involving municipal vehicles in the city of Chicago that have been recorded and submitted to bikelaneuprising.com," Whitehouse said.
With biking quickly growing in popularity in Chicago, especially as people avoid public transit over fears of COVID-19, Whitehouse and Sislow say cyclists need infrastructure and enforcement to support them.
"People tend to think that these are isolated, surprise accidents, that … it was a fluke. The reality is they were crashes, they were preventable. That particular location was a known problem," Whitehouse said. "We keep on repeating the same behaviors and expecting a different outcome."
The Department of Transportation said it couldn't comment on Tuesday's crash because the incident is under investigation, and didn't immediately respond to a request for comment on the other issues raised in this story.
---