If you are – or were – an occasional theatergoer, you know that puppets are a big deal in Chicago.
Every other year, the Chicago International Puppet Theater Festival brings together talented locals with artists from around the world. With the fest postponed until next year, one of its puppeteers is taking his show on the road. Instead of sending flowers, he thinks you should "Say it with puppets."
TRANSCRIPT
Mark Blashford: I'm Mark Blashford. I work for the Chicago Puppet Studio under the Chicago Puppet Theater Festival.
Marc Vitali: Blashford saw so many deliveries being made during quarantine that it gave him an idea.
Blashford: I want to be Grubhub but for puppets.  Audiences can't come to me. What if you could send me to audiences? Keep them small and I could perform at a good distance and still do what I love to do, which is perform for people live. 
Vitali: He came up with doorstep marionettes – portable puppetry.
Blashford: It's a wonderful form. It's a great storytelling technique, delivering narrative often without words, married to music.
Vitali: He aims to please everybody.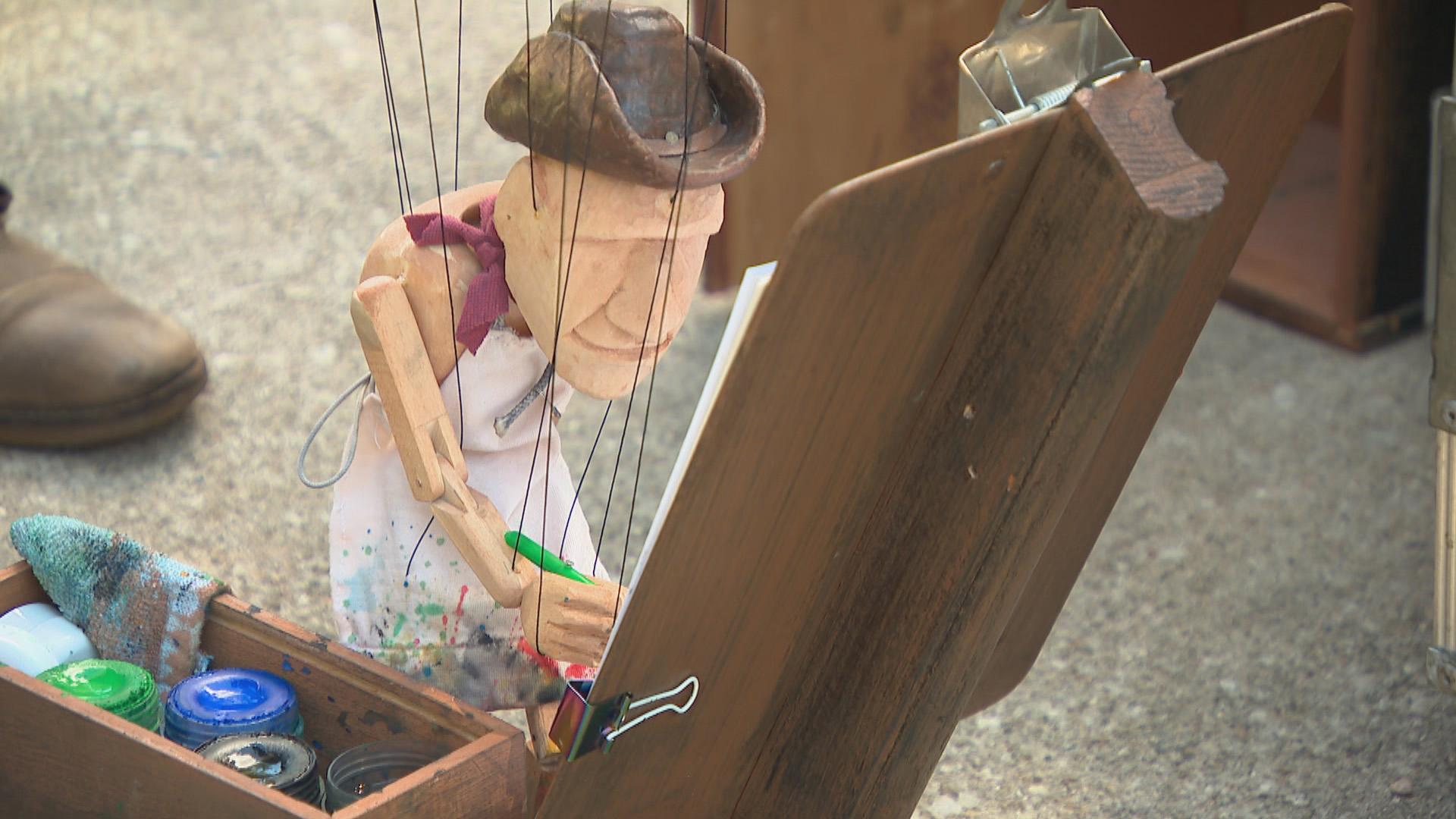 (WTTW News)
Blashford: It's not just for kids. I do a lot of birthdays and many of those are for 50-year-olds, 60-year-olds. I'm doing an 85-year-old's birthday party. It's a great thing to send if you don't want to send something that someone's going to throw away or, or if you don't know if they like peanuts or can eat them or not. Send a puppet!
Vitali: He's also a woodcarver, and he makes his entire cast of characters.
Blashford: I went to school for puppetry. I have an MFA in puppets, in puppetry. I've studied in Prague and in Germany and in Iceland with different masters.
Vitali: His original inspiration came from a star on his local PBS station.
Blashford: My whole family's from Pittsburgh so we're well-acquainted with WQED studios and Mr. Rogers, and I grew up watching him. He's a huge influence of mine. In fact I wanted to grow up to be a children's TV show host.
Vitali: We asked his audience for a critical appraisal.
Oliver: The puppets had so much emotion and they looked so real and stories were so creative. It was really beautiful and amazing.
Orla: It was a nice idea to be able to send somebody a puppet show, to give them a bit of happiness during this tough time, and it was fun.
Blashford: The whole idea of this is just to spread joy, and to promote puppetry across the city, and to bring theater to people, especially people that love theater and can't go to it right now. 
Vitali: He calls it Puppet-Gram. Home-delivered performances last about 5 minutes and cost $75. 
Follow Marc Vitali on Twitter: @MarcVitaliArts
---
Note: This story was first published July 16, 2020. It has been updated.
---