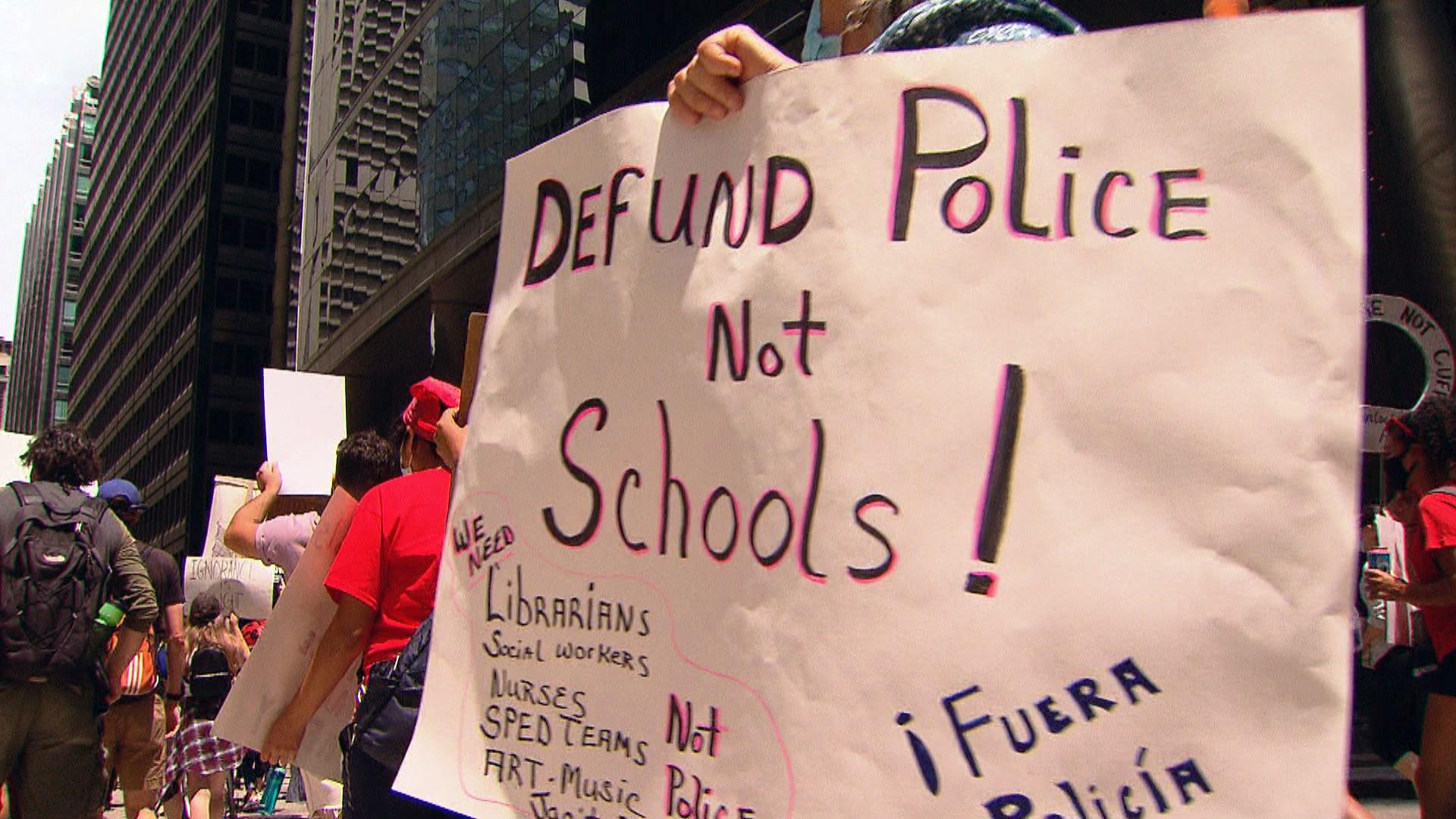 Demonstrators march in Chicago on Wednesday, June 24, 2020 to show their support for removing police officers from schools. (WTTW News)
Chicago Public Schools is recommending school leaders schedule community town hall meetings and hold "engaging and authentic conversations" as more and more local school councils (LSCs) consider votes to eliminate their resource officer programs.
The school district published a school resource officer (SRO) tool kit that LSCs can use when deciding whether to keep or remove police officers from their school buildings. In it, LSC members are urged to consider things such as their "ideal safety culture" and how to handle emergency situations without SROs before making their decision.
CPS also "highly" recommends that LSCs and school leaders host town hall discussions with parents, students and community members to get their input before making any SRO decision.
"The goal," the district described under its "recommended" process, "is to engage as many members of the school community as possible."
Included in the tool kit is an FAQ, a list of key dates and samples of research on the effects of officers in schools. CPS also provided an optional SRO decision process template with sample questions such as: "What is our desired future state of safety at our school?" "How are we doing towards achieving that goal today?" and "How does the presence of SROs support or detract from the school in achieving their defined goal?"
There are currently 144 school resource officers assigned to CPS schools, according to the Chicago Board of Education, as well as 48 mobile school officers and 22 staff sergeants.
The Board of Education last month voted 4-3 against a motion to terminate the district's $33 million contract with the Chicago Police Department to provide SROs. CPS leaders and Mayor Lori Lightfoot said that decision is better left to individual LSCs, who they said are more in tune with the needs of their own school communities.
LSCs have until Aug. 15 to make those decisions, though concerns have arisen about transparency, their voting authority and, in some cases, their capacity to even reach a quorum.
Already the LSC at one school, Northside College Prep, has voted to end its SRO program. The LSC at another school, Clemente High School, also voted to remove its SROs, though this was an "advisory" vote, and the LSC will have to reconvene for a final vote sometime later.
Multiple other LSCs have voted to maintain their SRO programs. One of those schools is Marshall High School, where last year, two officers dragged a 16-year-old girl down a flight of stairs and used a Taser on her in a highly publicized incident.
Schools that do continue to use resource officers are asked by CPS to review the effectiveness of those programs on a quarterly basis.
Cities including Denver, Milwaukee and Seattle have moved to terminate their school districts' contracts with local police departments in the wake of the police killing of George Floyd in Minneapolis.
The Board of Education for west suburban Oak Park and River Forest High School also voted last week to eliminate its SRO position and instead use those funds to hire a new social worker.
Students and activist groups in Chicago have called for CPS to follow suit, with many saying that having SROs in their schools makes them feel less safe and strengthens the school-to-prison pipeline, while the money spent on those positions could instead be used to hire nurses, counselors, case managers and other wraparound services.
"For a lot of people in this country and especially within this city, cops don't represent safety," Elias Decker, a leader of CPS Alumni for Abolition, told WTTW News. "Just the presence of them there, in a lot of cases, adds a level of tension that inhibits … really what schools should be."
While the board last month opted against ending its intergovernmental agreement with the police department, it is expected to vote again next month – possibly at its Aug. 26 meeting – on whether or not to renew that deal for another school year.
The district said it improved that agreement last year by codifying SRO's specific roles and responsibilities and allowing principals to participate in the selection process of the SROs at their schools.
But in a 2018 audit, Chicago Inspector General Joseph Ferguson reported the SRO program was so poorly run that it increased the "probability that students are unnecessarily becoming involved in the criminal justice system."
He told Chicago aldermen earlier this month that the city failed to act following this report, and claimed the CPD and the city "used the consent decree as a shield to slow readily achievable reform that they acknowledged was needed."
"CPD's failure to act more expeditiously," he said, "left students, teachers, parents and community stakeholders without the protections and assurances of an appropriate school safety program for another entire school year."
Contact Matt Masterson: @ByMattMasterson | [email protected] | (773) 509-5431
---