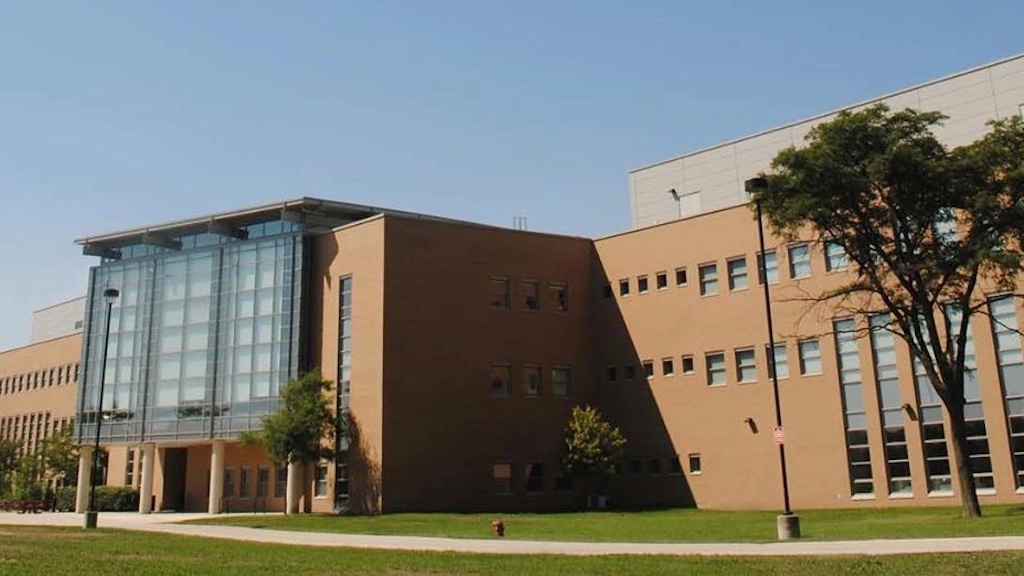 Northside College Prep (Facebook)
A Chicago public high school on the Northwest Side has voted to remove its school resource officers (SROs) amid a nationwide push to rethink police in schools following the killing of George Floyd in Minneapolis.
The local school council at Northside College Prep reportedly voted on Tuesday to pull SROs from its school building in an 8-0 vote with one abstention. In doing so, it became the first Chicago Public Schools LSC to do so.
CPS Alumni for Abolition, a group opposed to SROs in schools, hailed the LSC vote in a press release and called on other schools to follow suit.
"This vote is a meaningful step for both the students of Northside College Prep and for the district as a whole, who have continuously demonstrated their desire to attend schools that make them feel welcome and safe," the group said in a statement. "We believe that this decision will set a precedent for other Chicago Public Schools' LSCs to vote for the removal of SROs from their halls."
The school's elected LSC includes six parent representatives, two community representatives, two teachers, a staff member and a student.
Multiple school and LSC officials did not immediately respond to a request for comment Wednesday. But the agenda for Tuesday's meeting did include an item labeled as "Discussion and vote on SRO program at Northside."
Ald. Andre Vasquez (40th), whose ward includes Northside College Prep, published a tweet Tuesday night saying: "So proud of the students, alumni, and LSC at Northside College Prep for voting to remove SROs!"
#40thward represent!!! So proud of the students, alumni, and LSC at Northside College Prep for voting to remove SROs! #PoliceFreeSchool #40thFirst #CPDoutofCPS! https://t.co/f6AMA7pGV8

— Andre Vasquez, Political Account (@Andrefor40th) July 8, 2020
---
The LSC decision comes two weeks after the Chicago Board of Education narrowly voted down a motion to terminate the school district's $33 million contract with the police department to provide SROs following hours of debate.
Students across the city have led protests calling for those funds to instead be used on additional nurses, counselors, case managers and other wraparound services in CPS schools. Some elected officials have also pushed for the termination of that contract, but the move was opposed by Mayor Lori Lightfoot and CPS CEO Janice Jackson.
District leaders opposed to the board's motion had argued that SRO decisions were better left to individual LSCs, which they said are more in tune with the needs of their individual school communities.
CPS said in a statement Wednesday afternoon it "fully supports" the Northside College Prep LSC's vote to pull resource officers from their school, and "will work with them to develop a safety plan without SROs that meets the needs of their unique school community."
"Chicago Public Schools believes that school communities and Local School Councils are best suited to determine if SROs should be assigned to their schools," district spokeswoman Emily Bolton said. "As part of this commitment, it is the district's policy to encourage ongoing dialog and allow school communities to revisit their previous decision about SROs at any time."
CPS said it is encouraging LSCs to vote again on the status of SROs in their schools by Aug. 15. The district plans to release a tool kit next week designed to "guide and support" LSCs during those decisions.
Schools can also revisit their decision at any time throughout the school year, the district said.
There are 144 school resource officers assigned to CPS schools, according to the board, as well as 48 mobile school officers and 22 staff sergeants. CPS is expected to vote on whether to renew its agreement with the Chicago Police Department before it expires in August.
Already, several cities – including Milwaukee, Seattle, Minneapolis and Denver – have moved to revise or terminate their contracts with local police departments in the wake of Floyd's death, which sparked nationwide calls for police reform.
Northside College Prep is a predominantly White and Hispanic school of more than 1,000 students located in the North Park neighborhood.
Contact Matt Masterson: @ByMattMasterson | (773) 509-5431 | [email protected] 
---