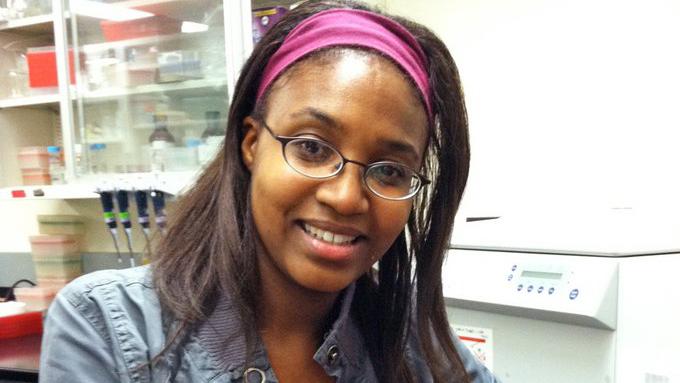 Chicagoan Lynika Strozier was honored by her peers during #BlackBotanistsWeek. (Field Museum / Corrie Moreau)
Following on the heels of the celebratory and empowering #BlackBirdersWeek and #BlackHikerWeek social media campaigns, a group of Black plant scientists from around the world created #BlackBotanistsWeek, running through Saturday on platforms including Twitter and Instagram.
The event is designed to "promote, encourage, create a safe space for, and find more Black people (and BIPOC) who love plants," organizers said. "This plant love manifests in many ways, ranging from tropical field ecologist to plant geneticist, from horticulturalist to botanical illustrator."
Bucknell University post-doctoral researcher Tanisha Williams, a member of the week's organizing team, kicked off #BlackBotanistsWeek by first paying tribute to a "falling angel," Chicagoan Lynika Strozier, a 35-year-old researcher at the Field Museum and professor at Malcolm X College, who died June 7 from COVID-19.
Strozier's work at the Field involved extracting DNA from eyelash-sized plants, according to the museum.
"Lynika radiated passion for science, research, teaching, and mentorship. She was incredibly hardworking, compassionate, dedicated, and inspiring," the Field said in announcing Strozier's death, which was covered by the New York Times and Chicago Tribune.
A GoFundMe campaign, set up to help Strozier's grandmother cover medical and funeral expenses, has far exceeded its goal, raising nearly $85,000. Funds beyond those required for expenses will be used to establish a scholarship for young Black women at STEM institutions in Chicago.
We want to honor a falling angel, Lynika Strozier, who died on June 7 from complications with Covid-19. She was a botanist with "golden hands" studying ancient plant DNA, a college instructor, and inspired so many people! #BlackBotanistsWeek #BlackBotanicalLegacy #BlackRoots pic.twitter.com/cxkuEsacrK

— Dr. Tanisha M. Williams - #BlackBotanistsWeek (@T_Marie_Wms) July 6, 2020
Thank you for honoring Lynika. In addition to extracting DNA from eyelash-sized plants, mentorship was a huge part of Lynika's work. This scholarship fund will support young Black women with STEM internship opportunities. #BlackBotanistsWeek #BlackBotanicalLegacy https://t.co/SjDRGMY8ia

— Field Museum (@FieldMuseum) July 6, 2020
---
The idea behind #BlackBotanistsWeek is to both inspire the next generation of Stroziers and create connections among those too often operating in silos or isolation. 
As Williams told the Pennsylvania newspaper The Daily Item: "I want this to bring people joy and give them a community so they don't feel alone."
Participants have been posting stories and photos linked to the week's daily themes, including sharing how they first fell in love with plants and describing their research fields.
Hello! I'm Jade and I am a PhD student in the @SpoelLab. I currently work on understanding how plants regulate responses to environmental stress by signalling via oxidants and antioxidant systems. #BlackBotanistsWeek 1/4 pic.twitter.com/DDmDT3hfLB

— Jade Bleau (@jade_bleau) July 6, 2020
---
Here is the story of how my #BlackPlantLove began and some photos from that truly life changing trip. In the near future I want to work with early outreach programs for marginalized students & help them experience the wonders of botany! #BlackBotanistsWeek pic.twitter.com/IbtZYrg1BW

— Tatyana Soto - #BlackBotanistsWeek (@botanytatyana) July 8, 2020
---
Hello! My name is Daria and I'm a horticulturist at the Missouri Botanical Garden in St. Louis. I am the Home Gardening Information and Outreach supervisor, which includes being a "Plant Doctor", teaching others about plants and caring for honey bees. #blackbotanistsweek pic.twitter.com/5kPJRg5oTb

— Daria M (@dare2bloom) July 6, 2020
---
I'm a plant-lover watching the magic of #BlackBotanistsWeek, seeing the possibility of myself in these roles, and just thinking wow, THIS FEELING...this is why we need these #blackin ____ weeks, this is what more representation feels like. https://t.co/GXuIjQ4En7

— Brielle Ferguson (@BrielleRyan) July 8, 2020
---
Another pioneering botanist- Dr. Marie Clark Taylor was the 1st African American woman to earn a PhD in Botany, in 1941. She served as the Chair of the Botany dept at @HowardU from 1945-1976 #BlackBotanistsWeek #BlackBotanicalLegacy pic.twitter.com/TncHCoud0r

— Dr. Janelle M. Burke  (@ahungrybotanist) July 6, 2020
---
There's still plenty of time for people to add their own experiences or amplify the voices of participants. Black Botanists Week continues through Saturday.
#BlackBotanistsWeek Organizing Team: @T_Marie_Wms (Thx for leadership & invite) @noxthelion @localecologist @RK_ct @Glossopetalon @themorgantrail @StumpedGrad @jade_bleau @haalimifolia @BerondaM @botanytatyana @Itumeleng_M
What a team!!! I'm inspired beyond measure & can't wait! pic.twitter.com/jLnq5riRGB

— Beronda Montgomery ~ #BlackBotanistsWeek (@BerondaM) July 3, 2020
---
Contact Patty Wetli: @pattywetli | (773) 509-5623 |  [email protected]