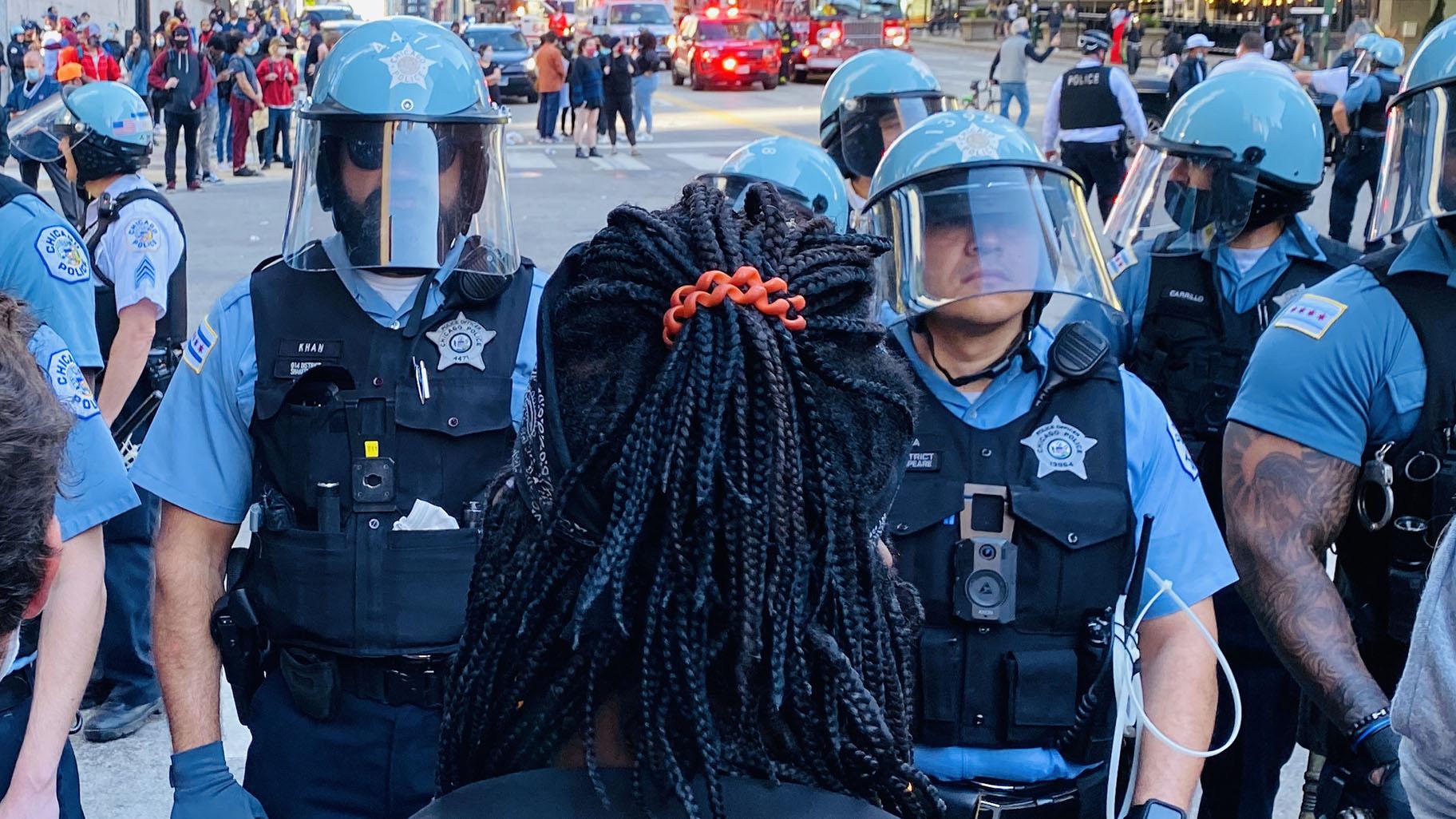 A protester faces off against police in Chicago on Saturday, May 30, 2020. (Hugo Balta / WTTW News)
Mayor Lori Lightfoot will not pull police officers from Chicago Public School buildings, despite calls from students, teachers and activists who say that having officers in schools makes kids feel less safe and can negatively impact their learning.
"Yeah we're not gonna do that," Mayor Lori Lightfoot said during a Friday morning press conference when asked if she would consider canceling CPS' existing contract with the Chicago Police Department. "Unfortunately, we need security in our schools."
The school district spent $33 million this year on its contract with the CPD.
Lightfoot's comments come a day after student-led marches across the city called on residents to "stand up against the militarized and overfunded Chicago Police Department" and use that money to instead help pay for additional nurses, counselors and mental health clinics in schools.
"Chicago Public Schools values the feedback we are receiving from students, families, and community members, and we remain committed to continued engagement and dialogue about the role of School Resource Officers in our schools," CPS Chief of Safety and Security Jadine Chou said in a statement.
Chou said last summer, CPS gave Local School Councils the authority to determine whether school resource officers (SRO) would be assigned to their schools.
The CPD is launching a working group to review public feedback and develop a recommendation on SRO policy changes. Both the district and CPD also plan to have additional feedback sessions as they enter the next school year. 
"Moving forward," Chou said, "we will continue to create forums for formal feedback and engagement so that we can respond to the needs of each school community." 
Students are calling on CPS to invest in social workers in schools, not police pic.twitter.com/ffE87pmRre

— Grace Hauck (@grace_hauck) June 5, 2020
---
Lightfoot held a state of the city address earlier this week to announce expedited police reforms including additional community engagement in police training, but made no mention of reducing the number of officers in schools.
"So why do we have police in our schools?" CPS teacher Dave Stieber wrote this week in a piece for The Chicago Reporter. "In all of my conversations with friends and colleagues, it comes down to fear. The fear of kids in the school building. People will say things like 'some schools' need police. 'Some schools' is code for Black schools in low-income areas. The fear of the big Black kid that 'looks dangerous.'"
Last year, a pair of CPD officers came under fire following an incident at Marshall High School where they dragged a 16-year-old girl down a flight of stairs and used a Taser on her. Police alleged the girl had attempted to bite one of the officers, but juvenile criminal charges against her were eventually dropped.
The push to remove officers from CPS buildings is not new, but it has gained momentum in recent days, particularly after the Minneapolis school board severed its ties with the police department there following the killing of George Floyd.
The Chicago Teachers Union has also been vocal about canceling the CPD contract, saying students need "adequately resourced public schools that provide education, nurturing and support," not more police.
"Students see themselves and their friends in the desperate pleas of George Floyd," CTU President Jesse Sharkey said in a statement. "They know that any one of them could be subject to that kind of extrajudicial lynching – even in their schools. They feel the lash of racist policing and white supremacy every day – in their disinvested neighborhoods, neglected school communities, lack of opportunities, and depression-era levels of unemployment."
While the mayor noted the school district was "working through challenges" with police officers in schools last year, she believes the current system allows for CPS officials to take the lead on "front-facing" issues with students, while officers serve only a "limited purpose."
"I think that balance worked well over the school year, because if it hadn't we would have heard about it," she said. "I think we've got a system in place now that works well and shows a limited ability of CPD to be in schools, but all of that is now in the hands of building principals and CPS which is where it should have been since the beginning."
On Friday evening, hours after her initial comments, Lightfoot issued a statement saying CPS educators have made clear to her "the first priority in bringing safety to any school setting is a strong, interconnected community that engages with the criminal justice system only as a last resort."
That's why, she said, CPS has begun hiring nurses and social workers for each school in an effort to "avoid needless interaction with the justice system."
"I support CPS' steps, following their lengthy and deliberative process with CPD and community members over the past year, to balance serious concerns for safety in schools with the need to stem the school-to-prison pipeline that has harmed too many children in communities across the country," Lightfoot said.
"CPS implemented sweeping changes earlier this year to ensure Local School Councils are empowered to make their own decisions about whether to have School Resource Officers in their schools. I am pleased that both CPS and CPD are soliciting feedback and engagement on this issue so they can be sure to respond to various communities' concerns."
Contact Matt Masterson: @ByMattMasterson | [email protected] | (773) 509-5431
---