Two historic, controversial statues in Chicago honoring Christopher Columbus were recently splattered and sprayed with paint.
In Grant Park, the Columbus statue erected in 1933 for the city's second world's fair had "BLM" — an abbreviation for Black Lives Matter — and "Genocide" spray-painted along its granite base.
A couple of miles west, a 9-foot-tall bronze statue of Columbus had the word "Killer" sprayed along its side. This statue, a fixture of Arrigo Park in the Little Italy neighborhood, was originally displayed in the Italian Pavilion of Chicago's first world's fair in 1893.
In the wake of civil unrest over the death of George Floyd, the vandalism of Columbus statues in Chicago pales in comparison to such acts elsewhere in the country – at the Minnesota State Capitol, protesters tore a Columbus statue from its pedestal, and in Boston, a Columbus statue was removed by the city after someone beheaded it.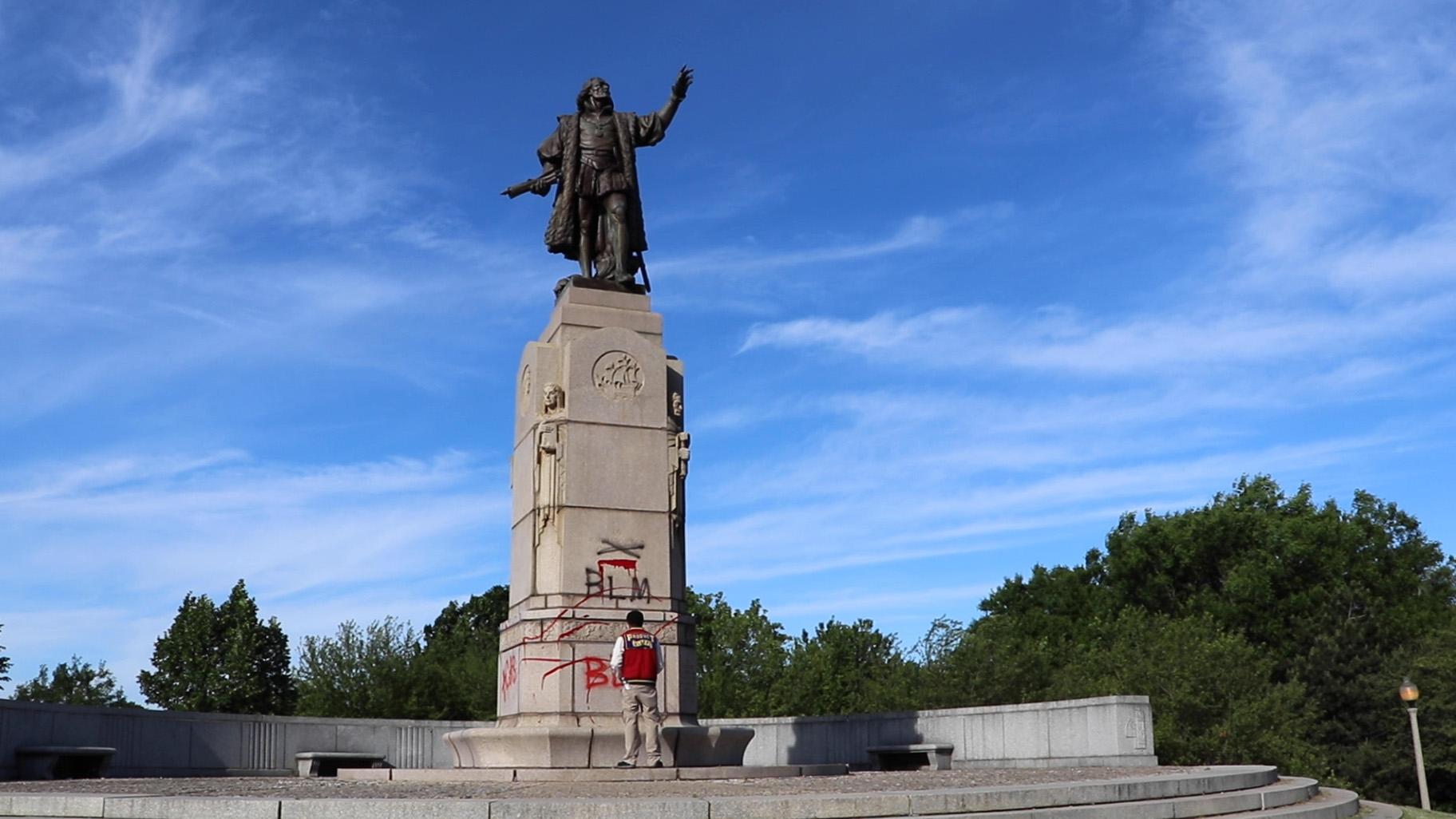 Courtney Johnson, a South Side resident, stands in front of a vandalized statue of Christopher Columbus in Grant Park on Saturday, June 15, 2020. "I don't think that people should've trashed the monument. Christopher Columbus discovered America, it is what it is," Johnson said. "If you don't like it, you've got to read history, but you don't come up here, you don't put paint and vandalize it, that's wrong." (Evan Garcia / WTTW News)
Chicago History Museum assistant curator Julius Jones says the original role of Columbus statues has been eclipsed by the contributions of countless others.
"When we start to think about why those statues were built, which was for Italian Americans to stake their claim and their role in the founding and establishment of the United States, we no longer need Christopher Columbus to do that," Jones said, "because there are so many people of Italian descent who have contributed so much to the history of the United States and there are infinite number of people who we can honor and celebrate who don't carry the same baggage as a Christopher Columbus."
In a statement emailed Saturday to WTTW News, Sergio Giangrande, president of the Joint Civic Committee of Italian Americans, likened the vandalism to hate crimes.
"The willful defilement of Columbus statues around the country and calls for similar vandalism or worse here in Chicago, are not acts of peaceful protest or public enlightenment; they are acts of hate against Italian-Americans," Giangrande wrote. "The destruction of the Christopher Columbus statues would be a hate crime against Italian-Americans, which federal, state, and local law authorities must prosecute to the full extent of the law."
Controversy surrounding Columbus, who enslaved and brutalized indigenous people after landing in the West Indies in 1492, is nothing new.
And Columbus is not alone. There are other monuments in Chicago that stoke tension, including Balbo Monument, gifted to Chicago in 1933 by Italian fascist dictator Benito Mussolini to commemorate aviator Italo Balbo's transatlantic flight that year from Rome to the Chicago World's Fair.
The column atop the stone base is historically significant as it's about 2,000 years old and was salvaged from an ancient port city outside Rome.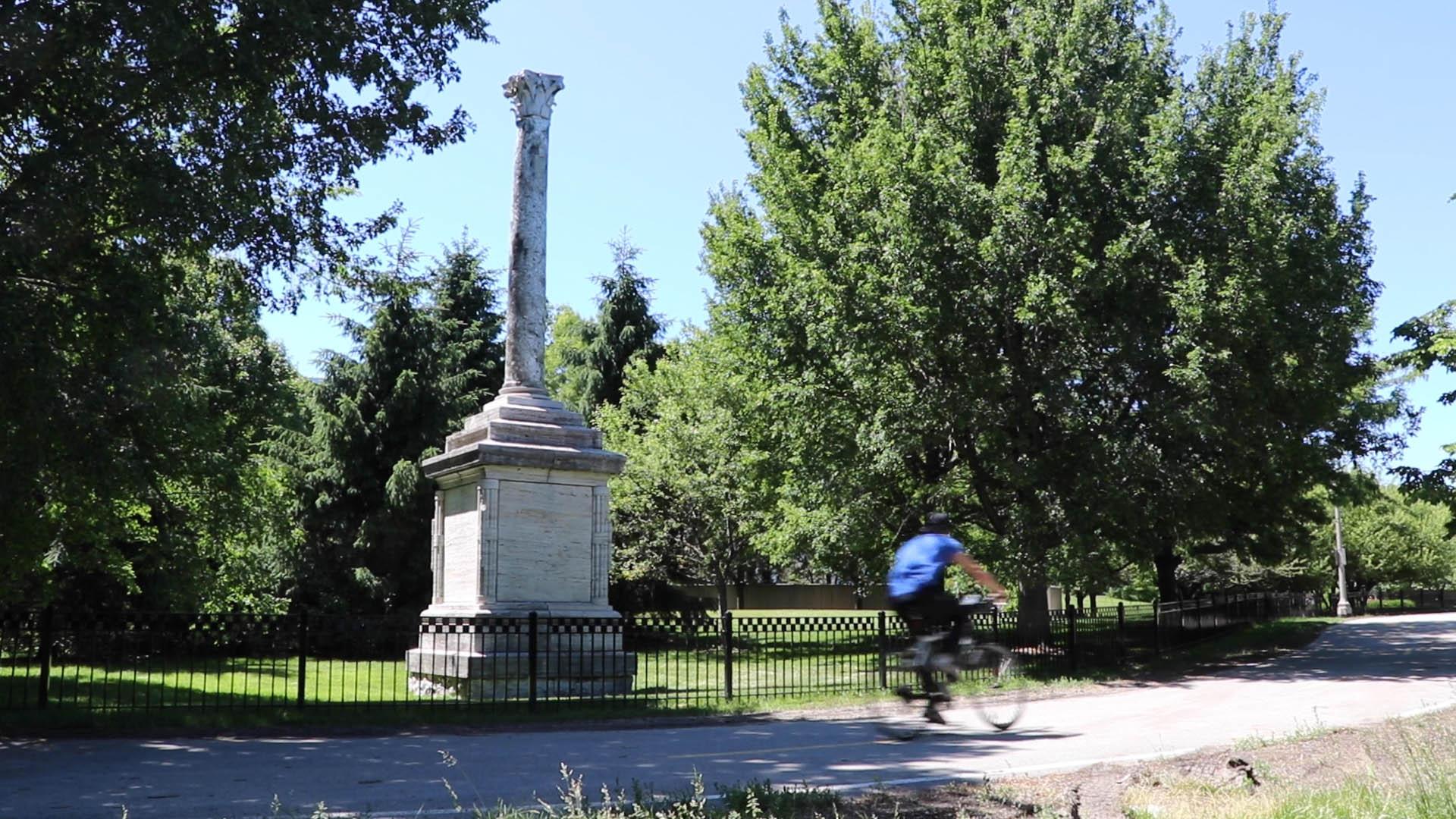 A cyclist on the lakefront trail rides past Balbo Monument, a 1933 monument gifted to the city by Italian fascist dictator Benito Mussolini. (Evan Garcia / WTTW News)
"One of the reasons why the [Balbo] monument is still standing is that it was ultimately decided that the monument was a commemoration of this flight across the Atlantic," Jones said. "It was separated from what happened after that with Fascist Italy joining the Axis and fighting the war."
Another controversial monument is the Confederate Mound, located in Oak Woods Cemetery in the predominantly black South Side neighborhood of Greater Grand Crossing.
The memorial and mass grave, which isn't visible from the street, was dedicated in 1895 to Confederate soldiers who died at Camp Douglas, a Union Army prisoner-of-war camp in Chicago during the Civil War.
"Now you have an area of the city that is overwhelmingly African American, obviously many of those people being descended from enslaved persons," Jones said. "So to have monuments to the Confederacy is off-putting and unsettling."
Several city governments have preemptively removed Columbus statues and placed them in storage – the city of Chicago hasn't yet responded to WTTW News regarding plans for its two Columbus statues, but the conversation regarding controversial monuments likely isn't going away anytime soon.
Follow Evan Garcia on Twitter: @EvanRGarcia
---