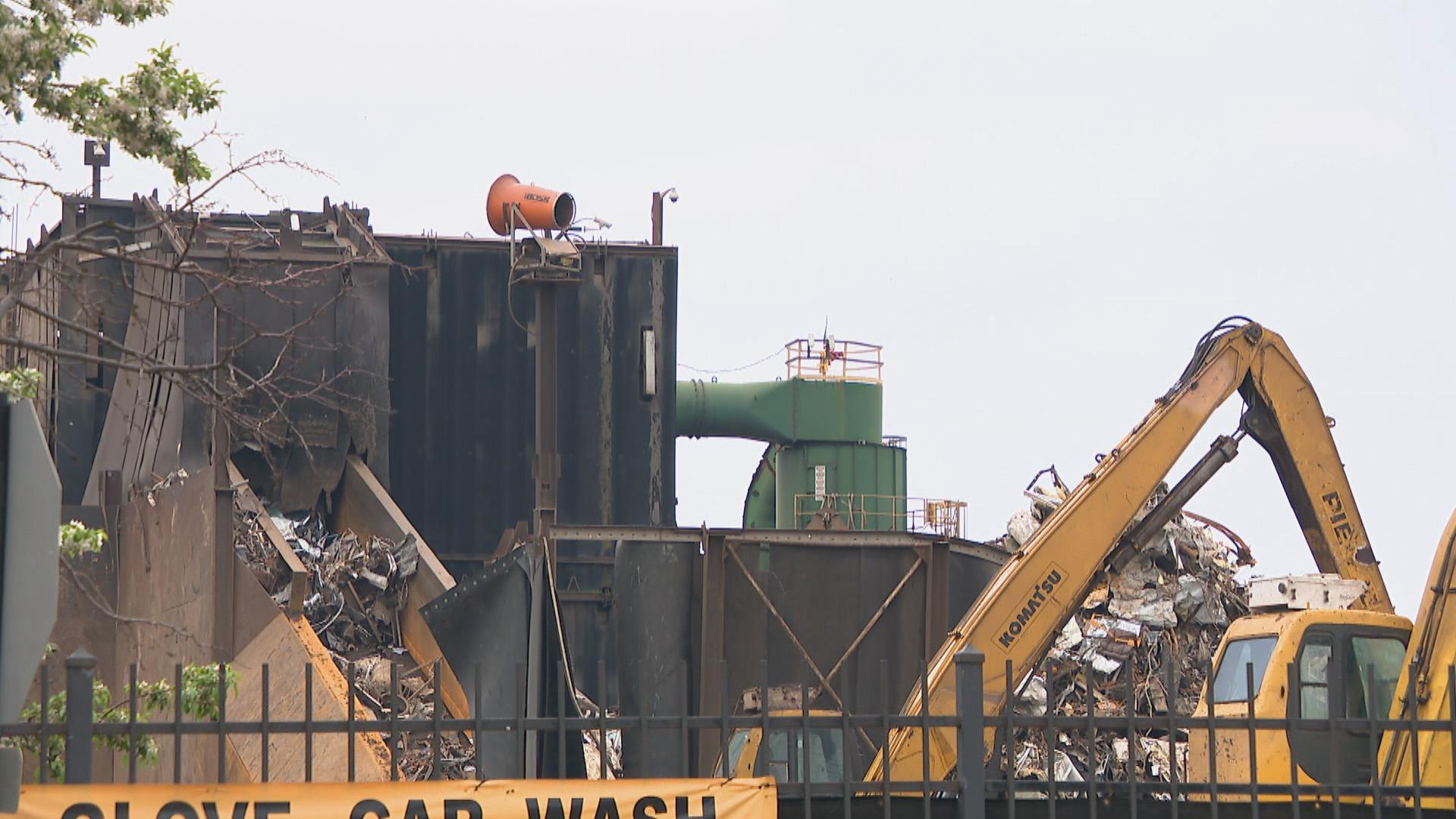 General Iron is planning to move its metal shredding operation from Lincoln Park to the Southeast Side. (WTTW News)
Blocking the pending move of General Iron's metal shredding operation from Lincoln Park to the Southeast Side has been a top priority among the area's environmental justice activists, and this week they received a signal of support from 10th Ward Ald. Susan Sadlowski Garza.
During an interview Tuesday on "Chicago Tonight," Garza said of General Iron's permit application, currently under consideration by the Illinois Environmental Protection Agency: "We've been asking, we've been pushing the IEPA, to slow down and not issue a permit because there's supposed to be a public process where people can weigh in. Well we can't do that right now because we're in the middle of a pandemic. So we're asking the IEPA to put a moratorium on issuing those permits." 
Constituents took to social media following the broadcast and called for Garza to put those words in writing.
@N4EJchicago @GinaRamirez311 @SEnviroAlliance @SETaskForce @ChicagoCityDSA We need to have @SSadlowskiGarza put what she told WTTW in writing to the ILEPA. She said she wants ILEPA to delay the permit for General Iron. Time for her to put it in writing.

— forgottenchicago (@forgottenchica2) June 10, 2020
---
Reached Wednesday, Garza said she intends to do just that. The alderwoman said she has directed her staff to craft a comment for the IEPA, and reiterated her previous statement: "We need to slow the process down."
The IEPA has already created a draft permit for General Iron's move, and in lieu of a public comment meeting, the agency held virtual hearings in mid-May, allowing people to phone in with feedback. The audio-only hearings took place via an online platform that many people were unable to access. 
Just days after the virtual hearings, an explosion rocked General Iron, prompting the city to issue an emergency closure order.
Garza said she was previously prepared to accept General Iron's presence in the community only if it were made to operate under more stringent regulations. But the explosions, she said,  put a "whole different spin" on the company.
Video: Ald. Susan Sadlowski Garza appears Tuesday on "Chicago Tonight":
Lincoln Park neighbors have long complained about pollutants emanating from General Iron's current home at 1909 N. Clifton Ave. A persistent black "fluff" settles on surfaces, they say, and a metallic odor permeates the air.
In July 2018, the U.S. EPA slapped General Iron with a notice of violation for exceeding limits on air emissions and for failing to obtain the proper operating permit.
In August 2019, in response to the 2018 violations, the EPA and General Iron finalized a consent order that requires the company to reduce air emissions through additional pollution controls. 
The Illinois EPA will continue to accept written comments through June 15 regarding General Iron's application via mail or email. (The original deadline of June 13 was extended.)
A decision on General Iron's permit — the process activists and Garza are attempting to postpone — is expected by the end of June, officials said.
Paris Schutz contributed to this report.
Contact Patty Wetli: @pattywetli | (773) 509-5623 | [email protected]
---