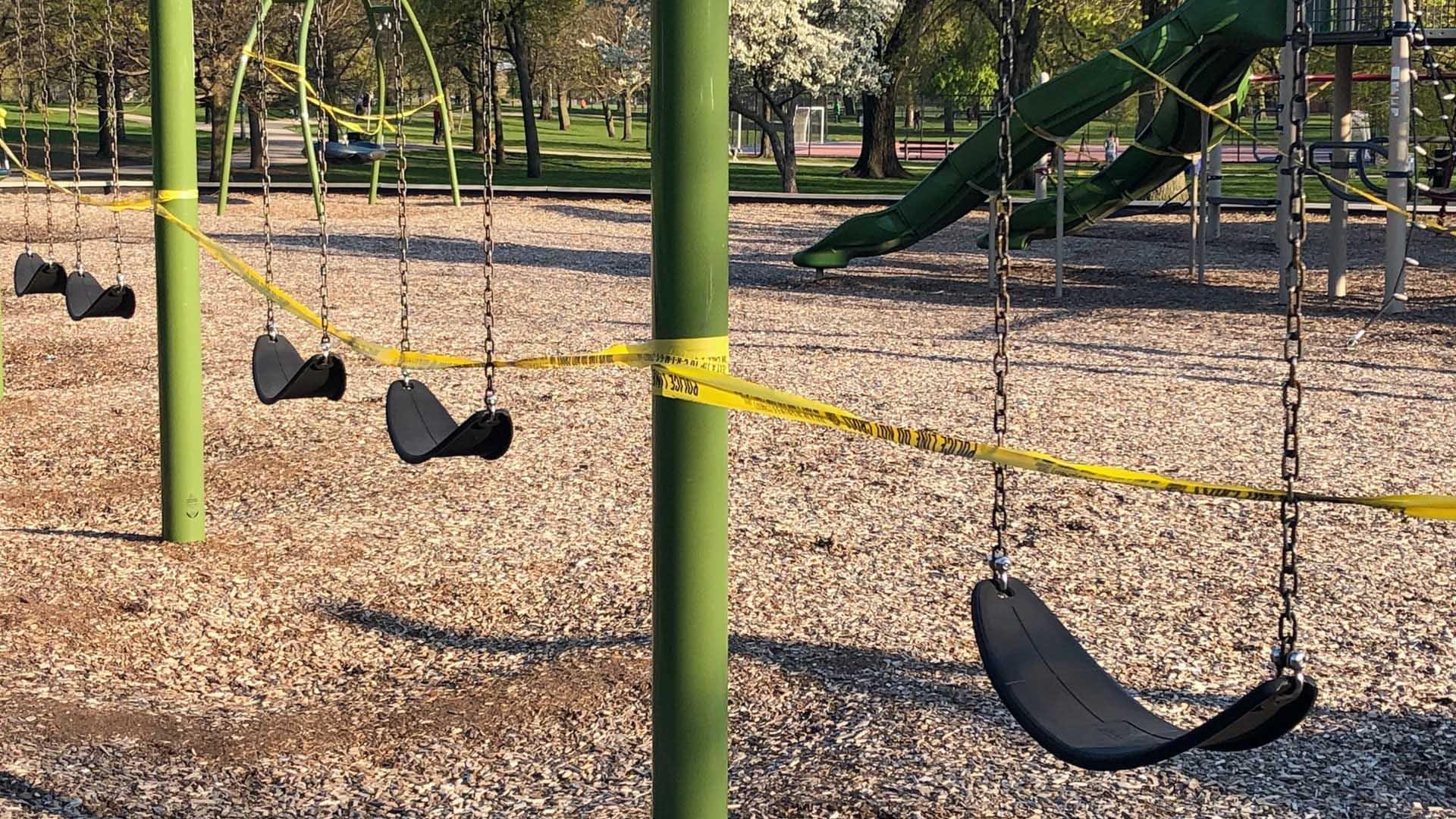 Playgrounds remain closed, awaiting public health guidance. (Patty Wetli / WTTW News)
UPDATE: Lakefront Trail to Reopen June 22, But Beaches Will Remain Closed
Most Chicago parks "reopened" on Monday — though technically the outdoors was never "closed," except along the lakefront — but access to facilities and equipment will remain limited.
Park field houses are open for bathroom use and shelter only, 9 a.m. to 5 p.m. Locker rooms, showers, gymnasiums and fitness centers will remain closed "until public health guidance permits," according to Chicago Park District spokesperson Michele Lemons.
Take note: Playgrounds are still closed, pending the same public health guidance. Officials stressed that equipment is not being cleaned or sanitized, so parents are being asked to keep children away from equipment to prevent the spread of the coronavirus.
No opening date has been set for pools and splash pads, Lemons said.
Camp programming for youngsters is set to begin July 6, she said. 
According to the city's Phase 3 Reopening Plan, which cautiously relaxes restrictions imposed to slow the spread of the coronavirus, the lakefront path, beaches and parks east of Lake Shore Drive are still closed, and the same holds true for the 606 trail and the Riverwalk. 
Lakefront parks west of Lake Shore Drive have reopened as of Monday, including Lincoln Park, Grant Park, Burnham Park, Harold Washington Park and Jackson Park. Maggie Daley Park will reopen June 15, and Millennium Park will reopen in mid-June.
One hundred social distancing "ambassadors" will help manage the flow of people in these parks, as well as provide reminders about social distancing guidelines and the use of face coverings. 
Inland golf courses, including the Diversey Driving Range, are open. Visit www.cpdgolf.com for course hours, guidelines and to book a tee time. The Sydney R. Marovitz and South Shore golf courses are still closed.
Friends of the Parks Executive Director Juanita Irizarry sent a note to members on Monday lauding the Park District's approach to reopening.
"We were happy to see that it is quite nuanced, as we have been requesting," Irizarry wrote, citing the reopening of green space at Rainbow and Calumet Parks, even though the beaches are still closed.
The organization also celebrated the reopening of Steelworkers Park in South Chicago. The park may sit along the lake, but it's "chronically underutilized all year round," and shouldn't have been closed in the first place, Friends has maintained throughout the coronavirus shutdown. 
"It would, in fact, be nice to see more Chicagoans discover this space of historic significance and build a base of usership that would support better amenities there," Irizarry said. 
With Steelworkers and so many other parks now open, Irizarry said, "We hope that access to these parks will allow Chicagoans a chance to stay safe and space out more while getting the physical and mental benefits of visiting the parks and being with nature." 
Note: This story was originally published June 3, 2020. It has been updated.
Contact Patty Wetli: @pattywetli | (773) 509-5623 | [email protected]
---