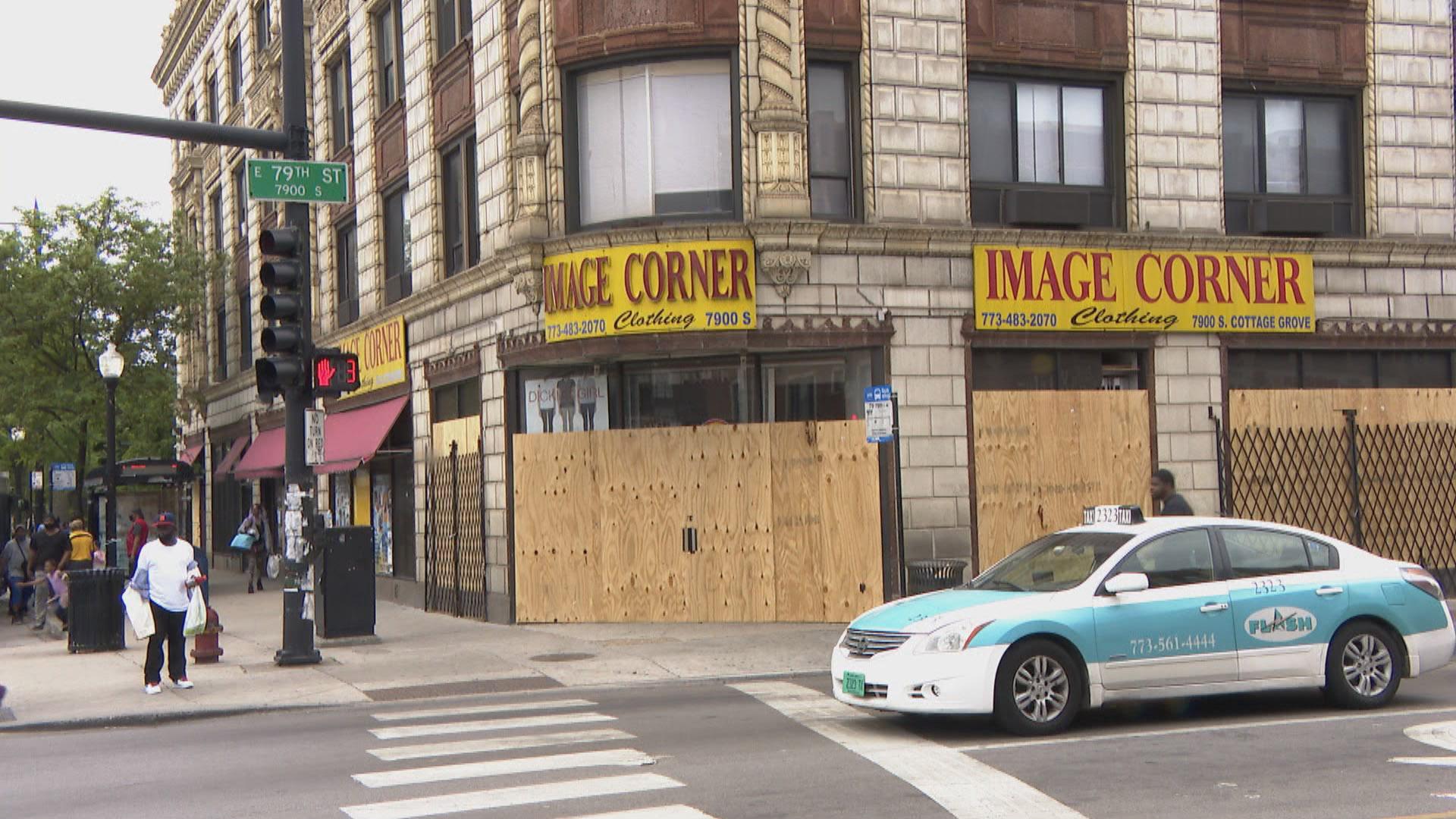 A business is boarded up in Chicago's Chatham neighborhood on the city's South Side on Wednesday, June 3, 2020, following unrest over the killing of George Floyd. (WTTW News)
An increasing number of complaints that Chicago officials decided to protect downtown at the expense of neighborhoods on the South and West sides, many of which were severely damaged in the unrest that swept the city in recent days, are "not true and illogical," Mayor Lori Lightfoot said Wednesday.
The Chicago City Council's Black Caucus criticized Lightfoot's decision to use 375 members of the Illinois National Guard to block off the Loop and the central business district starting Sunday morning, making business corridors on the South and West sides an "easy target" for looters and criminals because they "did not have the same level of protection."
Pleas from several South and West side aldermen for more police resources went answered, the caucus said in its statement.
"Our residents ought to be provided 'equal protection under the law' and no community in our great city should ever endure what transpired over the weekend," said Ald. Jason Ervin (27th Ward), the chair of the caucus.
Ervin's statement invokes the 14th Amendment to the Constitution, which was ratified after the Civil War.
Ervin also called for greater collaboration between the executive branch of the city's government and the legislative branch.
Lightfoot said she asked Gov. J.B. Pritzker to deploy the Illinois National Guard to Chicago in order to use them to create a perimeter around downtown after dozens of businesses were looted Saturday night following a day of peaceful protests.
Organized groups of criminals were responsible for the majority of looting in Chicago, prompting nearly 65,000 calls to the city's emergency operations center, Lightfoot said. Others who looted businesses were "opportunists" who took advantage of the anger sparked by the death of George Floyd in Minneapolis Police custody. The officer who pinned Floyd's neck to the ground has been charged with murder.
"What we saw happening on Sunday and into Sunday night and Monday morning was like somebody setting a match to a dry forest and the blaze just spread everywhere," Lightfoot said.
Even if Chicago had a police department three to four times bigger than the city's force of approximately 13,500 officers, it would have been outmatched, Lightfoot said.
"To suggest that somehow we intentionally spared downtown, tell that to the shop owners along Michigan Avenue who lost everything on Saturday night," Lightfoot said. "It's not true."
Lightfoot and Brown acknowledged that the unrest had exacerbated tensions between black and Latino Chicagoans, but said there was no evidence that any anti-black hate crimes have taken place.
Lightfoot and Brown also dismissed assertions that the police coordinated with street gangs to deter looters.
Brown called suggestions made by Ald. Raymond Lopez (15th Ward) that the Lightfoot administration worked with gangs to protect businesses from looters "ridiculous."
If members of gangs want to help, they should lay down their guns, Brown and Lightfoot said.
Lightfoot said tension between black and Latino Chicagoans has also been exacerbated by rumors amplified on social media, as well as by Lopez, who is one of her fiercest critics.
Ald. Mike Rodriguez (22nd Ward) and Ald. Byron Sigcho-Lopez (25th Ward) said Lopez was incorrect when he said Tuesday on "Chicago Tonight" that they had worked with gangs to protect their West Side wards.
Sigcho-Lopez said that allegation was "unequivocally false and immoral."
"Raymond Lopez does not seem to use his brain when he speaks," Sigcho-Lopez said.
Video: Ald. Lopez appears on an aldermanic panel Tuesday on "Chicago Tonight."
Lopez did not respond to a request for comment from WTTW News on Wednesday, but stood by his claim that the Lightfoot administration and aldermen were working with gangs in a tweet.
Sigcho-Lopez said he shared the Black Caucus' concern about Lightfoot's plan to address the unrest.
"Her strategy is a mess," Sigcho-Lopez said, adding that he had no doubt that blocking off the Loop worsened violence in the neighborhoods.
Sigcho-Lopez also objected to Chicago police officials' decision to send officers from the West Side to patrol peaceful protests on the North Side in Old Town and Uptown.
"That is outrageous," Sigcho-Lopez said.
Rodriguez said members of the Little Village community banded together to protect businesses along 26th Street, which he called an "extraordinary" display of mutual aid by residents in the face of the violence.
"We acted out of necessity," Rodriguez said, declining to comment on Lightfoot's strategy, and adding that anyone or any group that offered to help was welcomed.
That meant that businesses in the most popular shopping district outside the Loop remained mostly unscathed despite the unrest, Rodriguez said.
However, some of those who were protecting the neighborhood targeted people "who were perceived to be outsiders" based on their race, Rodriguez said.
That was "unfortunate and unacceptable," Rodriguez said, adding that he began working to address those issues immediately.
Contact Heather Cherone: @HeatherCherone | (773) 569-1863 | [email protected]
---