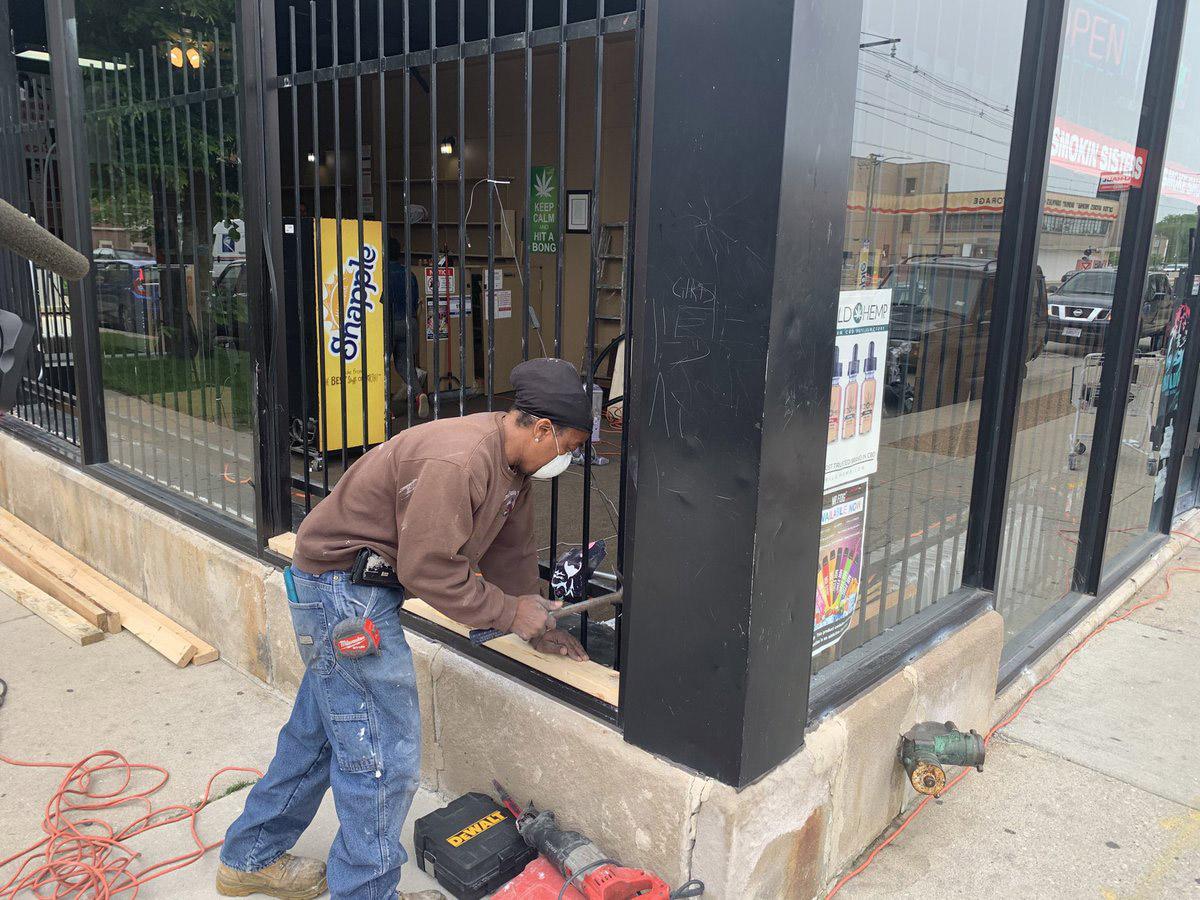 Crews start boarding up the 3 Smokin Sisters Tobacco Shop on 71st Street in Chicago's South Shore neighborhood. Shop owners emptied the store of inventory following looting on Sunday, May 31, 2020. (@paschutz / Twitter)
Chicago's small business community, already suffering from the coronavirus pandemic, was dealt another blow over the weekend when peaceful protests devolved into rioting and looting across the city. 
Those actions were sparked by outrage over the killing of George Floyd while in the custody of Minneapolis police.
Smashed windows, ransacked shelves of merchandise and other property damage greeted shop owners from Wicker Park to South Shore on Monday morning, just days away from Chicago's long-awaited transition to phase three of the city's reopening plan.
"Words cannot express the hurt I feel for them," Rosa Escareno, commissioner of the Chicago Department of Business Affairs and Consumer Protection, said Monday during a press conference. "They see their livelihoods completely devastated."
Mayor Lori Lightfoot vowed to deploy resources from numerous city departments to aid in cleanup and rebuilding. 
"We will not let our city be in shambles," Lightfoot said. "We will rebuild, and the city of Chicago government will lead. We are not going to leave our neighborhoods behind."
The mayor said she had yet to make a decision on whether the weekend's events would cause her to push back Wednesday's anticipated reopening of many Chicago businesses, including salons and outdoor dining.
"Of course I'm concerned," Lightfoot said. "All that effort (to reopen) went down in flames."
Escareno said she was in constant communication with more than 100 neighborhood chambers of commerce to offer guidance and assistance. Her department would triage districts most in need of help, she said, and members of her staff would be out walking with chambers to assess damage.
A preliminary evaluation from the Department of Buildings identified 180 buildings in need of some sort of repair, according to Commissioner Judy Frydland. Her office will help coordinate necessary board-ups.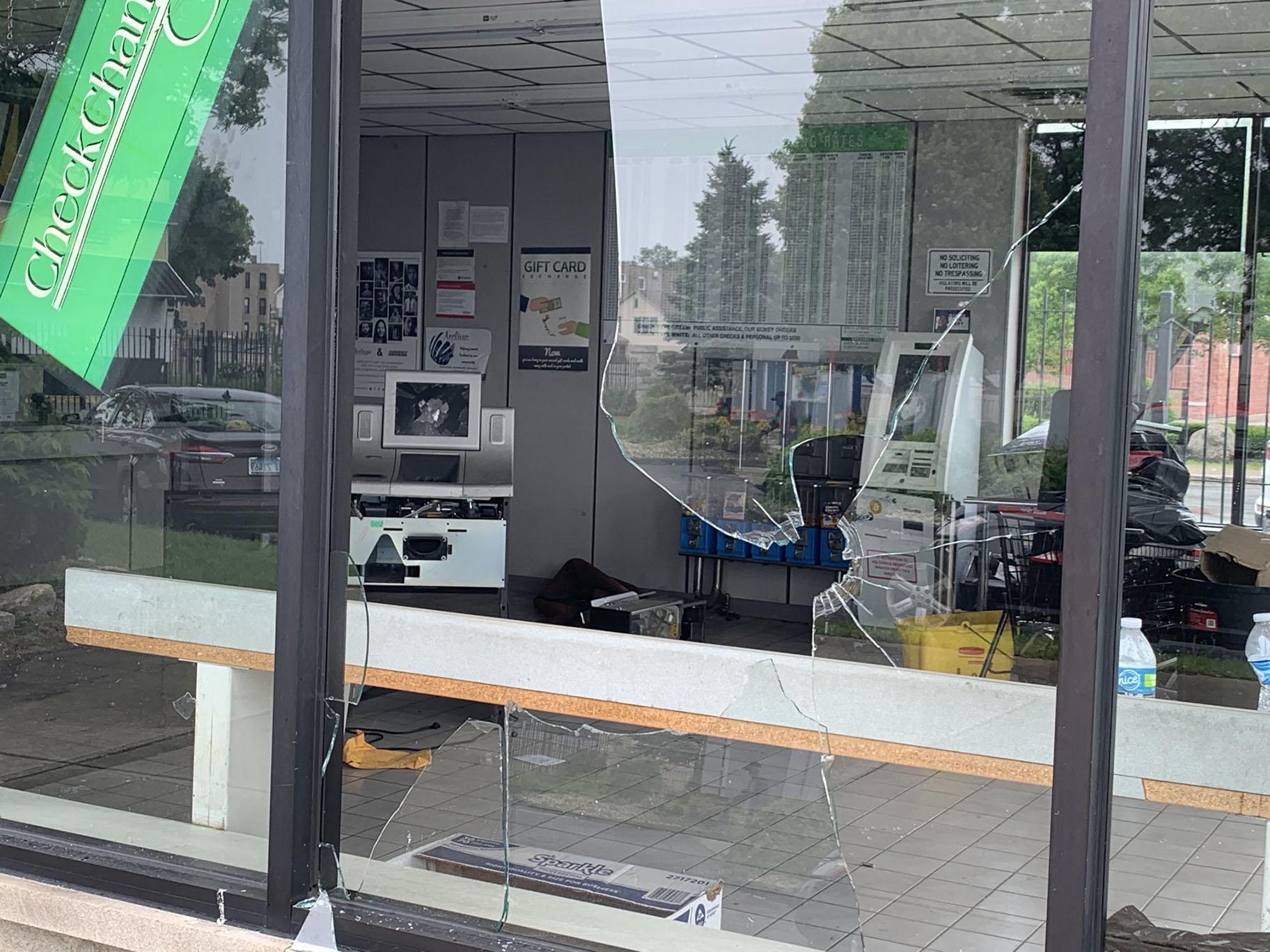 A check cashing store on 51st Street in Chicago after a weekend of looting resembles other sites across the city, with windows and equipment smashed. (@paschutz / Twitter)
Lightfoot said it was "heart-wrenching" to see "attacks on local storefronts."
"When you loot a business, you're not just taking goods, you're destroying someone's dreams. Who hired employees from your neighborhood, to serve you," said the mayor. "I understand people feel hopeless. God help us all if we believe we can express our pain by destroying the hope and livelihood of others."
The Department of Streets and Sanitation will have crews working 12-hour shifts until further notice, picking up debris and sweeping streets and sidewalks, according to Commissioner John Tully. 
His team has been bolstered by 175 additional employees, drawn from the departments of water, transportation and business affairs, who are helping maintain a perimeter around the central business district, he said.
In addition to limited access to downtown and the Loop (see boundaries below), sporadic street closures will be in effect around "hot spots" to discourage additional damage or to aid cleanup, officials said.
According to Police Superintendent David Brown, National Guard troops are being used largely to block off intersections, leaving police free to patrol neighborhoods.
These official efforts are being complemented by volunteer cleanup crews, either organized by civic groups and nonprofits or simply neighbors pitching in on their own. 
Malcolm Crawford, director of the Austin African American Business Networking Association, said he saw folks walking along Madison Street with brooms in their hands. 
"I love Chicago," Crawford said. "When it's darkest, that's when you begin to see the light."
In Chatham, Escareno said she heard reports of community members blocking looters from damaging neighborhood businesses. 
Lightfoot cautioned Chicagoans against taking protective measure too far.
"Do not pick up arms and try to be the police," she said. "Do not take matters into your own hands. Call the police."
---
The boundaries of the central business district are:
— Division Street from Lake Shore Drive to Halsted Street
— Halsted Street from Division Street to Milwaukee/Grand Avenue
— Milwaukee Avenue from Grand Avenue to Kinzie Street
— Canal Street from Kinzie Street to Cermak Road
— 26th Street from State Street to Lake Shore Drive
— Cermak Road from Canal Street to State Street
— State Street from Cermak Road to 26th Street  
---
Contact Patty Wetli: @pattywetli | (773) 509-5623 | [email protected]
---