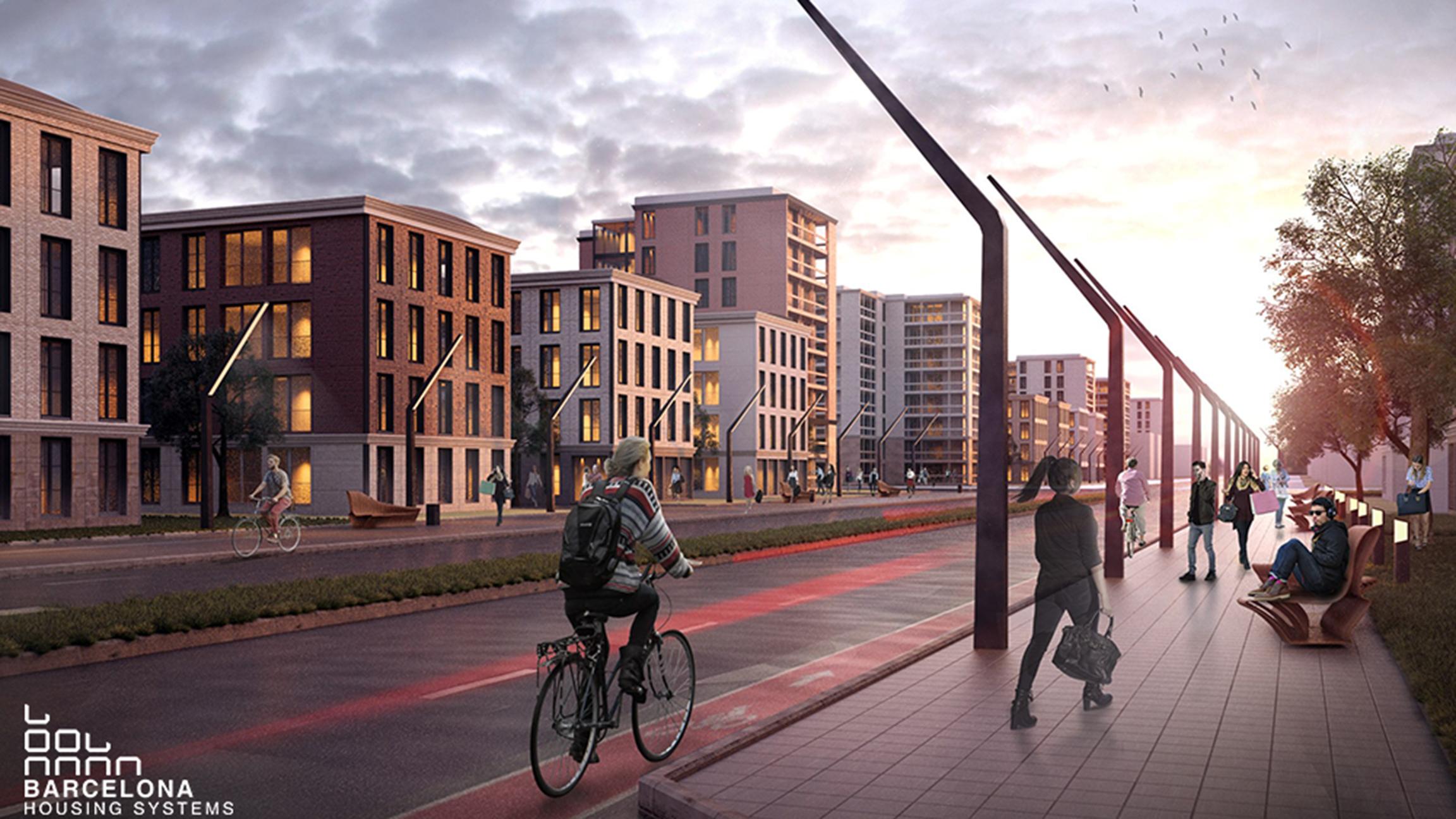 A rendering of failed development plan for the South Works site. Neighbors want a say in what comes next. (Courtesy of Barcelona Housing Systems)
Residents of the Southeast Side of Chicago are clear about what they don't want in their neighborhoods.
They've successfully fought to ban petcoke and are in the midst of battles against General Iron, which is planning to move its metal shredding operation from Lincoln Park to the East Side, and the Army Corps of Engineers, which wants to expand, by 22 vertical feet, a toxic sludge dump in Calumet Harbor. 
"Any dirty industry you could think of, they put it here," said Peggy Salazar, executive director of the Southeast Environmental Taskforce.
So what would be welcome?
A group of more than two dozen community organizations — representing South Chicago, South Shore, East Side, South Deering, Hegewisch, Roseland, Woodlawn and Hyde Park — has an answer for that question.
Following an 18-month "visioning" process, the Coalition for a South Works CBA presented the "Good Neighbor Policy on Development" at a virtual town hall meeting last week.
The policy lays out priorities gathered during a series of community forums held in 2019 on employment, economic activity, education, housing, quality of life and the environment.
The guidelines are aimed both at developments already announced/in progress and those yet to come, particularly any entity eyeing the massive South Works property vacated by U.S. Steel. Three times as large as Lincoln Yards and The 78 combined, South Works is Chicago's last undeveloped parcel along Lake Michigan. (A proposal fell through in 2018.)
"We need to make sure the community has a voice," said Amalia Nieto Gomez, executive director of the Alliance of the SouthEast.
The policy's recommendations for development range from broad strokes to specifics.
On the employment front, the policy calls for companies to bring well-paying jobs to the area, the kind that "enable people to go to grocery stores and not food pantries," said Marie Collins-Wright, of the Jeffery Manor Community Revitalization Council.
To remove barriers to locals seeking employment, businesses should invest in training programs, child care and transportation infrastructure.  
In terms of residential housing development, affordable housing is in high demand, particularly for families. One-third of a development's affordable housing should be three- to four-bedroom units to accommodate families, according to the policy.
Education priorities include providing students with access to up-to-date technology and creating partnerships between schools and the business community to create a jobs pipeline, as well as opportunities for students to learn trade skills.
Perhaps most importantly, any development coming into the area "needs to move away from dirty, polluting industry," said Salazar.
"We want them to offer a greener built environment," and to adhere to stricter regulations, she said.
The coalition would also like to attract sports facilities, community centers and quality food options, not just grocers and restaurants, but growers. 
"These are the things that make a community livable, where you want to live and other want to join in," Salazar said.
South Chicago could soon see investment in many of these types of amenities. The neighborhood is one of six finalists in the Chicago Prize competition, which will award a $10 million grant to one South or West side community in the fall.   
South Chicago's entry calls for athletic facilities, a wellness center with business incubator, a performing arts center and natural play space, and an affordable housing development with a quality grocery store. 
The coalition's policy also provides the kind of blueprint for development that city officials can turn to for guidance as part of the Invest South/West initiative, which was created to coordinate investments in 10 neighborhoods, including South Shore and South Chicago.
Jasmine Gunn, of the Department of Planning and Development, attended the virtual town hall and said the coalition's visioning process actually anticipated Invest South/West's next phase of community engagement, which was to meet with residents and set priorities.
"You guys have already done the work," Gunn said. 
Contact Patty Wetli: @pattywetli | (773) 509-5623 |  [email protected]
---