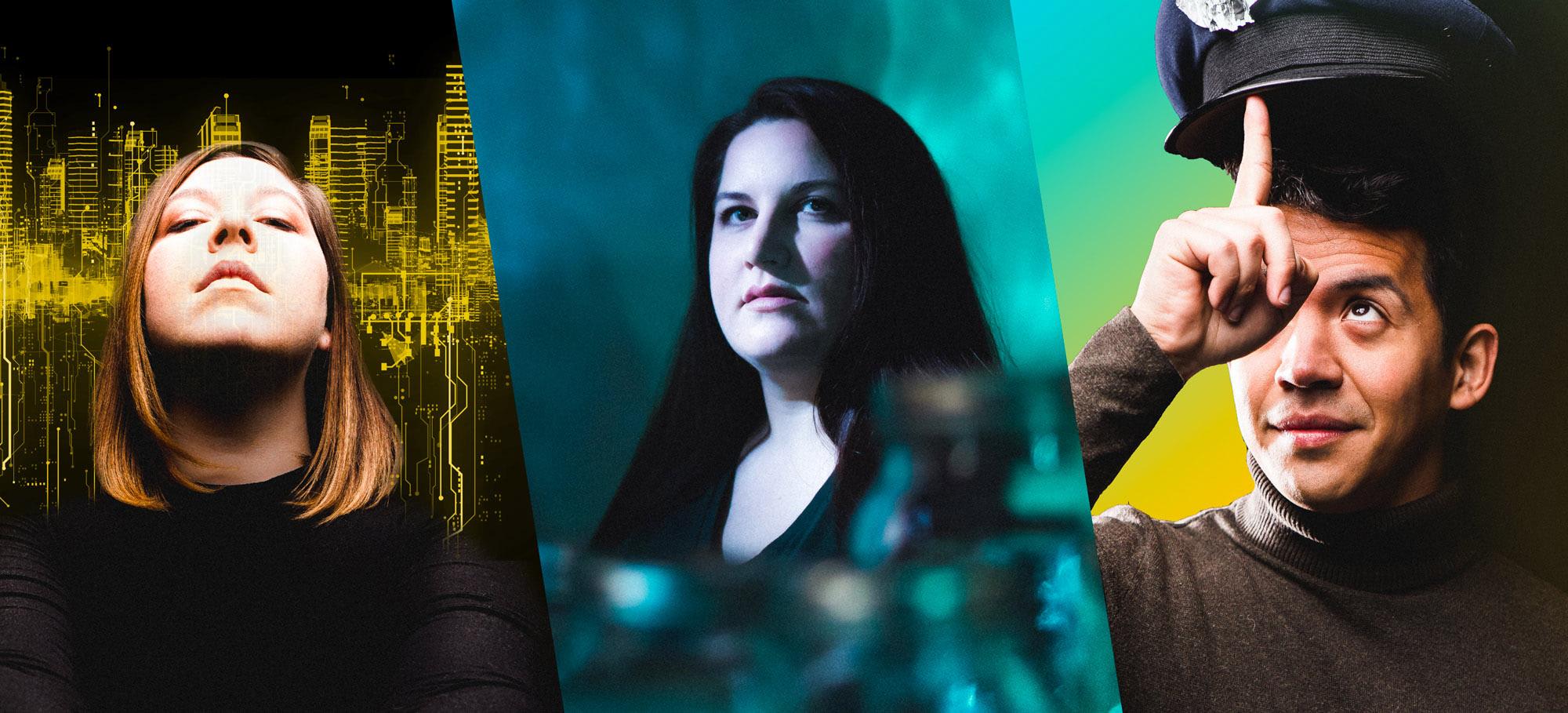 Promotional images for Chicago Opera Theater's 2020-2021 season. (Credit: Joe Mazza)
Emily Dickinson may have said it best: "Hope is the thing with feathers that perches in the soul, and sings the tune without words, and never stops at all."
So, amid all the dire warnings that live performances of music, dance and theater might not start up again until 2021 (something I thought might very well be the case), the news that the ever innovative and richly creative Chicago Opera Theater (COT) plans to begin its three-production 2020-2021 season in November comes as an enormous spirit-raiser. Making the announcement even more welcome is the fresh and intriguing lineup of works to be presented at the Harris Theater for Music and Dance and the Studebaker Theatre.
According to COT's music director, Lidiya Yankovskaya, the season of three Chicago premieres "will uphold our commitment to presenting new works with many different voices, subjects, styles and languages, alongside masterworks that have yet to be heard in Chicago."
The productions include:
"The Invisible City of Kitezh" (Nov. 21 and 22 at the Harris Theater), a work of magical realism widely considered Russian composer Rimsky-Korsakov's finest opera.
The work, described as "the tale of a community coming together to fight off a threat, and generating tension between sacrifice for the greater good and short-term gain," will be performed in Russian, and will star Kansas-bred soprano Raquel Gonzalez, Russian-born tenor Viktor Antipenko, and Chicago-based David Congelosi as Grishka Kuterna, who gets to sing a rare mad scene written for a tenor.
Yankovskaya will conduct the work, with its massive orchestra and chorus "socially distanced across the stage" and adapted for concert format "to allow for any quick changes necessary to accommodate evolving COVID-era health guidelines."
"Taking Up Serpents" (Feb. 20, 26 and 28 at the Studebaker Theatre):
With music by Indian-American composer Kamala Sankaram, a libretto by Jerre Dye (sung in English), direction by Alison Moritz, and musical direction by Yankovskaya, this opera explores the psyche of Kayla, the daughter of a charismatic Pentecostal snake handler in the American South searching for her relationship to family and faith. Sankaram's score is described as "juxtaposing highly Romantic musical writing with unusual instrumentation (electric guitar, whirly tubes and waterphone), and Appalachian sharp note singing." It will feature soprano Alexandra Loutsion as Kayla, mezzo Leah Dexter as her mother, and Michael Mayes as her preacher father.
"Il Postino (The Postman)" (April 17, 22 and 25 at the Studebaker Theatre):
Based on the 1995 Michael Radford film about the man who delivers mail to the exiled Chilean poet Pablo Neruda, the opera (sung in Spanish) is the work of the late Mexican composer-librettist Daniel Catan. It will be directed by Crystal Manich and conducted by Ivan Lopez Reynoso, and will feature tenors David Montenegro and David Lomeli.
For subscriptions ($95-$450), call (312) 704-8414 or visit www.cot.org/subscribe. Single tickets go on sale Aug. 1.
Follow Hedy Weiss on Twitter: @HedyWeissCritic
---