Video: With COVID-19 cases surpassing 100,000, the state gears up to partially reopen next week. Here with the latest from Springfield and City Hall are Amanda Vinicky, Paris Schutz, Heather Cherone and Carol Marin.
---
The City Council on Wednesday approved several measures designed to protect employees and help businesses during the coronavirus pandemic, including a measure that makes it illegal for workers to lose their jobs if they fall ill with the virus.
Employers are now blocked from firing or retaliating against employees who decline to return to work because they have been ordered to isolate by public health officials.
"Employees should not have to choose between keeping their jobs or saving their lives," Mayor Lori Lightfoot said.
Businesses could face fines of up to $1,000 per offense per day, officials said.
However, Chicago workers will not be able to sue their employers until after Jan. 1, 2021, if the companies fail to give them two weeks' notice of their schedules after July 1.
The city's so-called Fair Work Week ordinance will go into effect on July 1, requiring some employers to notify workers of their schedules two weeks in advance in an effort to reduce the stress caused by unpredictable shift work. The city will still enforce the ordinance, officials said.
In addition, Chicago businesses would not have to renew their licenses — or pay late fees if those licenses expire — until after June 30 under a measure that was approved unanimously Wednesday.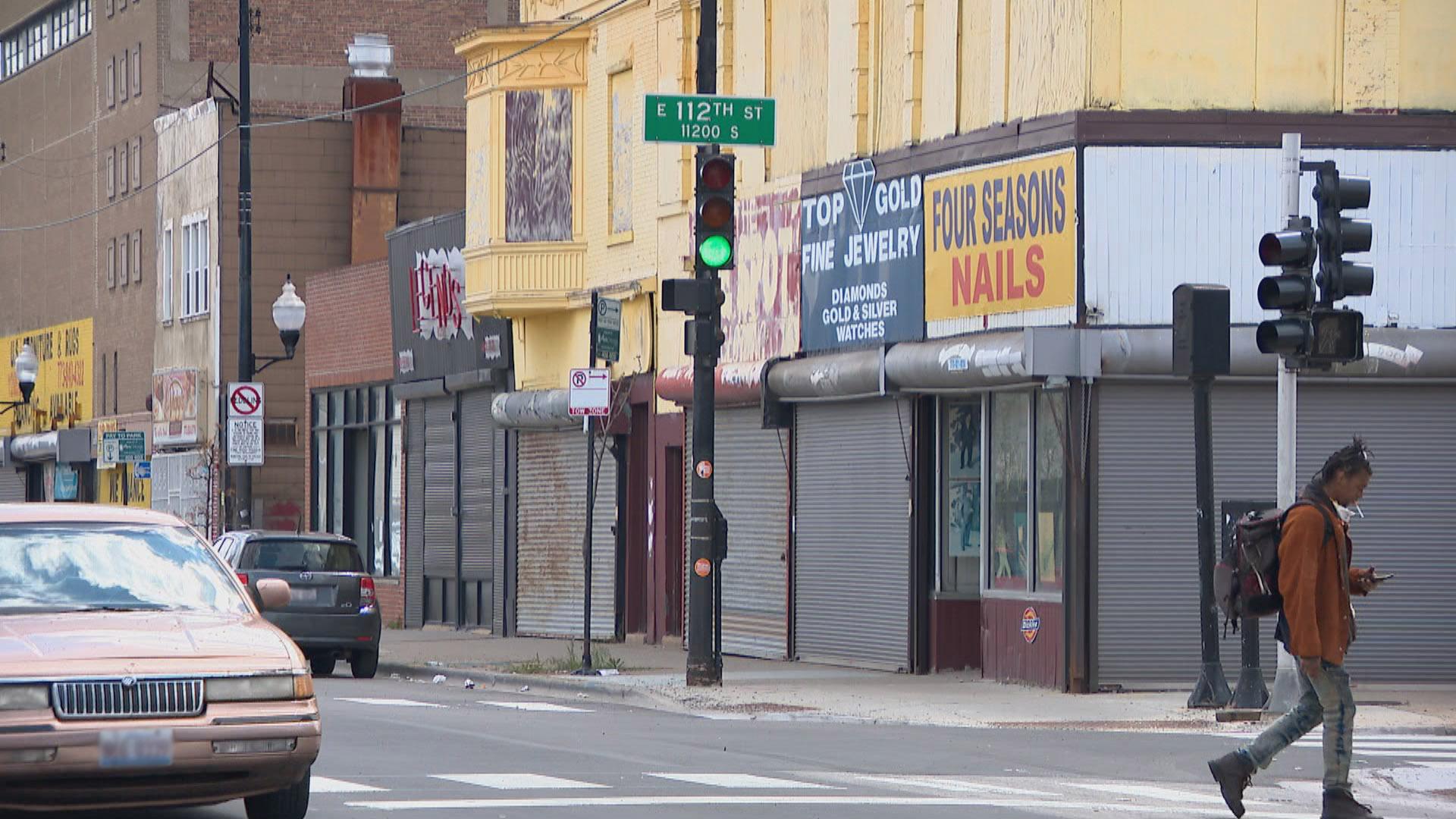 A lone pedestrian crosses the street in Chicago's Roseland neighborhood in May. Across the city, businesses and schools are closed and residents are staying home to avoid COVID-19. (WTTW News)
Aldermen also voted to suspend the fee ride-hailing services and taxi cab companies pay to the city to offer wheelchair-accessible transit options. Cabs pay $22 a month into the fee, while 10 cents from each ride-hailing ride flows into the fund. 
The City Council also agreed to create a $3 million fund to preserve approximately 3,200 affordable homes in Chicago.
The Emergency Relief for Affordable Multifamily Properties program is designed to avoid a wave of evictions caused by foreclosures on affordable housing complex, said Housing Commissioner Marisa Novara.
Aldermen also approved a proposal to give stores, restaurants and rental car companies at O'Hare and Midway airports a two-month break on most of the rent they owe to the city.
Lightfoot said the relief was "desperately needed" as air travel has dropped significantly, emptying the terminals.
Other items approved Wednesday by the City Council:
— Plans to build a 1,422-foot tower on what is now a surface parking lot east of the Tribune Tower. The tower would become the city's second tallest building.
— Plans for a 100-unit all-affordable housing complex in Logan Square with a $10.1 million city subsidy and $24 million in loan guarantees.
— An agreement to pay $2.25 million to Ricardo Hayes, a developmentally disabled man who was shot by a Chicago Police sergeant in 2017. The shooting was ruled unjustified.
— An agreement to pay $300,000 to Pierre Green, who spent four years in jail after being arrested by police officers who pulled the car he was driving over by mistake, by a final vote of 33-16.
— A plan to borrow $100 million from an existing line of credit to fund infrastructure improvements set to be completed this summer, including street and sidewalk repairs.
— A plan to tap Kenneth Williams to lead the City Council's Office of Financial Analysis, filling a position vacant for approximately a year.
Contact Heather Cherone: @HeatherCherone | (773) 569-1863 | [email protected]
---