Since the city shut down the 606, the Riverwalk, and the lakefront trail, parks, and beaches in March, some Chicagoans have been rallying for more room to walk, run and bike while keeping their distance from others. But some advocates say the push for open space overlooks the priorities of communities of color, which have been hardest hit by the coronavirus.
Many cities, including New York and Oakland, have started closing off some streets to most vehicle traffic and opening them up to pedestrians. Some locals have been pushing for Chicago to follow suit.
"Opening up our streets for people to walk and rollerblade and skateboard and all of that is a good use of our resources," Courtney Cobbs of Streetsblog Chicago told WTTW News in March.
But in an appearance on the Facebook Live show of public health chief Dr. Alison Arwady, transportation commissioner Gia Biagi said the city is taking a cautious approach.
"Whatever we do has to be meaningful, so we are not doing this just to say that we did something," Biagi said. "It has to be addressing the problem as the problem's been identified through local knowledge and local know-how."
And while you're not likely to hear a city official saying it's OK to run or walk in the streets, Biagi acknowledged it's happening, and she asked Chicagoans to practice common courtesy.
While many in Chicago agree that more space for people on foot and on bikes is a good thing, some say the push for so-called "open streets" is lacking in nuance.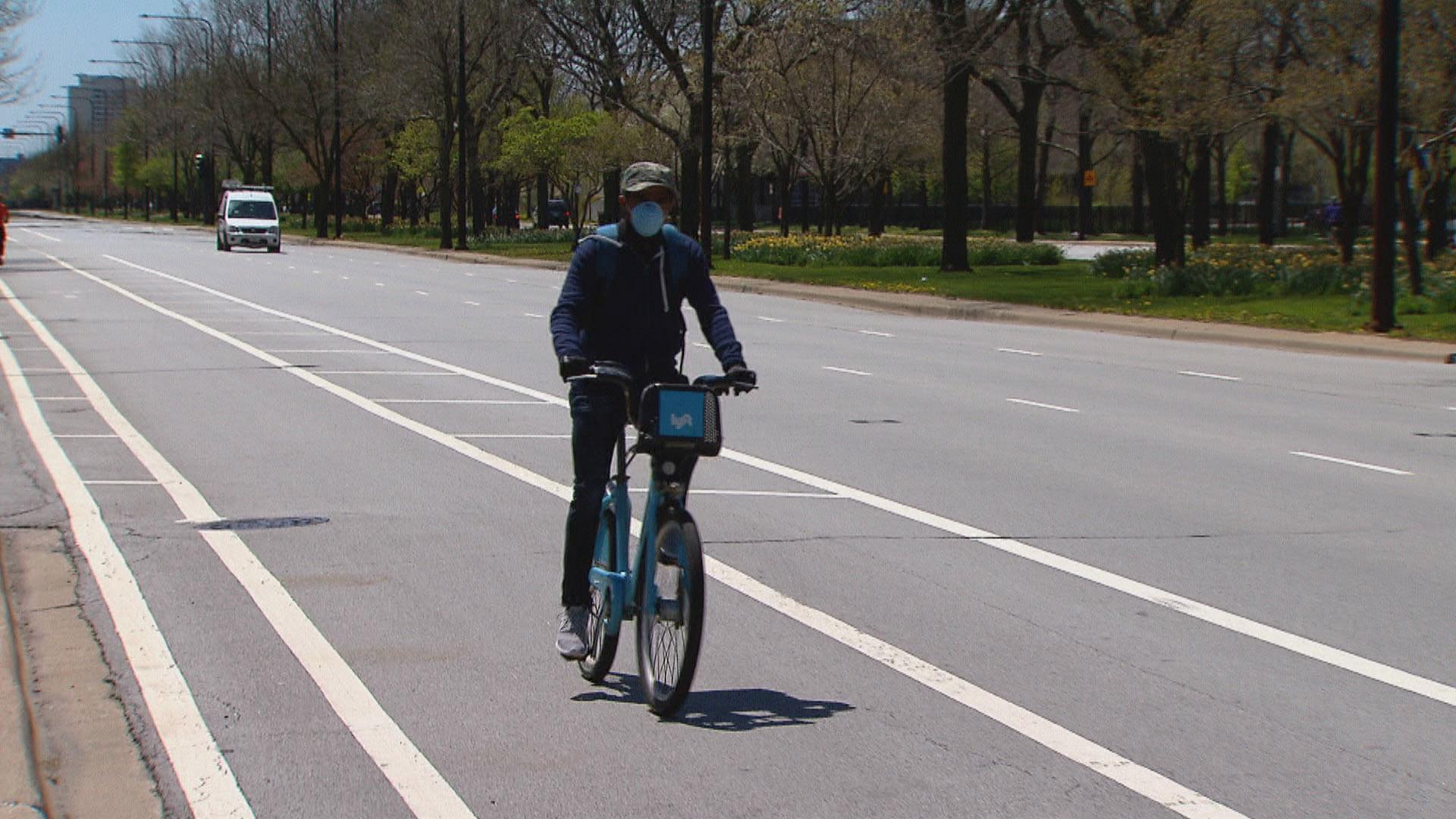 A cyclist wearing a face mask rides a Divvy bike in Chicago. (WTTW News)
"In the face of a crisis the inclination can sometimes be (that) we need to decide things quickly because it's a crisis, and we need to implement things to make sure people are safe right now," said Lynda Lopez of the Active Transportation Alliance. "I don't think that's always – or ever – really a good thing for equity implications."
Lopez says we should recognize that not everyone feels comfortable on their neighborhood streets and that some Chicagoans would worry about interacting with police; that we should prioritize essential workers, many of whom are people of color who live in low-income communities; and ask communities what they need and want.
"Are there certain streets in high-impact neighborhoods that see more crowds because there's a lot of essential services … heavily trafficked bus stops, or heavily trafficked streets? I think that's where the conversation on public space becomes more relevant," Lopez said.
And it's not just a question of streets – it's also about access to public places like parks, says Juanita Irizarry of Friends of the Parks.
"I live near Humboldt Park and I have received many calls from people who say, 'The cops just ran me out of Humboldt Park and told me that it was closed.' But Humboldt Park is not closed," Irizarry said. "There needs to be clear, fair enforcement of the existing orders."
The Chicago Police Department did not respond to a request for comment. 
Irizarry says the closure of lakefront parks highlights their importance, especially to residents in dense neighborhoods nearby. But she also says when we're thinking about public spaces, we have to think about the concerns of traditionally overlooked communities. "When they're trying to eat, they're trying to make sure their children are effectively engaging in school work, when they're trying to deal with other issues in their community, when they're dealing with morbidity rates around COVID-19," she said. "But when you dig a little deeper, then folks are more able to articulate where parks and green space are important in their life."
Irizarry wants to see more and better parks across the city. She and Lopez both say Chicagoans deserve more open space. But as the coronavirus exacerbates longstanding inequities, they say that open space needs to work for everyone. 
The Department of Transportation has set up an email address for Chicagoans to send in their concerns and suggestions for streets and public spaces in the age of COVID-19. You can send a message to [email protected].
---