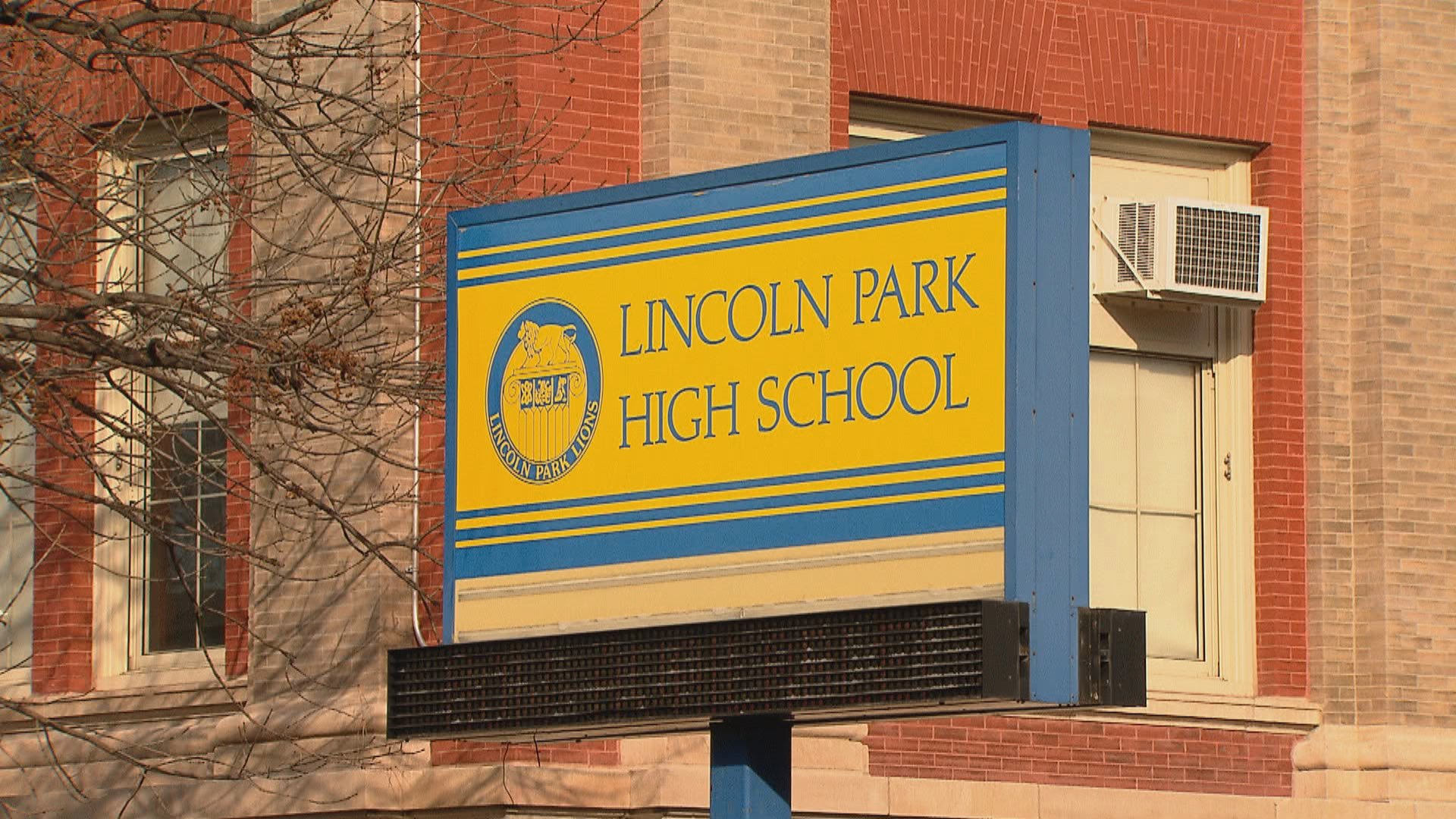 Lincoln Park High School (WTTW News)
After months of turmoil and turnover, Lincoln Park High School has a new principal, putting a permanent leader in place after multiple school staffers and administrators were pulled from the school amid sexual misconduct allegations and other issues.
The school's Local School Council selected Eric Steinmiller, who currently serves as an assistant principal at Roosevelt High School in Albany Park, offering him a four-year contract to take over at LPHS. A Chicago Public Schools spokeswoman confirmed that announcement Tuesday morning.
The school's LSC chairperson Gary Rovner said Steinmiller has a scheduled start date of May 4, subject to his confirmation.
"We are confident that Dr. Steinmiller will bring to bear his considerable experience as a teacher, coach and administrator, a love of education, a heartfelt sense of fairness and a deep wellspring of enthusiasm to the job," Rovner said in a community letter sent Tuesday. "We can't wait to get back to doing the regular work of LPHS with him."
Steinmiller received his master's degree at Loyola University Chicago and his doctorate from the University of Illinois at Chicago, according to his LinkedIn profile. He has been with CPS since at least 2012 serving in various roles including resident principal at North Lawndale College Prep and principal at Sutherland Elementary.
He takes over for LPHS administrator Jerryelyn Jones, who was put in place temporarily following the abrupt firing of interim principal John Thuet and assistant principal Michelle Brumfield earlier this year.
In late January, Thuet and Brumfield were removed while LPHS Dean John Johnson and boys basketball coach Donovan Robinson were reassigned after CPS said it learned of "multiple allegations of serious misconduct" involving the school's athletics program.
Due to the severity of that alleged misconduct, CPS opted to suspend the boys basketball team's season until further notice. That prompted a series of protests from students at the school, who wanted both Thuet and Brumfield reinstated and their basketball season restored.
Parents and families have also complained that they've been left largely in the dark about why exactly those moves were made.
After firing Thuet and Brumfield, CPS selected Jones and Judith Gibbs to serve as administrators in charge at the school. But Gibbs left the school just days later after a video surfaced that allegedly showed her grabbing a student's face in a school hallway.
Parents were informed Gibbs chose to leave because "she was not a good fit for LPHS."
Two weeks after Gibbs left, another LPHS staffer was removed from the school following an "altercation with a student."
Days later, Thuet and Brumfield filed a defamation lawsuit against CPS, district CEO Janice Jackson and others, claiming they had been defamed by Chicago Public Schools and denied their due process rights when they were fired without explanation.
"This lawsuit is about fairness and the truth and those are two things that CPS doesn't appear to be particularly interested in right now," their attorney Matt Ryan told WTTW News shortly after the lawsuit was filed.
An LPHS parent has also filed a lawsuit against the Chicago Board of Education, claiming his daughter was sexually assaulted inside the school, and the district failed to protect her.
Lincoln Park High School serves more than 2,100 students across grades 9-12.
"As you all know, this has been a long and, at times, difficult process," Rovner wrote in the LSC letter. "The LSC is grateful for the thoughtful input we received at every step of the way from faculty and staff, from the community and from the students at LPHS."
Contact Matt Masterson: @ByMattMasterson | [email protected] | (773) 509-5431
---