Late last month, the top two administrators at Lincoln Park High School – interim Principal John Thuet and assistant Principal Michelle Brumfield – were fired by Chicago Public Schools.
CPS says the two were removed because of "multiple allegations of serious misconduct involving the athletics program." There are also allegations of sexual misconduct involving both students and adults.
But in an exclusive interview with "Chicago Tonight," Thuet and Brumfield said CPS has told them nothing about the allegations.
"We've gotten no information on why we were dismissed," said Thuet.
In response, Thuet and Brumfield have filed a federal defamation lawsuit against CPS, CPS CEO Janice Jackson and others.
Matt Ryan, a lawyer at Cotsirilos, Tighe, Streicker, Poulos & Campbell Ltd., is representing Thuet and Brumfield and said the two were harshly treated.
"This lawsuit is about fairness and the truth and those are two things that CPS doesn't appear to be particularly interested in right now," said Ryan. "On Jan. 31, Michelle and John were called downtown to CPS headquarters and they were simply given their walking papers. They weren't given any notice of any allegations of misconduct on their part. They weren't interviewed. They weren't given an opportunity to defend themselves against any claims that they engaged in misconduct. They were put on the 'Do Not Hire' list and sent home."
Ryan said CPS then made things worse by providing "false statements to the media stating that Mr. Thuet and Ms. Brumfield had engaged in conduct that endangered students. That's simply false."
"CPS went out of its way to drag their names through the mud and stigmatize them and make them virtually unemployable," he said.
A number of the allegations center on an unauthorized trip to Detroit by the boys basketball team.
Thuet says that on Dec. 31, he learned that a parent had information about potential misconduct involving students on that trip. He said he immediately texted CPS District 14 Network Chief Maura LeMone to inform her of the allegations.
"We followed protocol," Thuet said. "I constantly was in touch with the network. With the Office of Student Protections (OSP). With the Law Department, getting guidance on what to do on every step. We didn't take any actions without consulting with them."
Brumfield says she has no idea why CPS has taken such harsh action against them.
"We simply just don't know," she said. "We genuinely thought we were working hand-in-hand with OSP … We took these allegations very seriously."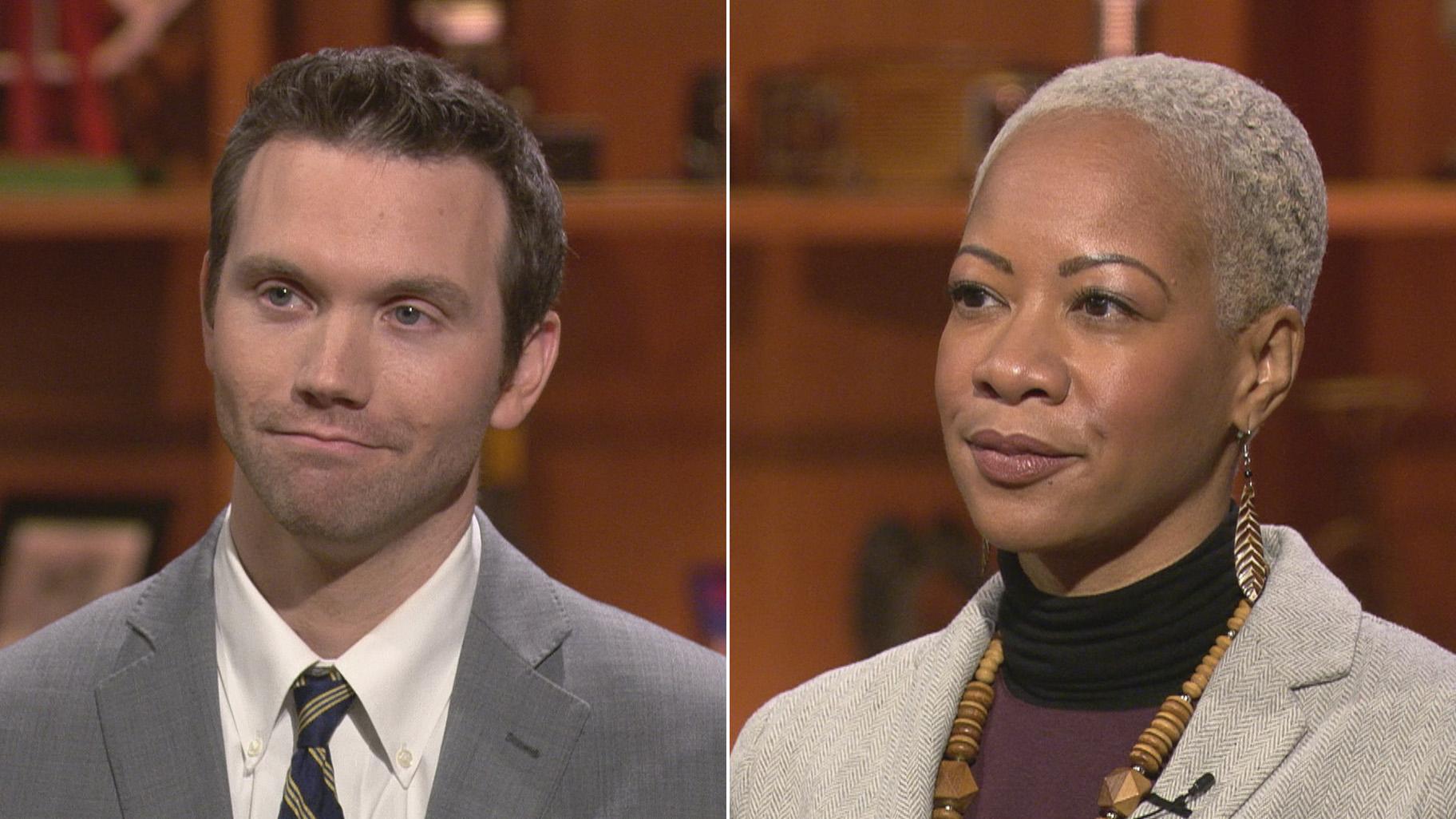 Former Lincoln Park High School interim Principal John Thuet and the former assistant Principal Michelle Brumfield appear on "Chicago Tonight" on Feb. 27, 2020. (WTTW News)
A CPS spokeswoman declined comment, citing the ongoing litigation.
Thuet and Brumfield had only been at Lincoln Park High School since August 2019 and say the action by CPS has left them traumatized.
After they were fired, CPS opted to cancel the rest of the LPHS boys basketball season. Parents and families have said they've been left largely in the dark about why exactly those moves were made, while students have pushed for Thuet and Brumfield to be reinstated.
"Nobody, no adult has yet to tell us why our season was cancelled," Charles Jackson, an LPHS senior and member of the basketball team told the Chicago Board of Education on Wednesday. "We only know what we have read in papers. You talk a good game about transparency and communication, but what have you done here?"
At that same meeting, schools chief Jackson said her primary focus was on student safety.
"My responsibility first and foremost is to the 350,000 students that I serve daily in CPS," said Jackson. "To that end, I have resolved in both spirit and practice to make sure it is crystal clear that any event where the safety of a student is violated, threatened or that trust is breached, that we will act swiftly and in the best interest of children."
---