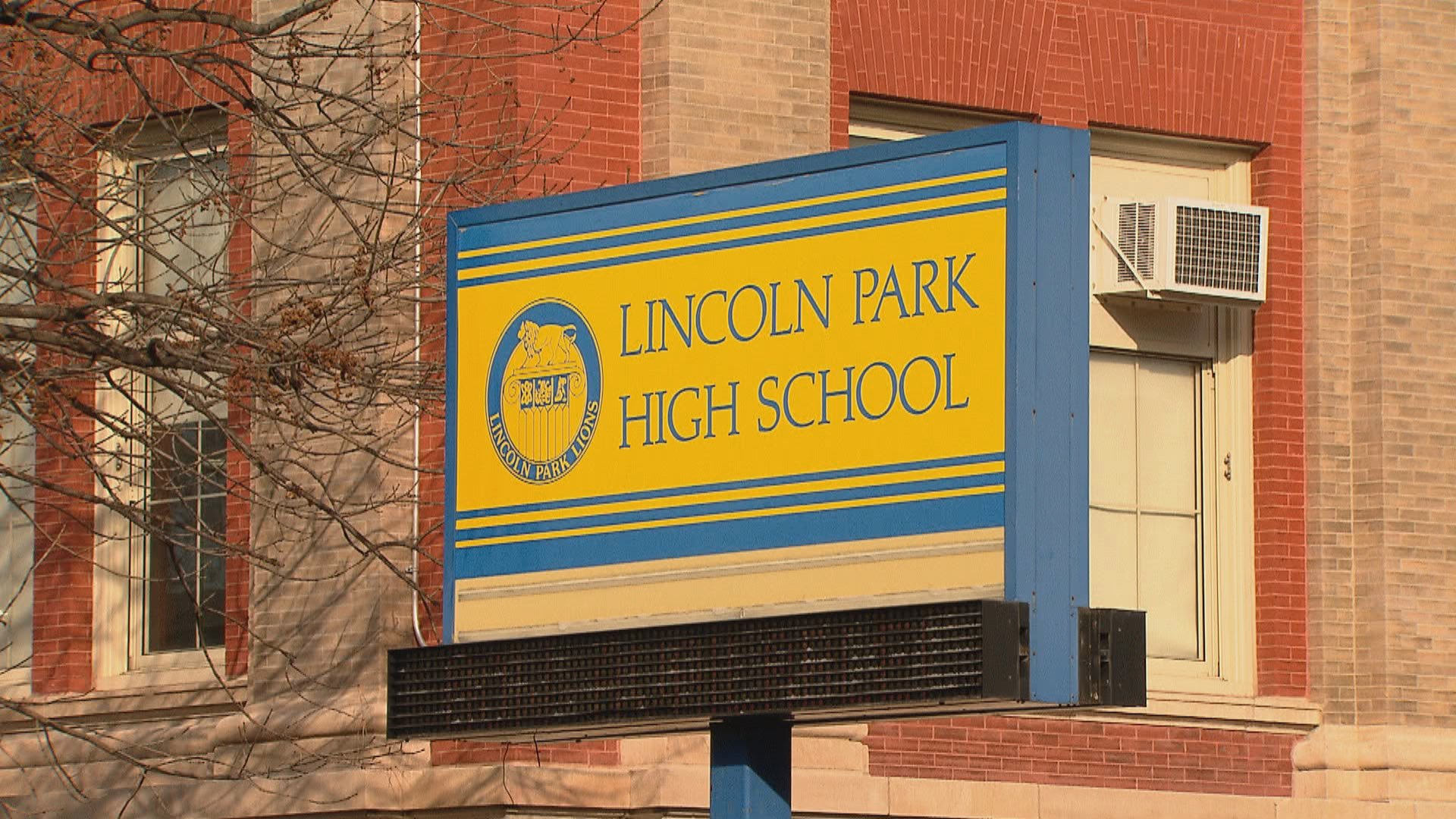 Lincoln Park High School (WTTW News)
Two top administrators who were terminated from Lincoln Park High School this year say they were defamed by Chicago Public Schools and denied their due process rights when the school district fired them without explanation.
Former interim principal John Thuet and assistant principal Michelle Brumfield filed a federal lawsuit against CPS, district CEO Janice Jackson and others Tuesday weeks after they were removed from their school amid an investigation into "multiple allegations of serious misconduct" involving the school's athletics program.
They claim that after they were fired, CPS disseminated "unfounded, false statements" about the pair, accusing them of causing "'life-altering harm' to students and 'endangering victims.'"
"These statements were false," attorneys for Thuet and Brumfield wrote in a 16-page complaint, "and Defendants knew they were false when Defendants made them."
Their firings, along with the re-assignment of LPHS Dean John Johnson and boys basketball coach Donovan Robinson, sparked a tumultuous month at the North Side school, where there have been student protests and multiple staffing exits in the weeks since. Head basketball coach Pat Gordon was also suspended by CPS earlier in January.
Thuet and Brumfield had only been at Lincoln Park since August 2019. But in late January, they received a meeting invitation from CPS District 14 network Chief Maura LeMone – also a defendant in this case – and were promptly told they had been terminated and added to the district's "Do Not Hire" list, according to the complaint.
"Thuet and Brumfield's January 31, 2020 termination letters were issued without notice, without a hearing, and prior to any other opportunity to be heard," the complaint states. "Indeed, Thuet and Brumfield were provided no notice or details of the alleged "performance and misconduct record" that purportedly justified their Do Not Hire designation by CPS."
After they were fired, and Johnson and Robinson reassigned, CPS opted to cancel the rest of the LPHS boys basketball season. Parents and families have said they've been left largely in the dark about why exactly those moves were made, while students have pushed for Thuet and Brumfield to be reinstated.
"Nobody, no adult has yet to tell us why our season was cancelled," Charles Jackson, an LPHS senior and member of the basketball team told the Chicago Board of Education on Wednesday. "We only know what we have read in papers. You talk a good game about transparency and communication, but what have you done here?"
One of the administrators appointed to replace them, Judith Gibbs, has since left the school after a video that allegedly shows her grabbing a student's face was distributed on social media. Last week, another staff member was removed following an "altercation with a student," and on Tuesday, LPHS families learned that another staffer had been pulled from the school for allegedly "engaging inappropriately with a student."
"Chicago Public Schools and LPHS have a zero-tolerance policy for any behavior that compromises student safety, and I regret to inform you that there has been an allegation regarding a staff member in our school engaging inappropriately with a student," current LPHS administrator Jerryelyn Jones wrote in a letter to families. "This individual has been removed from the school, and an investigation has been initiated by the Office of the Inspector General (OIG)."
Thuet and Brumfield claim CPS issued multiple defamatory statements to the media about "serious misconduct" they were alleged to have committed, including "minimiz(ing) sexual misconduct allegations," failing to protect whistleblowers from retaliation and lying to families about the status of investigations at the school.
The pair said "each and every one" of those allegations are false, stating in the complaint they never "'endangered victims' or caused or 'perpetuat(ed)' 'life-altering harm' to students.'" They also claimed these statements have effectively "destroyed" their employment prospects.
"It will be extremely difficult, if not impossible, for Plaintiffs to find employment in the educational field when Defendants' defamatory statements are publicly available to any potential employer through a basic Google search," the complaint states. "Indeed, Defendants' defamatory statements render Plaintiffs virtually unemployable in any capacity, since few employers are interested in hiring individuals responsible for causing 'life-altering harm' to students or 'endanger(ing) victims.'"
A CPS spokeswoman declined to comment Wednesday, citing the ongoing litigation.
While not mentioning Lincoln Park High School specifically, Jackson at Wednesday's board meeting did address the district's commitment to protect its students and ongoing "tests" of that commitment.
"Ladies and gentlemen, I want you to know where I stand as CEO on this issue," she said. "My responsibility first and foremost is to the 350,000 students that I serve daily in CPS. To that end, I have resolved in both spirit and practice to make sure it is crystal clear that any event where the safety of a student is violated, threatened or that trust is breached, that we will act swiftly and in the best interest of children."
Jackson expected some public speakers at the meeting would "ignore the facts" and instead paint people other than the students affected in these cases as victims.
"The victims," she said, "are not people who stated those commitments through pre-service training, again re-committed to that when seeking licenses to work with children in the state of Illinois, again through mandated reporter training, again made a commitment through Title IX training, and a host of other district communications and directives around how we address these issues."
While understanding these are difficult cases to manage, Jackson said that just because someone is well liked and has done positive work for CPS, that doesn't mean they acted appropriately in these situations.
"But let us be clear," she said, "that past performance and a pleasant personality is not a defense to inaction in a particular situation."
Contact Matt Masterson: @ByMattMasterson | [email protected] | (773) 509-5431
---