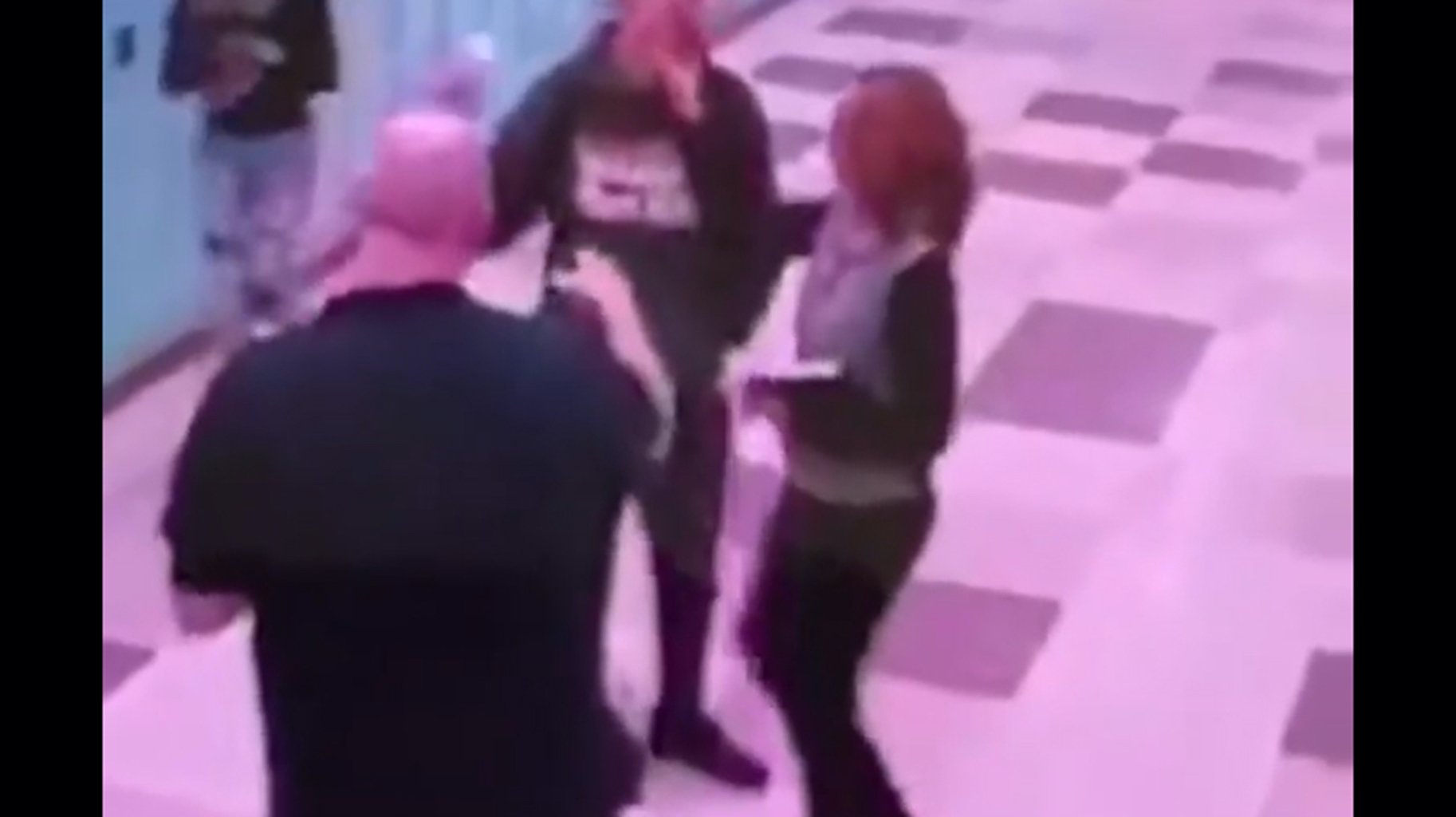 A still image from a video provided to WTTW News allegedly shows Lincoln Park High School leader Judith Gibbs grabbing a student. Gibbs decided to leave the school Wednesday. (WTTW News)
Just days after the removal of Lincoln Park High School's interim principal and assistant principal, the school's new leader has left her position amid an allegation of "improper contact" with a student.
In a letter to parents and families on Wednesday, Chicago Public Schools Network 14 Chief Laura LeMone said Judith Gibbs – one of two administrators appointed to leadership positions after interim principal John Thuet and assistant principal Michelle Brumfield were removed last week – had decided to leave the school.
But the district is now investigating Gibbs after a video shared with students allegedly shows her grabbing a student's face inside the school.
"We recently learned of an allegation that involves improper contact with a student, and we have initiated an investigation," CPS spokesman Michael Passman said in a statement Wednesday night.
A copy of the video shared with WTTW News appears to show a woman standing in a school hallway, speaking with a male student and another adult. At one point, the student pulls his hand away from the woman, who reaches up and grabs him under the chin.
"(Calvin) Davis will serve in place of Ms. Judith Gibbs who has decided to leave LPHS today after determining that she was not a good fit for LPHS," LeMone wrote Wednesday in the letter, which makes no reference to the alleged incident.
Multiple LPHS parents Wednesday told WTTW News they were aware of the video.
Gibbs' exit marks the latest in a string of recent incidents at the school. Last week, Thuet and Brumfield were removed while LPHS Dean John Johnson and boys basketball coach Donovan Robinson were reassigned after CPS learned of "multiple allegations of serious misconduct" involving the school's athletics program.
In light of the severity of the alleged misconduct, CPS opted to suspend the basketball team's season until further notice. Students held a walkout earlier this week demanding answers for the termination of Thuet and Brumfield and seeking to save the basketball team's season.
However, the district has not backtracked on its decisions.
"I know that this is difficult news for the school community," LeMone wrote in a Jan. 31 letter to parents and families, "but please know that we would not have taken these actions if we did not believe they were necessary to promote the safe and supportive educational environment your children deserve."
Contact Matt Masterson: @ByMattMasterson | [email protected] | (773) 509-5431
---