Chicago art institutions are closed indefinitely, so "Chicago Tonight" is opening them — virtually. We're starting a series of virtual tours of cultural gems across the city. 
First up: an art center dedicated to one of Chicago's most celebrated artists, Ed Paschke.
TRANSCRIPT
Marc Vitali: With his brilliant colors, his fascination with subcultures — and sometimes lurid subject matter — Ed Paschke was an image-maker of dramatic dreams, good and bad.
Born on the North Side in 1939, Paschke studied at the School of the Art Institute, and he kept a studio on Howard Street until his sudden death in 2004.
The Ed Paschke Art Center is steps away from the Jefferson Park Blue Line stop.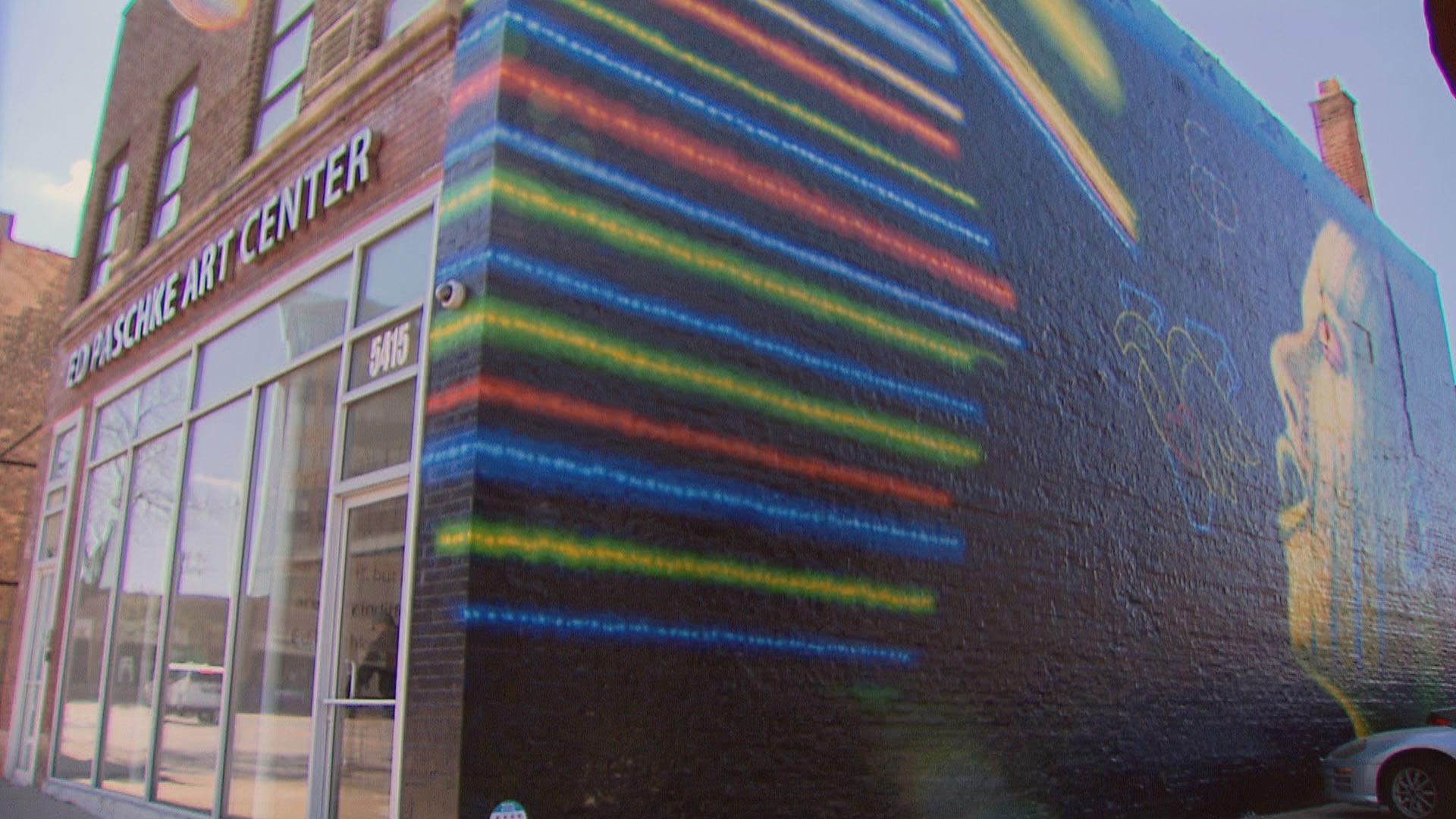 Inside – besides the rotating Paschke collection – a photography exhibition has been shut down. 
Lionel Rabb, Ed Paschke Art Center: Right now we've temporarily closed following the guidelines of the state and city. We keep an eye on everything, check it out, but everything's safe and sound waiting to reopen.
We've postponed shows and moved things around but the exhibition schedule still stands for a couple years out. We feel strong and confident that we'll be here and we'll continue through this and we'll continue moving Ed and Chicago arts forward.
Vitali: And when visitors can return they will see Paschke's jazz musician drawn on scratchboard from 1960.
And his holographic works from later in the 20th century.
And his addition to the City's "Cows on Parade" public art exhibition in 1999. 
(Marc Vitali / WTTW News)
He made the cow's head a reference to the Chicago Bulls. But on the hide, he painted Chicago gang insignia. Within days, the work was withdrawn from the citywide show when some members of the Chicago Police Department had a cow.
The Ed Paschke Art Center also has the final painting Paschke was working on when he died. It sits on his easel in his recreated studio.
I was lucky enough to visit Ed Paschke at his Howard Street studio about 20 years ago. This recreation is incredibly authentic.
(Marc Vitali / WTTW News)
That's because it is assembled from the original contents.
Rabb: His last assistant came and helped place brushes and remember the moment, so it's as, as authentic as it could be unless Ed was here himself to help us put it together.
Vitali: Also included: a studio door with a calendar. Paschke died on Thanksgiving Day 2004. He had penciled in an appointment with WTTW the previous day. 
You can see some of his final interview here:
Rabb: He was just really a generous person to the art community from the Hyde Park Art Center all the way to Uptown. He'd go to people's shows and promote them when he was at his peak.
Ed was great and we built the space to continue that energy, to support Chicago artists, and we look forward to welcoming the public and everyone else back.
Follow Marc Vitali on Twitter: @MarcVitaliArts
---