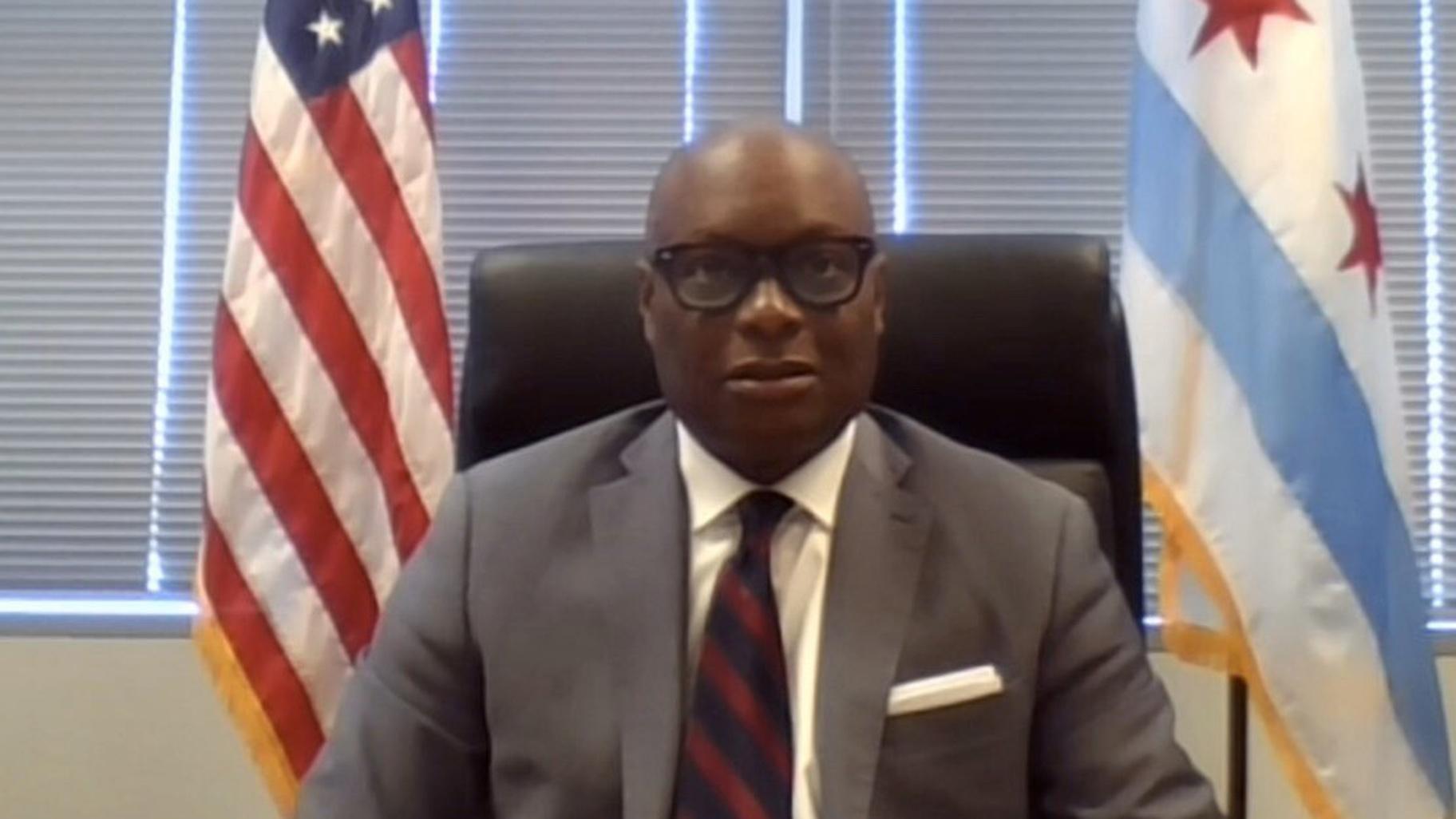 Acting Chicago Police Superintendent David Brown attends a virtual Chicago City Council committee meeting on Monday, April 20, 2020. (WTTW News via City of Chicago)
Aldermen unanimously advanced Mayor Lori Lightfoot's pick to lead the Chicago Police Department on Monday, after quizzing him on his promises to rebuild trust in the police by revitalizing programs that call for officers to partner with residents to protect neighborhoods.
Acting Superintendent David Brown is the latest in a long line of Chicago Police Department leaders who have sought to emphasize community policing, which relies on relationships between the department and community groups to solve—and prevent—crime. 
The action by the Public Safety Committee after a 3.5-hour virtual meeting to endorse Brown's nomination sets up a final vote on Wednesday by the full City Council.
Brown said he would build on the reorganization started by interim Superintendent Charlie Beck to add police resources focused on patrolling neighborhoods, while ensuring the department protects the rights of black and Latino Chicagoans and meets the requirements imposed by a federal judge overseeing reform efforts through a consent decree.
A 2017 report by the Department of Justice, prompted by the death of 17-year-old Laquan McDonald, who was shot 16 times by a police officer in 2014, concluded that the department must embrace community policing as "a core philosophy" in order to end officers' routine violations of residents' civil rights by using excessive force caused by poor training and nonexistent supervision.
Plans are in the works to "customize" the Chicago Alternative Policing Strategy program, Brown said, adding that he plans to assign district communication officers to all 22 police districts. The officers are now assigned to two police districts where they work to build relationships with residents and community groups.
Brown said he would expand efforts that work—and drop efforts that are not showing results.
"I've got a clean slate," Brown said. "I don't owe anyone anything."
Chicago's community policing program was last updated in 2017 as part of an effort launched by former Mayor Rahm Emanuel as officials struggled to turn back the surge of violence that swept the city in 2016.
However, the changes did not free up officers who are stretched thin across the city or train them to implement the policy.
The new policy acknowledged that CAPS had become little more than "one-off events and programs that did little to build sustainable relationships and were not designed even as starting points for relationship building or community empowerment."
Ald. Leslie Hairston (5th Ward) said the program was still languishing in her South Side ward, and urged Brown to revitalize it.
Brown said he was working to implement those changes as quickly as possible, even as CPD copes with the coronavirus pandemic.
"We're not waiting for the summer," Brown said. "If you wait for the summer, it is too late."
Brown also pledged to work toward increasing the number of Chicago police officers who are black and Latino by launching a targeted recruitment campaign and an expanded cadet program.
Ald. Anthony Beale (9th Ward), who has long been critical of the police hiring process, says the current exam serves to "weed out" black Chicagoans from the process.
Brown said the department, under his leadership, would create specialized recruiting teams to boost the number of black and Latino police officers.  
Public Safety Committee Chair Ald. Chris Taliaferro (29th Ward), a former Chicago police sergeant, pressed Brown on how he would increase the number of non-white supervisors. Just 16% of the department's command staff is black or Latino, Taliaferro said.
The department needs a robust diversity professional development plan to nurture future leaders, Brown said, adding that he benefited from a similar program in his 33-year career in the Dallas Police Department that saw him rise from police officer to chief.
Brown said he would work "aggressively" to reinstitute the department's merit promotion system that Beck halted after decades of concerns that it primarily benefited well-connected officers.
"We want to find the gold standard," Brown said.
Contact Heather Cherone: @HeatherCherone | (773) 569-1863 | [email protected]
---