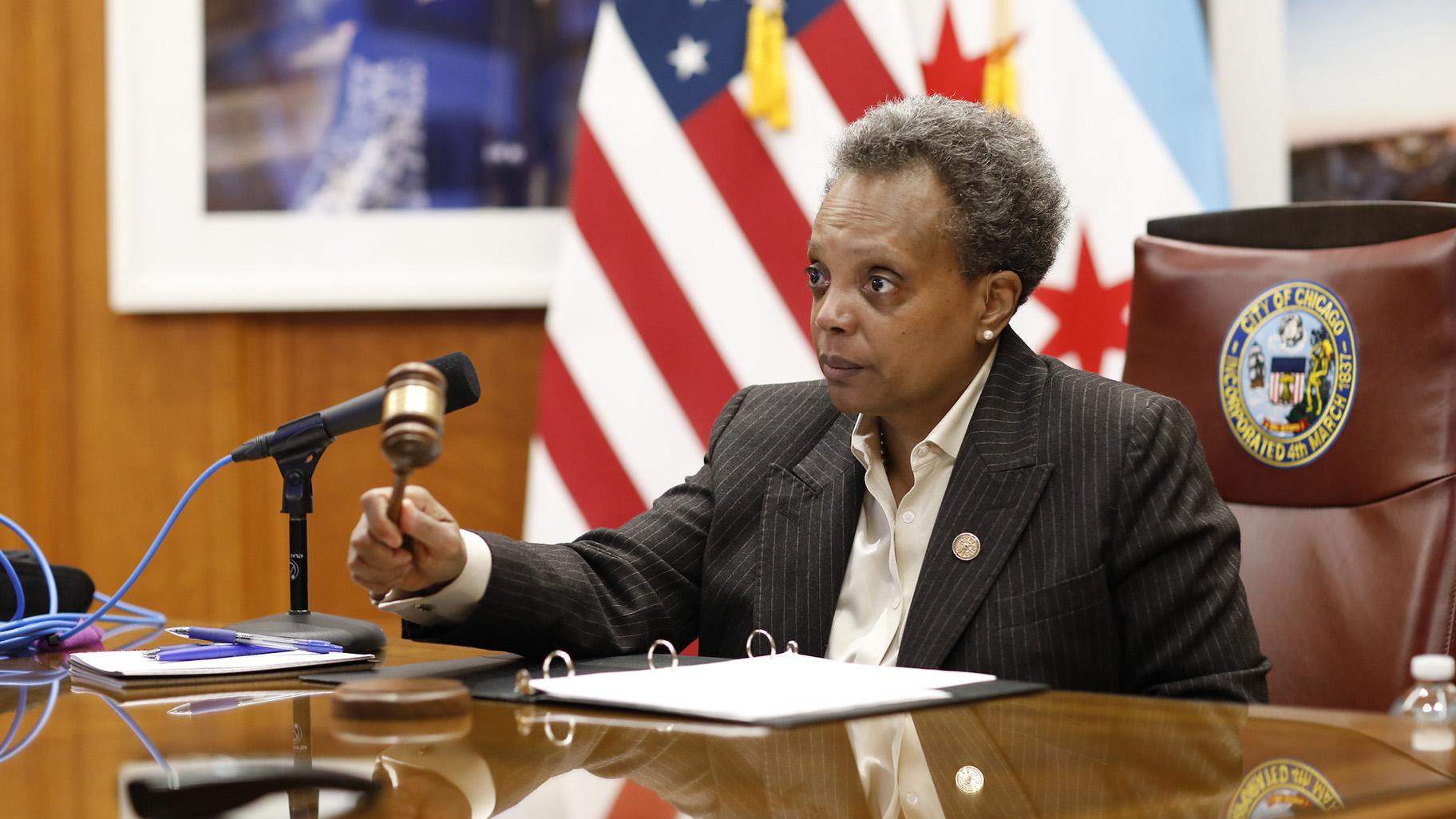 Mayor Lori Lightfoot presides over a virtual City Council meeting on Wednesday, April 15, 2020. (@chicagosmayor / Twitter)
Despite a few glitches, and one procedural vote that had to be redone amid confusion, the City Council approved new rules to permit official actions during virtual meetings amid the coronavirus pandemic.
Mayor Lori Lightfoot presided over the meeting from her office on the 5th floor of City Hall, with 48 aldermen connected via a Zoom teleconference. Alds. Anthony Napolitano (41st) and Debra Silverstein (50th) were not present.
Lightfoot said the city's Law Department reviewed Gov. J.B. Pritzker's disaster declaration and determined that the City Council could meet virtually to adopt rules permitting that action and to conduct business during the virtual meetings.
"I can assure you that our proceedings in this matter are completely legal," Lightfoot said.
The emergency rules introduced by Rules Committee Chair Ald. Michelle Harris (8th) not only permit remote meetings and allow documents and proposals to be submitted electronically but also permit members of the public to participate in the meetings "by means of electronic, video, audio or telephonic connection."
After the new rules were successfully approved by a unanimous voice vote, aldermen stumbled when Lightfoot asked them to reject a procedural vote to reconsider the vote they just took. Some aldermen voted yes, which would have undone the action they just took.
A frustrated Lightfoot clarified the vote, and asked aldermen to try again, which they did.
The Chicago City Council just hosted its first virtual meeting. While members of the council are practicing social distancing to flatten the curve, the operation of City government does not cease. Tune in to the next meeting of the council on Wednesday, April 22 at 10 AM. pic.twitter.com/Bzocit0HRJ

— Mayor Lightfoot #StayHomeSaveLives (@chicagosmayor) April 15, 2020
---
Thirteen people signed up to speak via telephone during the meeting, and most were able to connect without an issue — although several had to be reminded to speak directly into their microphones, unmute themselves or turn off the live audio feed of the meeting.
Five speakers urged the City Council to shutter General Iron, a scrapyard that recycles metal along the North Branch of the Chicago River, during the coronavirus pandemic.
The facility, which plans to relocate to the Southeast Side of Chicago this year, has long been targeted by residents concerned that the scrapper is polluting Lincoln Park and Wicker Park's air with chemicals from its operations.
Several said the pollution would make those who fall ill with the coronavirus sicker by weakening their lungs.
"I demand, I beseech and I beg you to shutter General Iron," said Aimee Roland.
Representatives of General Iron have said the facility performs a vital service to the city by disposing of truckloads of scrap metal that would otherwise back up in streets and alleys while employing black and Latino Chicagoans.
Ald. Brian Hopkins (2nd) has long been critical of the operations at General Iron, which was cited in July 2018 by the U.S. Environmental Protection Agency for violating the Clean Air Act.
Contact Heather Cherone: @HeatherCherone | (773) 569-1863 | [email protected]
---