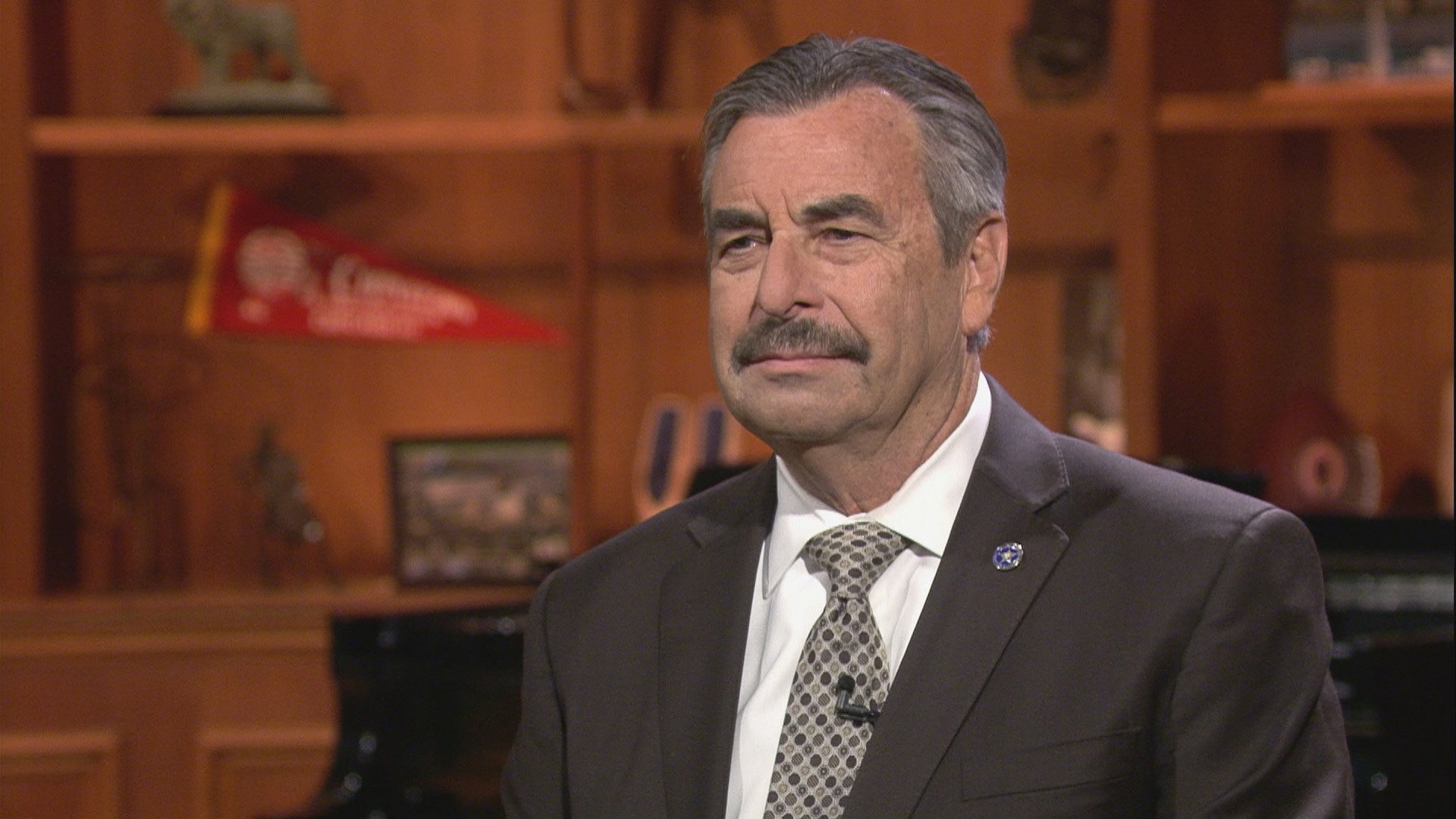 Interim Chicago Police Superintendent Charlie Beck appears on "Chicago Tonight" on Wednesday, Jan. 15, 2020. (WTTW News)
The Chicago Police Department will soon be headed in an "updated direction," according to interim Superintendent Charlie Beck, who on Thursday announced a major reorganization effort that will deploy more than 1,000 officers and detectives in districts throughout the city in an effort to "modernize" the CPD's functions and bring resources in closer contact with communities.
Beck's massive restructuring plan will create multiple new offices within the department, a move he believes will help streamline operations and put the CPD in a better position to comply with the federal consent decree.
"This reorganization is about placing the maximum level of police resources closest to the communities that we serve," Beck said in a statement. "In addition to District accountability, the restructuring will bring more resources directly to communities under a single chain of command and elevate the reform effort that is crucial to the future of policing in Chicago."
Speaking Thursday at the department's 1st District station, Beck said the changes amount to splitting the CPD into two halves, with each reporting directly to the superintendent.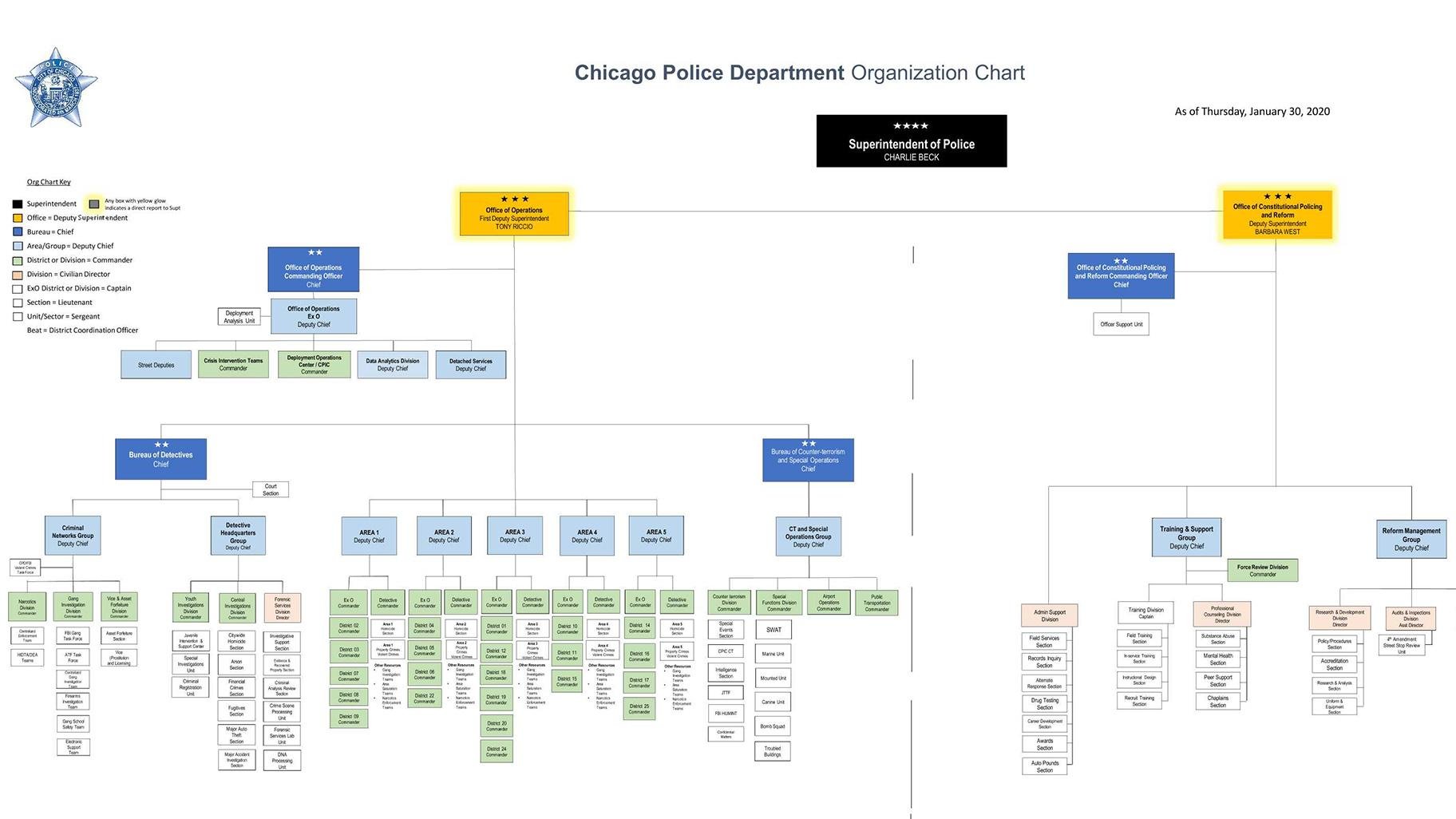 A partial view of the new organizational chart. Click to see the full version. (Courtesy Chicago Police Department)
One of those sides will be the Office of Constitutional Policing and Reform, which Beck says will handle all functions tied to the consent decree, led by Deputy Superintendent Barbara West, who will oversee reforms touching on policies including officer training, use of force, community policing and supervision, as well as issues of transparency and accountability.
The other side, led by First Deputy Superintendent Anthony Riccio, is the Office of Operations, which will bring 300 robbery, burglary and theft detectives into the 22 police districts under district commanders. More than 800 gang intelligence and narcotics officers and detectives will also be moved out of department offices and into neighborhoods under the direction of area deputy chiefs.
"Because our districts and our areas are tied directly to communities they serve, in reality, they work for the neighborhoods of Chicago," Beck said, "and this will tie them much more directly to the neighborhoods of Chicago. ... This is a major reorganization of the Chicago Police Department that will have an effect on how Chicago polices for generations."
Supt. Charlie Beck announces a transformative overhaul of the #ChicagoPolice department. Over 1,100 detectives, officers & support units reconfigured to neighbood patrols. We also created a specialized citywide homicide unit & Counter-terroism Bureau. https://t.co/wurEDeJ53k

— Anthony Guglielmi (@AJGuglielmi) January 30, 2020
---
The police department is also adding a new Bureau of Counterterrorism, which Beck said will be responsible for all targeted operations into international and domestic criminal enterprises. This will be done, according to Beck, in order to coordinate available intelligence and resources to ensure the department is prepared to respond to a "complex coordinated terrorist attack."
These changes reflect what police departments are already doing in other major cities like New York and Los Angeles, where Beck served as police chief for nearly a decade.
Beck teased this reorganization during a speech at the City Club of Chicago earlier this month, when he said upcoming structural changes would reflect "the needs of the city" and ensure the police department has "the right number of cops in the right spots to do the right thing."
He said Thursday these changes will be rolled out in a three-step process, beginning next month with command staff changes needed to fill the new positions added through the restructure. From there, the 1,000-plus officers and detectives will be restructured under the command of the area deputy chief. That will take place during the spring, Beck said.
The final step will include the addition of detectives, narcotics and gang intelligence officers in each police district.
Beck took over as interim superintendent in December after Mayor Lori Lightfoot fired his predecessor, Eddie Johnson. The Chicago Police Board is currently conducting interviews to hire his full-time replacement. Beck said earlier this month he expects to remain in the role for three to four months.
Asked how the reorganization was received by rank-and-file staff, Beck said some needed time to wrap their heads around the changes. But he said he's received "universal support" both from police and Lightfoot.
"The mayor didn't hire me to be a place keeper, she didn't hire me just to keep the lights on," he said. "I wouldn't be here if it wasn't expected that I'd achieve significant results."
Contact Matt Masterson: @ByMattMasterson | [email protected] | (773) 509-5431
---