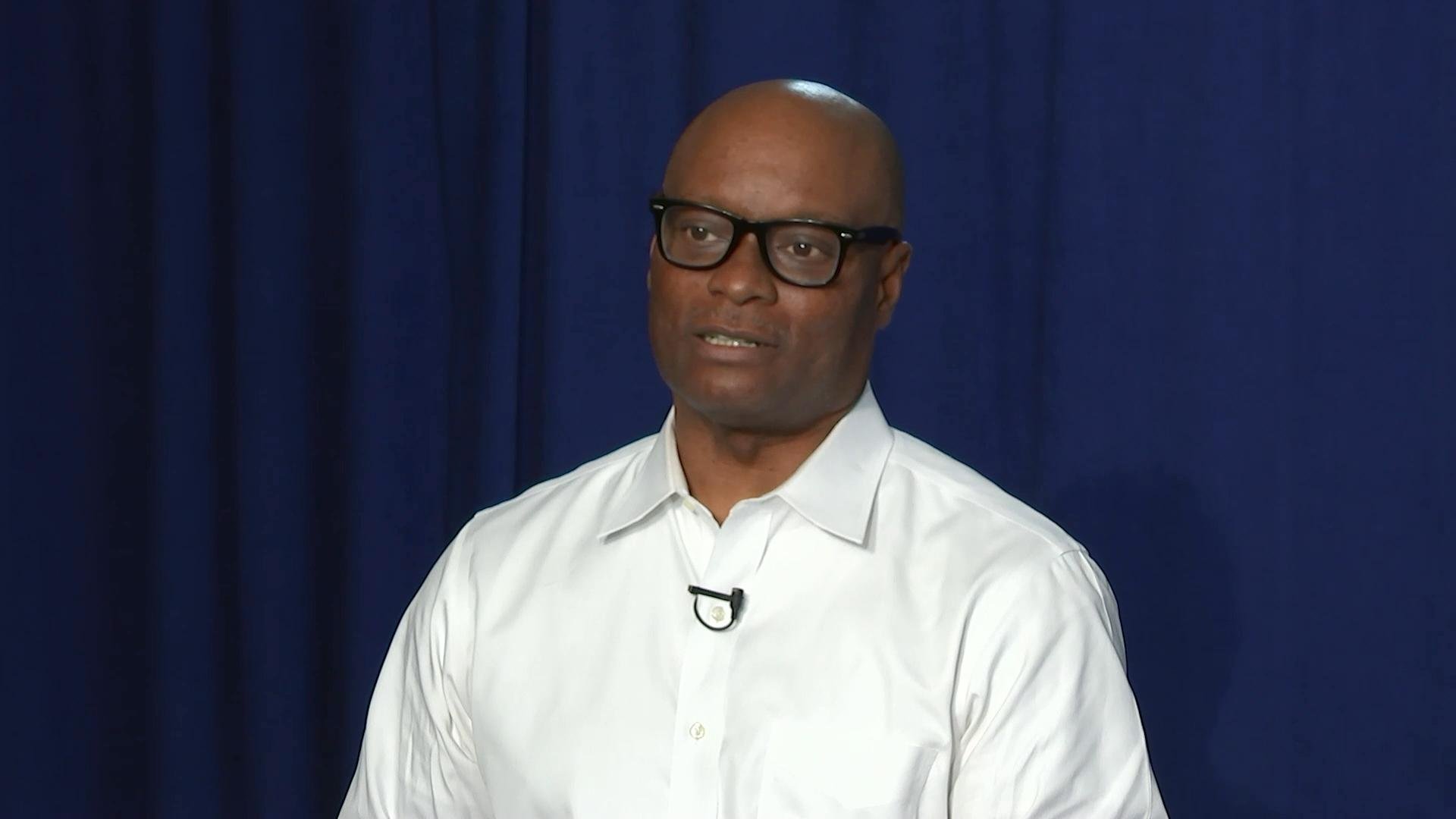 An image taken from a video introducing David Brown. (Courtesy City of Chicago)
Mayor Lori Lightfoot's choice for the next superintendent of the city's police department still has to be confirmed by the City Council and he's got no official start date, but David Brown is "at your service," Chicago. 
The Lightfoot administration on Sunday evening released a video of Brown, whom the mayor nominated Thursday to serve as Chicago police chief. 
In it, Brown said that he wants Chicagoans to know that he's authentic and "real." 
"Actually I'm for real for real," the former superintendent of the Dallas, Texas, police force said. "What you see is what you get."
Brown, a third-generation "Dallasite," said it was during spring break in 1982 – he was on an academic scholarship to the University of Texas – that he was inspired to "get involved in some of the solutions" to the crack/cocaine epidemic that had first appeared in his neighborhood that year. For Brown, policing was the answer. But his parents were "very disappointed that I wanted to join that profession," he said, due to law enforcement's historic mistreatment of African Americans and "people of color."
"I had to convince them that the only way things change is if we get involved and that I would make a difference," Brown says in the video. "I quickly learned community policing is one of the ways you can engage all the social services that's needed to resolve drug addition, poverty, mass incarceration, all of that."
Should he receive aldermens' nods of approval, Brown will be tasked with overseeing court-enforced reform of the Chicago Police Department stemming from the 2014 Laquan McDonald shooting, and with bridging deep divides among parts of Chicago's populace, including advocates who want the police force dismantled due to what they say are practices rooted in racism. 
In the video, Brown said he is a Christian who abides by two central tenants: Love the lord "with all your heart" and "love one another."
"I keep it simple. The rest of it? You do those two, will take care of itself. And so regardless of race, sex, gender, sexual orientation, you know, political affiliation — those two apply. Show people you care about 'em and you will convey the right message, he said.
Brown retired as superintendent of the Dallas Police Department in 2016, and is raising a 13-year-old daughter. He said he went to high school with former Chicago Bull forward Dennis Rodman, and that he enjoys 1970s-era R&B music. 
Lightfoot chose Brown only a day after the Chicago Police Board on Wednesday announced him as one of three finalists for the job. That hastiness has raised questions as to whether the mayor in some way way subverted the process, which was set in motion last November when former CPD Superintendent Eddie Johnson announced that he would retire at the end of 2019.
Instead, Lightfoot fired Johnson the next month for "intentionally misleading" her and the public. She brought in former L.A. police Chief Charlie Beck to hold the position on an interim basis.
Social media posts from the CPD show Brown on Saturday meeting  — and in at least one case, elbow-bumping — with Chicago officers. 
Incoming #ChicagoPolice Superintendent @ChiefDavidBrown hit the ground running today, touring multiple police districts and meeting with officers throughout the city. #CPDMediaCar pic.twitter.com/dB1wZjUazI

— Chicago Police (@Chicago_Police) April 4, 2020
---
Follow Amanda Vinicky on Twitter: @AmandaVinicky
---