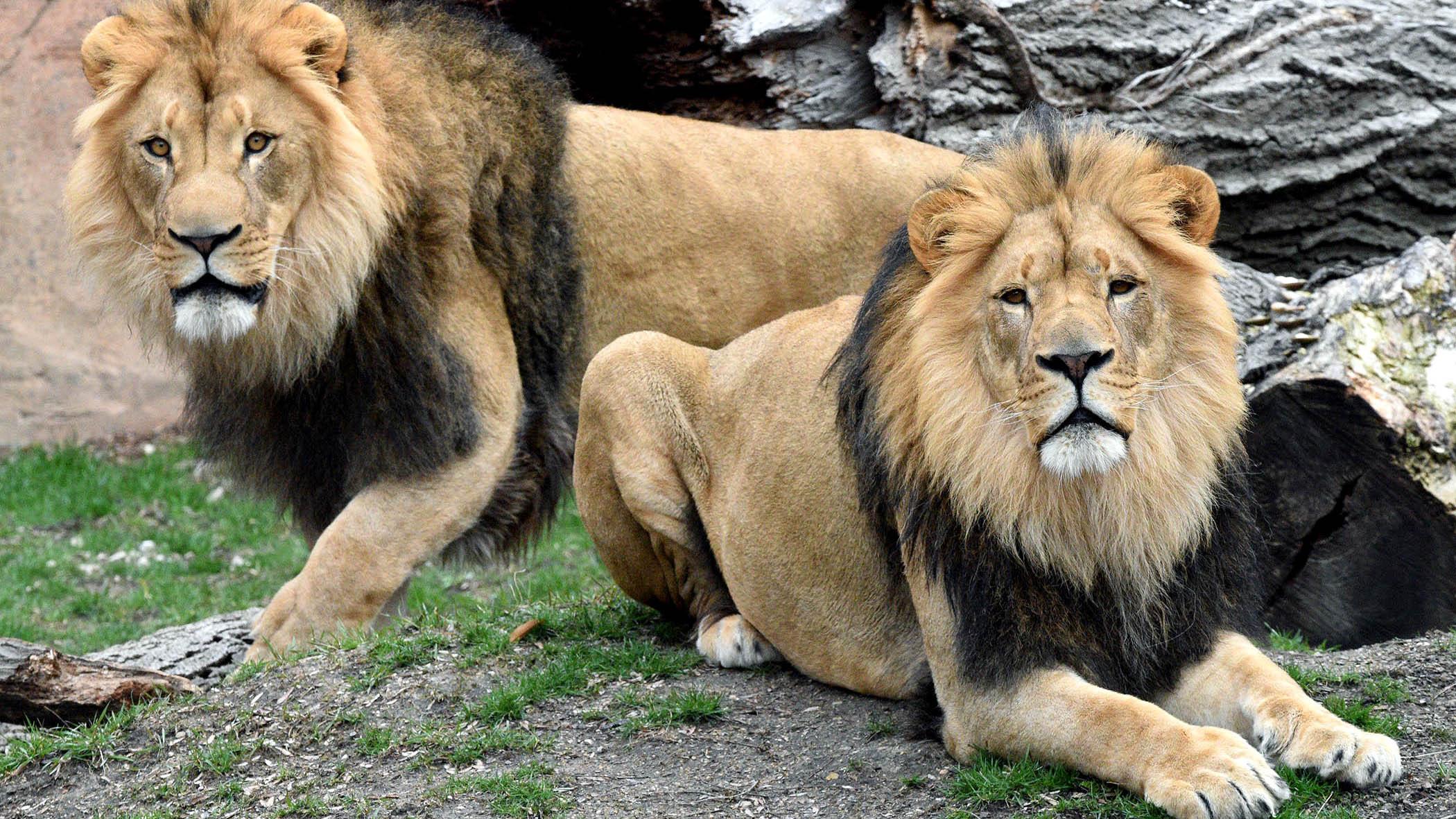 Brookfield Zoo recently welcomed a new pair of lions. (Jim Schulz / Chicago Zoological Society)
Mazel tov to Brookfield Zoo, which just welcomed a new pair of African lions. 
We didn't even know they were expecting.
Brothers Brutus and Titus, actually a couple of 4-year-olds, arrived at Brookfield from Utah's Hogle Zoo in mid-March. The big cats have spent the past weeks getting acclimated to their new surroundings, including exploring their outdoor habitat for the first time on Wednesday. 
Catch the duo's public debut during a Facebook Live chat at 11 a.m. Thursday with Bill Zeigler, senior vice president of animal programs for the zoo. Zeigler will introduce the pair, discuss African lions in general, and answer questions from the public. 
It's a happy bit of news for the zoo, which was devastated in early 2020 by the back-to-back deaths of Zenda and Isis, Brookfield's previous lion residents. At the time, Zeigler said that plans had long been in the works to bring in a pair of younger males — and now the cat's out of the bag.
The animals' caretakers have already learned how to tell the brothers apart. Brutus's mane is long, dark and straight; Titus's is shorter, lighter and slightly frizzier. Brutus seems to be calmer, while Titus, the taller of the two, is more active with enrichment items. 
Considering that half the country has been binge-watching the Netflix series "Tiger King," about a runaway train wreck of a roadside zoo, it's worth pointing out that Brutus and Titus came to Brookfield Zoo based on a recommendation from the Association of Zoos and Aquariums' African Lion Species Survival Plan (SSP).
READ: Zoo and Aquarium Association Blasts 'Tiger King,' Everyone's Favorite Stay-at-Home Binge
In a statement, Brookfield Zoo described the SSP program as "a cooperative population management and conservation program for select species in accredited North American zoos and aquariums. Some recommendations are for breeding a pair. In other situations, like in Brutus and Titus's case, there is a need to locate a zoo that is willing to provide a home for an animal(s) until the SSP program makes a breeding recommendation."
There are an estimated 20,000 to 30,000 lions living in the wild, the majority of them found in just 11 key population groupings, according to Brookfield Zoo. The animals are listed as "vulnerable," and continue to decline in numbers due to hunting, loss of habitat, the bushmeat trade and a rising demand for their bones and body parts for use in traditional medicine.
Brookfield Zoo is closed until at least April 30, under Gov. J.B. Pritzker's stay-at-home order. 
Contact Patty Wetli: @pattywetli | (773) 509-5623 |  [email protected]
---