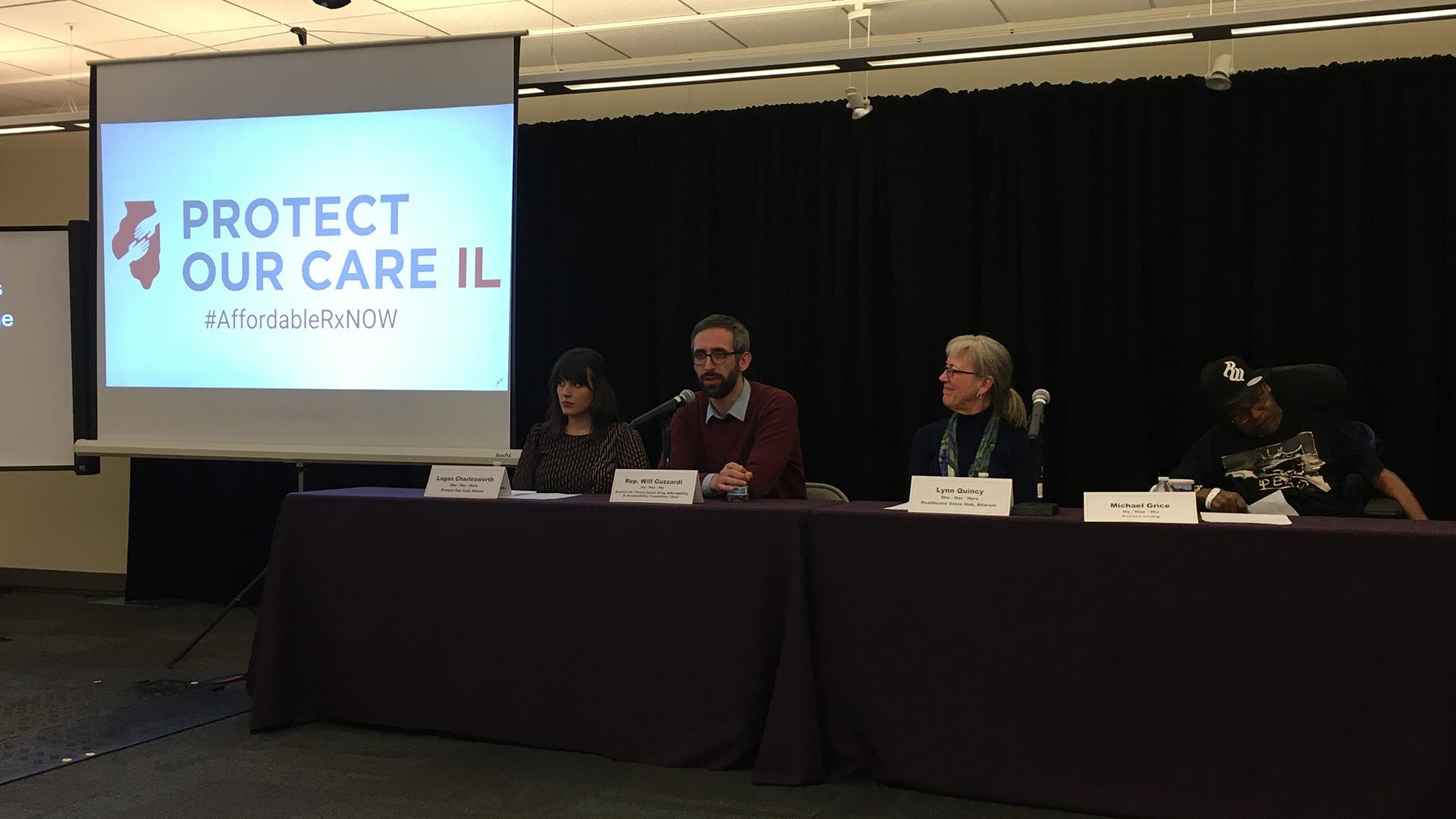 Illinois Rep. Will Guzzardi (second from left) speaks Monday, Feb. 24, 2020 at a press conference about a newly released statewide survey that found the majority of Illinois residents are concerned about future health care costs. (Kristen Thometz / WTTW News)
Future health care costs are a top concern for Illinois residents.
According to a new statewide survey, 81% of residents say they are "worried" or "very worried" about being able to afford some aspect of health care in the future, such as prescription drug costs and health insurance.
"So many people in Illinois cannot afford the medicines they need. That is unconscionable and should not be allowed in our society," state Rep. Will Guzzardi (D-Chicago) said Monday at a press conference announcing the survey results. "When people are sick, they should get the medication they need."
Some 1,047 adults across the state participated last month in the Consumer Healthcare Experience State Survey, which asked them about health care costs and financial burdens. 
Among those who expressed concerns about future health care costs, the majority said they were concerned about being able to afford: nursing home and home care services (65%), elderly care (63%), a serious illness or accident (62%) and prescription drugs (54%).
"I worry about prices going up constantly," said Barb Ireczek of the Illinois Alliance for Retired Americans, who has diabetes, congestive heart failure and kidney failure. Ireczek says she takes up to 18 medications a day and each month her medications cost more than $1,000.
In addition to concerns about future costs, half of Illinois residents reported delaying or forgoing health care because of costs in the past year, while roughly a third said they got the care they needed but struggled to pay the resulting bill, according to the survey.
Nearly 20% of Illinois residents said they've cut pills in half or skipped doses due to costs, while another 21% didn't fill prescriptions due to costs, according to the survey. Guzzardi, who has proposed the creation of a prescription drug affordability board (HB3493), called those statistics "staggering."
"We can't keep letting drug manufacturers set the terms (for drug prices) because they charge whatever they want to," Guzzardi said. "Our job as the government is to regulate manufacturers." According to Guzzardi, the board would review prescription drug prices and establish price limits on drugs to make sure people who need them can afford them.
The survey also found respondents were worried about losing their health care coverage or being able to afford their health insurance, with Medicaid recipients expressing the most concern. Among those with Medicaid, 60% said they're worried about losing their coverage, while 70% said they are concerned about affording it.
Adults were also surveyed about their confidence in the health care system and ways to improve it through both personal and governmental actions. Less than 30% said the U.S. has a "great health care system," while 70% said "the system needs to change."
Illinois residents say the government must take action, with 52% saying the government should prioritize addressing high health care costs, including prescription drugs, according to the survey.
The government should also prioritize preserving consumer protections, such as those for pre-existing conditions, and getting health insurance to those who can't afford coverage, according to survey results.
"Everybody is worried and that translates into high support for government action across party lines," said Lynn Quincy, director of Health Care Value Hub, which commissioned the survey along with Protect Our Care Illinois, a statewide coalition that aims to prevent the repeal of the Affordable Care Act.
Illinois residents can play also play a role in addressing health care affordability. Those surveyed said the most effective things people can do include taking better care of themselves, researching treatments before doctor appointments, and contacting their state or federal representatives to urge them to take action.
Contact Kristen Thometz: @kristenthometz | (773) 509-5452 |  [email protected]
---