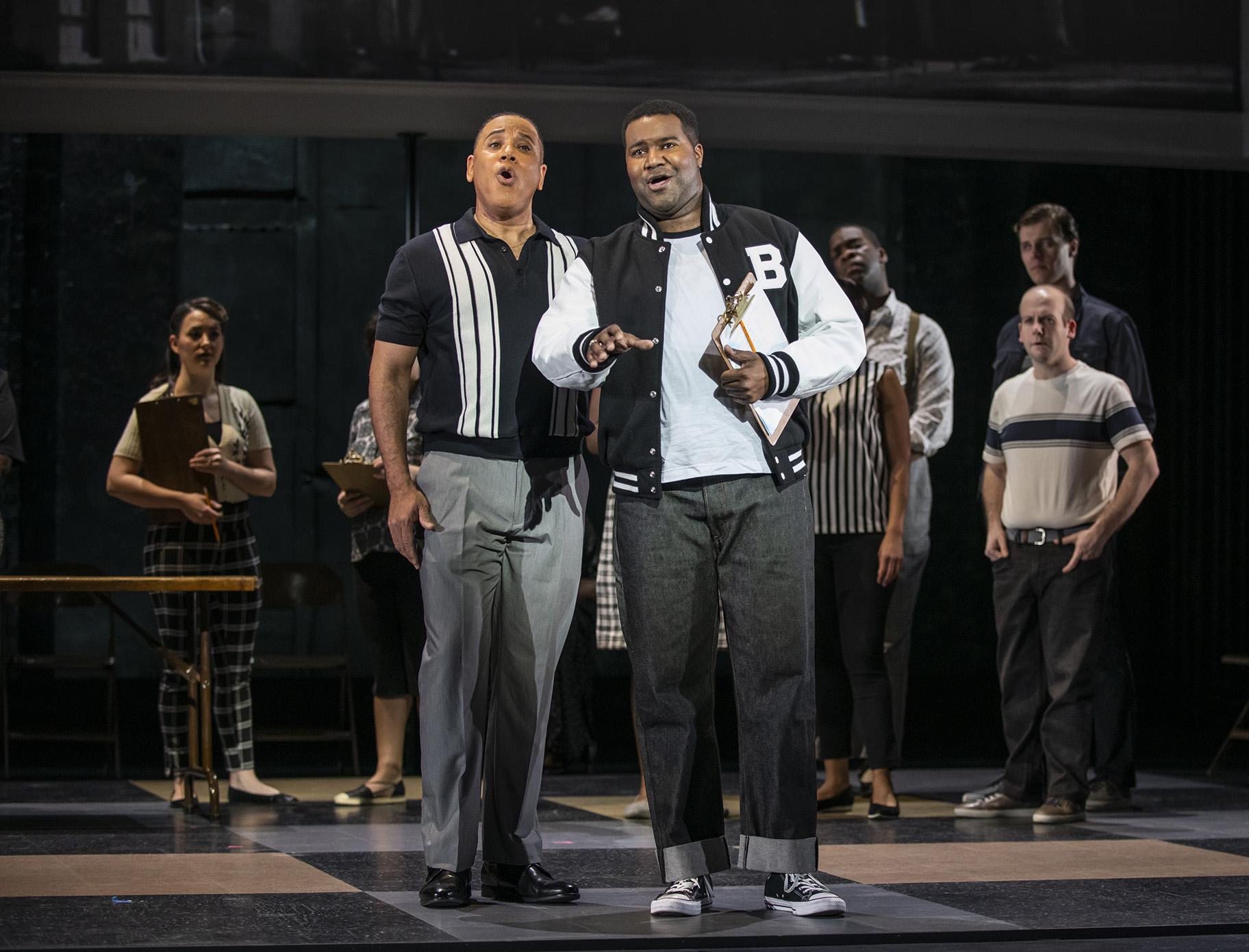 Robert Sims and Tyrone Chambers, II in Chicago Opera Theater's "Freedom Ride." (Photo credit: Michael Brosilow)
The Chicago Opera Theater's world premiere of Dan Shore's "Freedom Ride," which opened Saturday at the elegant Studebaker Theater, is a marvel on many levels. And while, sadly, it is scheduled to have just two more performances (already sold out), this COT commission has all the marks of becoming an instant classic – a work that should be remounted often, and ideally filmed live so that it can be shown to students (and others) both in this country and around the world. (It's a good bet the protesters in Hong Kong would grab hold of it instantly.)
In its airtight, fervent, emotionally riveting 90 minutes, "Freedom Ride" vividly captures a pivotal moment in American history and the civil rights movement of the early 1960s in the most sophisticated yet accessible way. And with a score of great beauty and emotional insight that draws on everything from gospel, blues and spirituals to Hebrew prayer and classical opera, it simultaneously explores the human dimension of political activism (or retreat), the spiritual component driving the Freedom Riders, the variety of attitudes toward the effort in its time, and the often forgotten bond between African Americans and Jews.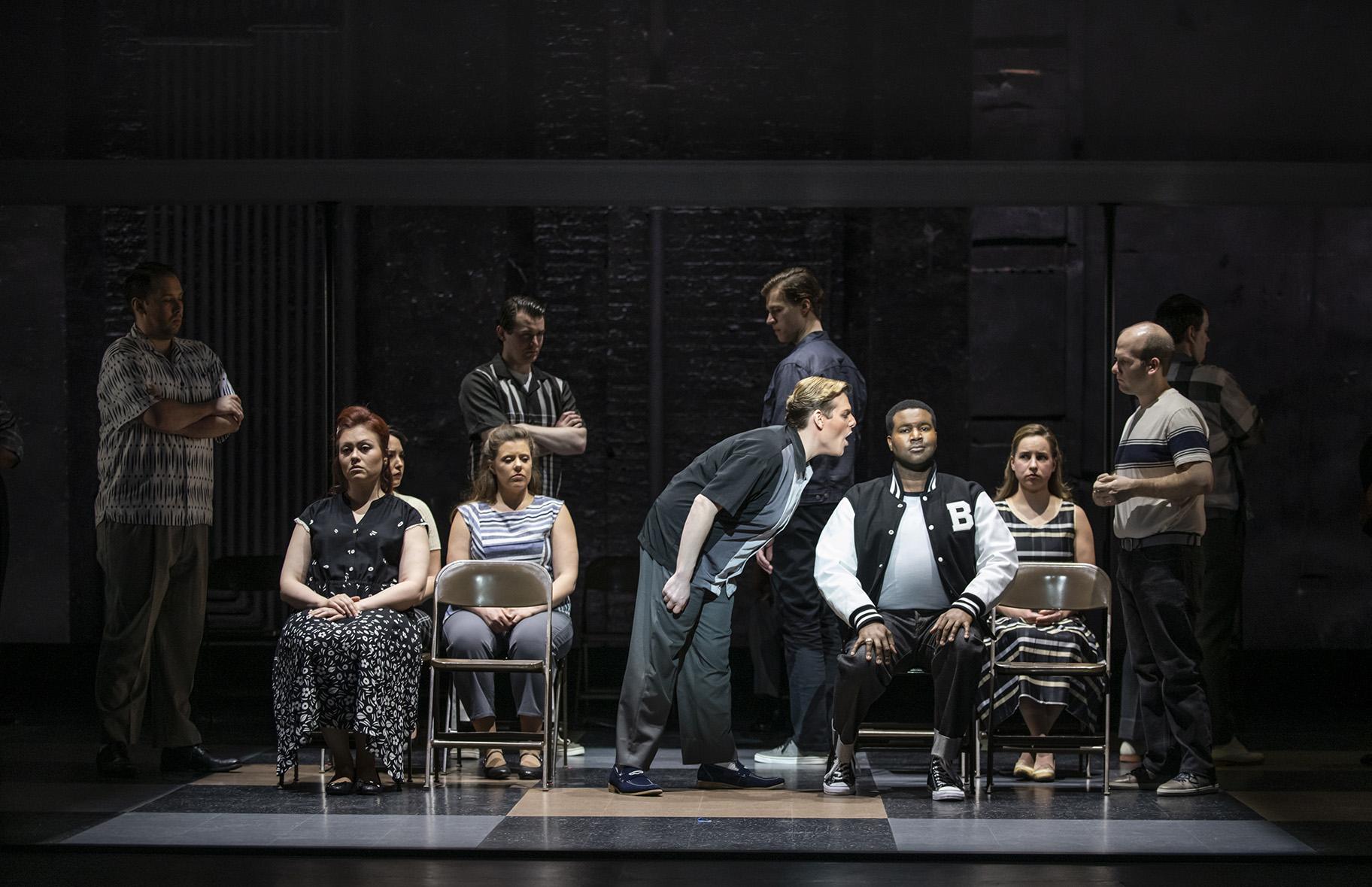 From left, foreground: Samantha Schmid, Blake Friedman and Tyrone Chambers, II in "Freedom Ride." (Photo credit: Michael Brosilow)
The Freedom Riders were civil rights activists, both black and white, who bravely banded together and purposefully rode Greyhound and Trailways interstate buses to various cities in the South where, despite Supreme Court decrees declaring segregated public buses and trains unconstitutional, the federal government had failed to enforce the ruling, and Jim Crow travel rules prevailed.
"Freedom Ride" homes in on an initial episode in the movement when, in the summer of 1961, activists Clayton Thomas (the strong baritone Robert Sims) and Reverend Mitchell (the fine tenor Cornelius Johnson) try to recruit volunteers for the effort from a gathering spot on a university campus. The organizers know that they will be arrested, possibly beaten, and jailed when they reach Jackson, Mississippi, but they hope that by overwhelming the local jails they will generate federal intervention. They also are wise enough to issue the dire warning that those who embark on the rides might not return home at all.
Russell Davenport (vivid tenor Tyrone Chambers, II) signs on, and tries to convince his sister, Sylvie (Dara Rahming, a rich-voiced soprano and superb actress) to join him. She is a serious woman, and more than a little wary of the plan, but when challenged by Clayton, to whom she is intensely attracted, she agrees to go. As it turns out, Russell ultimately opts out of the protest, unconvinced that he will be doing God's will and "riding the chariot of the Lord."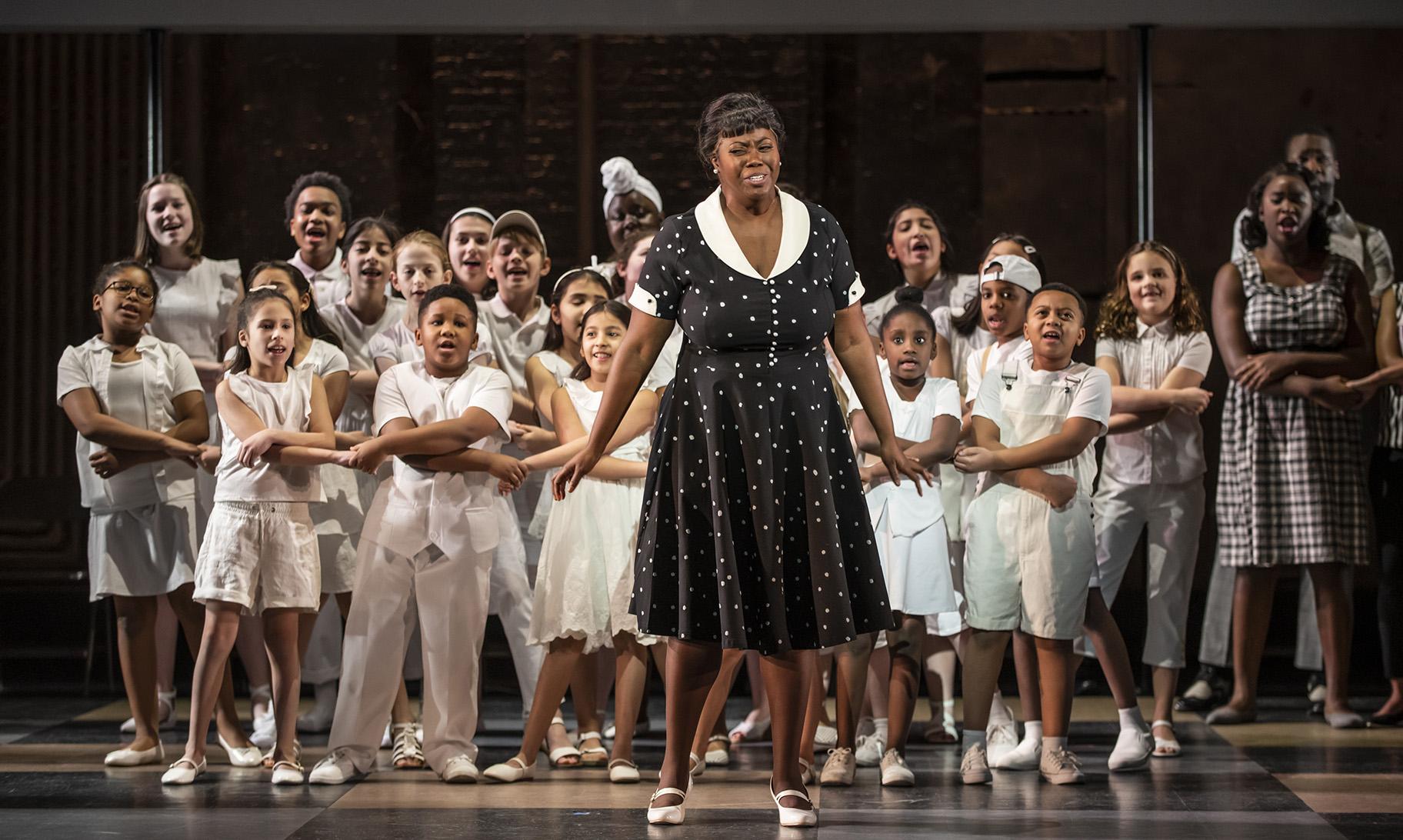 Dara Rahming with children's chorus in "Freedom Ride." (Photo credit: Michael Brosilow)
Meanwhile, Clayton clearly rejects her fervent romantic overtures. And her mother, Georgia (the excellent mezzo-soprano Zoie Reams), angrily disowns her as a result of what she believes is a foolhardy decision. This only reinforces Sylvie's determination, despite the harrowing reality she witnesses during the preparatory non-violence workshop held in a church meeting room – a "rehearsal" that suggests the brutality the riders might very well face.
And then, things go from bad to worse when, the night before the ride is to begin – and a wholly beguiling chorus of children has gathered in the church as part of a send-off rally – the sanctuary is bombed. Sylvie's friend, Ruby (soprano Kimberly E. Jones, also an impressive actress) – who suffers from asthma, and was to stay home and act as the riders' go-between with the press – dies from smoke inhalation.
Now even more determined to join the movement, Sylvie stands firm when confronted by Leonie Baker (a terrific turn by soprano Whitney Morrison), an older, clearly successful African American woman who accuses her of just stirring up trouble, and only making the things that will never change become worse.
That is just one of the many different attitudes toward the initiative that are so clearly rendered by Shore. There also is the aria sung by the committed volunteer, Marc (the fervent tenor Blake Friedman), a young Jewish man from Philadelphia who explains he sees the ride as the realization of "Tikkun Olam," the Hebrew concept of "repairing the world."
There also is excellent work by the dynamic soprano Samantha Schmid, along with Vince Wallace, Morgan Middleton, Leah Dexter and a 24-person chorus.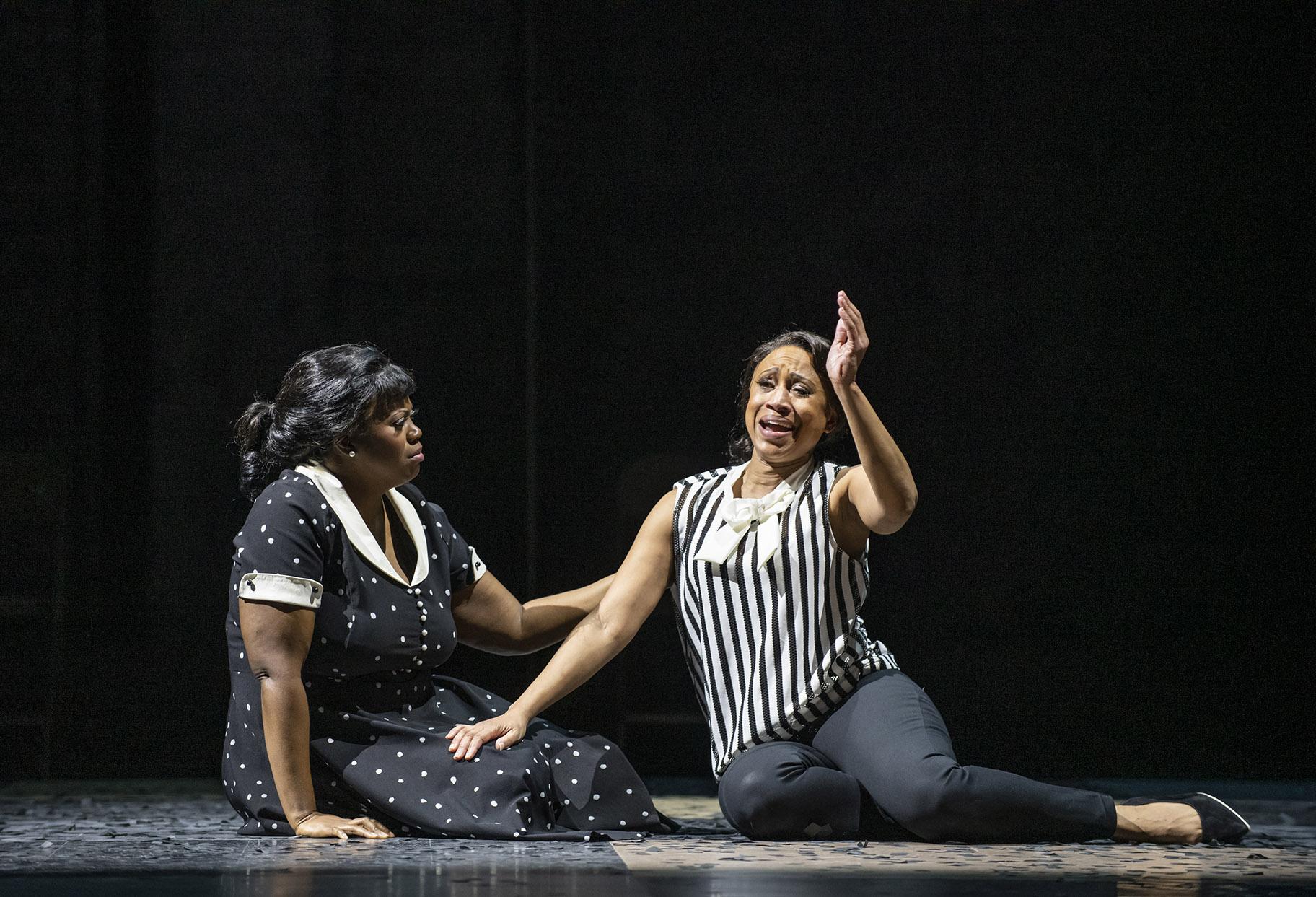 Dara Rahming and Kim Jones in "Freedom Ride." (Photo credit: Michael Brosilow)
Tazewell Thompson, the widely acclaimed director and dramatist, has deployed his uniformly excellent cast with the same impressive clarity, concision and realism Shore has brought to his (fictional but truth-based) libretto and rousing score, with minimalist but effective sets by Donald Eastman, lighting by Robert Wierzel, projections by Rasean Davonte Johnson, and mostly black and white costumes by Harry Nadal.
Last, but by no means least, there are the musicians of the Chicago Sinfonietta, led Lidiya Yankovskaya – Chicago Opera Theater's ever adventurous and impassioned music director, who helped nurture this project. Together they captured to perfection every musical style in this formidable new addition to the operatic repertoire.
"Freedom Ride" has just two more performances at the Studebaker Theatre, 410 S. Michigan Ave. (Feb. 14 at 7:30 p.m. and Feb. 16 at 3 p.m.), and although officially sold out (the opening night had some veteran Freedom Riders in attendance) it's always worth trying for a last-minute cancellation. Call (312) 704-8414 or visit cot.org.
Note: The third and final work of COT's current season will be the Chicago premiere of David T. Little's "Soldier Songs," presented May 14-17 at the Museum of Contemporary Art. The one-man, multimedia work, starring Nathan Gunn, explores the perceptions and realities of a soldier, and is adapted from recorded interviews with veterans of five different wars. A composite of theater, opera and rock-infused concert music, it features film footage by Bill Morrison. For tickets visit cot.org/soldiersongs.
Meanwhile, Lyric Opera will present the Midwest premiere of the chamber opera "Blue" (running June 19-28 at The Yard at Chicago Shakespeare Theater), with a score by Jeanine Tesori and libretto by director Tazewell Thompson. It is the story of an African American couple in Harlem and their fears for their son, from his birth through teenage years. For tickets visit lyricopera.org/Blue.
Follow Hedy Weiss on Twitter: @HedyWeissCritic
---