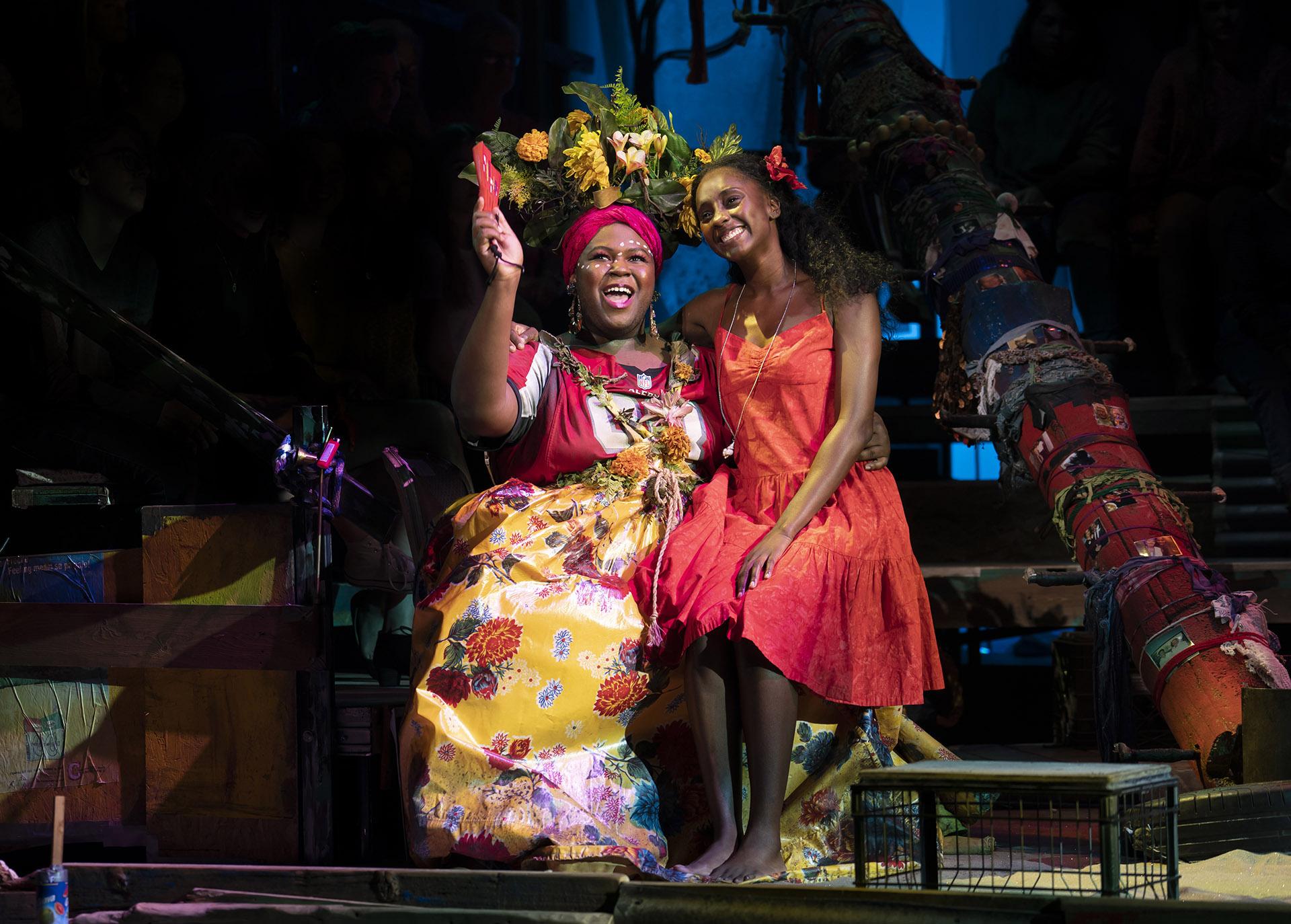 Kyle Ramar Freeman (left) as Asaka and Courtnee Carter as Ti Moune in the North American Tour of "Once On This Island." (Photo by Joan Marcus / 2019)
Call to mind all the photographs documenting the destruction left behind after several recent hurricanes wreaked havoc on many Caribbean islands. Then imagine how such a natural disaster could be the backdrop for a fairy tale about love, betrayal, and the toxic divide created by differences in race and social status that can generate an even more destructive emotional storm. Weave all this together and you will have "Once On This Island." The musical by Lynn Ahrens and Stephen Flaherty debuted in 1990, received its first Broadway production in 2017, and is now making a brief stop at Chicago's Cadillac Palace Theatre as part of a national tour.
Based on "My Love, My Love," a 1985 novel by the Trinidad-born American writer Rosa Guy, this somewhat revised, modernized and overly upscaled version of the show's original Off Broadway edition (and its many subsequent stagings over the years) is the vision of director Michael Arden, choreographer Camille A. Brown and scenic designer Dane Laffrey. Driven by a beautiful score (by the same pair who would go on to create the masterful "Ragtime"), the musical is infused with irresistible Afro-Caribbean rhythms, fervent love songs, lush ballads shared by parents and children, and several devilish gods-and-mortals riffs. The show is full of exuberant dancing and performances by strong actor-singers, but the crucial intimacy of its storytelling, as well as a good many of the show's lyrics, too often gets lost in the carnival atmosphere that has been generated to give this 90-minute gem a Broadway gloss.
Danielle Lee Greaves (left) as Mama Euralie and Phillip Boykin as Tonton Julian in the North American Tour of "Once On This Island." (Photo by Joan Marcus / 2019)
It all begins with a violent storm that miraculously washes to shore "one small girl," Ti Moune (played with great charm by Mimi Crossland on opening night). She is rescued and adopted by a poor, elderly peasant couple – Mama Euralie and her husband, Tonton Julian, who are most winningly played by Danielle Lee Greaves and Phillip Boykin, respectively, and who are most successful at capturing the full emotional depth of the story.
Though raised with great love, the teenage Ti Moune (beautiful Courtnee Carter, a sensational dancer with a powerful voice) is restless and curious about life beyond the backwater where she has been raised. So not only is it eternal love at first sight when she rescues Daniel (Tyler Hardwick), the Creole son of the wealthy French colonial Beauxhomme family, who she brings back from the edge of death after a car crash. Despite all the obstacles she faces, she makes up her mind to leave her worried, heartsick parents behind and to pursue Daniel in the big city where he lives in a heavily guarded grand hotel.
The Company of the North American Tour of "Once On This Island." (Photo by Joan Marcus / 2019)
Detached at first, Daniel makes the naive, love-driven Ti Moune his mistress. It is only at a grand ball – after she enthralls the guests and staff with her wild and wonderful dancing – that he tells her the shocking, heart-shattering news that he is about to marry a woman of his own class, yet wants to keep her as his lover.
Sadly, this crucial scene is given far too little time to fully register with both Ti Moune and the audience (a small number of whom are quite inconspicuously seated onstage throughout). And then it's on to the feel-good, celebratory, transformational ending overseen by the gods of Earth, Water and Love, and the demon of Death.
Cassondra James as Erzulie (from left), Tamyra Gray as Papa Ge, Jahmaul Bakare as Agwe, Kyle Ramar Freeman as Asaka and the North American Tour of "Once On This Island." (Photo by Joan Marcus / 2019)
Laffrey's set – from its corrugated steel walls and broken utility pole, to its gaily festooned tree trunk – is rich in atmosphere, even if it is something of a minefield for the actors. The excellent onstage band, led by Steven Cuevas (as conductor and musician on keyboard, melodica and hand percussion) is perched high atop scaffolding. Clint Ramos' costumes capture the brilliant hues of the Caribbean, with an American sports jersey or two tossed in to suggest the donated clothes that might have arrived in relief shipments.
The team of Ahrens and Flaherty would go on to create their masterpiece, "Ragtime," barely seven years after "Once On This Island." It's worth looking back and seeing how many of the same themes flowed through these two very different stories – stories like Ti Moune's – that are worth telling and retelling.
"Once On This Island" runs through Feb. 2 at the Cadillac Palace Theatre, 151 W. Randolph St. For tickets ($25-$99.50) call (800) 775-2000 or visit www.BroadwayInChicago.com. Running time is 90 minutes with no intermission.
Follow Hedy Weiss on Twitter: @HedyWeissCritic
---