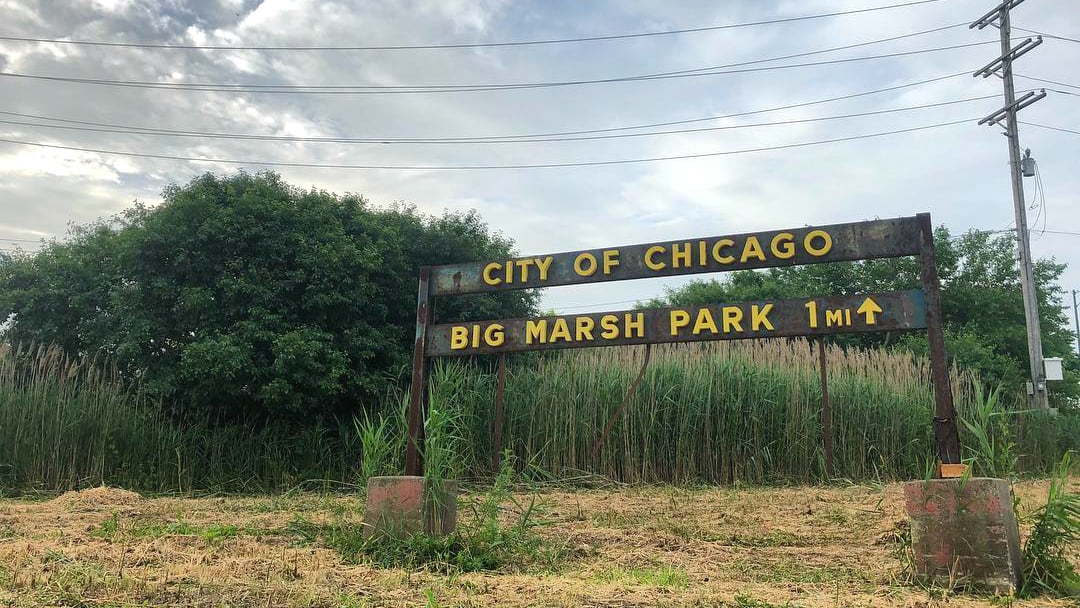 (Courtesy Friends of Big Marsh)
The Chicago Park District's ambitious plan to reclaim land once used as a dumping ground by steel manufacturers recently received a major boost in the form of a $900,000 grant from the Illinois Department of Natural Resources.
The funds will bankroll a slew of infrastructure projects at Big Marsh Park, 278 acres of wide-open space in the South Deering community on Chicago's Southeast Side. Planned additions to Big Marsh, already home to a 40-acre bike park, include a primitive camping area with 12 tent platforms — a first for the Park District — as well as a wildlife observation platform offering panoramic views and a fully accessible trail that, at approximately 3 miles, will circumnavigate the park by incorporating stretches of boardwalk over Big Marsh's previously unpassable namesake marshes.
"Some of the work we're doing here is similar to state parks and national parks," said Matt Freer, assistant director of landscape for the Park District. 
That's quite a turnaround for Big Marsh, which rivals Grant Park in acreage, and its neighboring parks including Indian Ridge Marsh and Hegewisch Marsh. Though these and other wetlands dominate South Deering geographically, heavy industry and landfills long dominated the area in every other way. Big Marsh, abutting Lake Calumet, was heaped high with slag, a waste product of steelmaking that remained behind even after the factories were shuttered.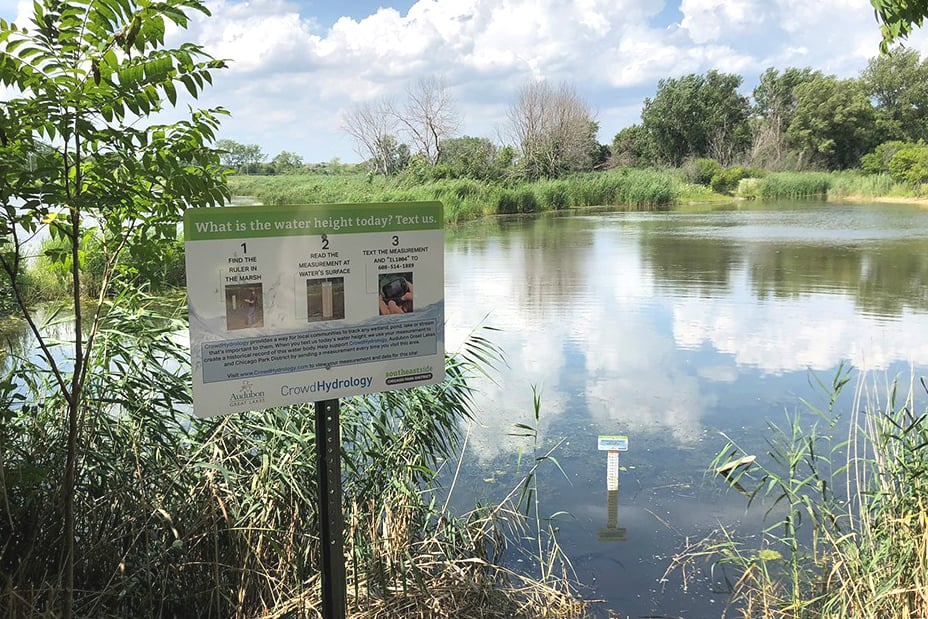 (Courtesy Friends of Big Marsh)
In the past decade, the Park District, with assistance from state, federal and private partners, has made significant strides toward transforming this wasteland into a wetlands ecosystem where plants and wildlife can thrive. The region's parks are also being designed with an eye toward what the Park District calls "eco-recreation," best demonstrated by Big Marsh's bike jumps and the unique rock climbing wall in Steelworkers Park, built out of an old concrete ore wall (and financed by U.S. retailer REI) — the sort of features that might entice people to check out more of the area besides the Horseshoe Hammond Casino.
"It's using recreation to bring folks to the parks," Freer said, "and then highlighting the natural assets that are there."
At Big Marsh, the planned multiuse trail will connect the "eco" and the "recreation," linking the bike park on the south end with more natural areas on the north.
"There's Three Finger Pond — that's kind of a nickname but it seems like it's stuck — that's wonderful for bird-watching, but you can only get there with a certain amount of bushwhacking," said Paul Fitzgerald, executive director of Friends of Big Marsh. "New trails will allow people to really explore the park."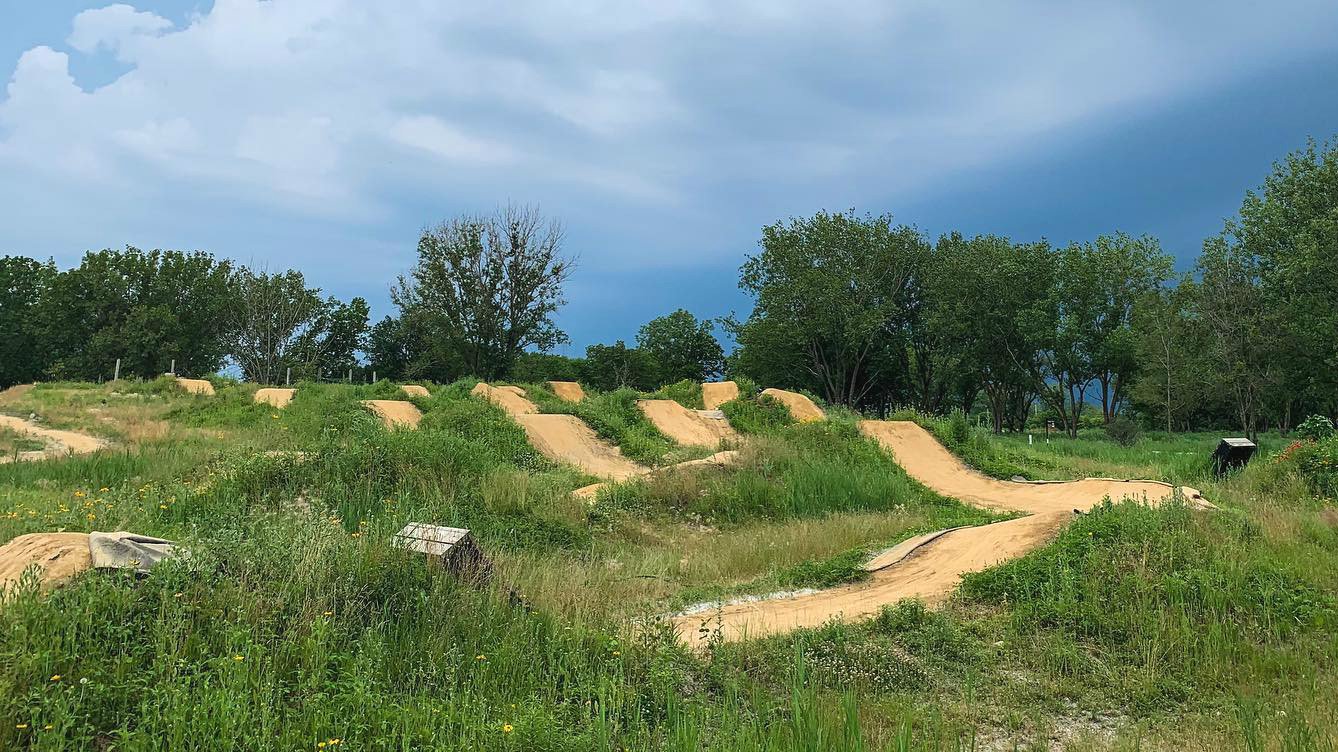 The bike park at Big Marsh is a recreational gateway to further natural exploration. (Courtesy Friends of Big Marsh)
When Big Marsh opened in 2016 (the Park District acquired the land in 2011), Freer thought it would take 10 years to get to the point where the park-wide trail would be feasible. The timeline was sped up in part because remediation of the land — essentially placing a "clear cap" of dirt over the slag — was completed sooner than anticipated when the Park District was able to capitalize on its own earth-moving projects in River and Legion Parks, along the North Branch of the Chicago River, to obtain clean fill for Big Marsh, Freer said.
Now the final pieces of the puzzle are coming into place, including the anticipated opening in late spring or early summer of the Ford Calumet Environmental Center. The 10,000-square-foot center will "put us on the map as a major natural area," Fitzgerald said. "It's all a matter of momentum."
At one point, the center was slated for construction in Hegewisch Marsh, with the selected design by Jeanne Gang. That 28,000-square-foot structure, with echoes of birds' nests, was eventually scrapped due to costs. 
"That design, in today's dollars, would be more than $20 million," said Freer.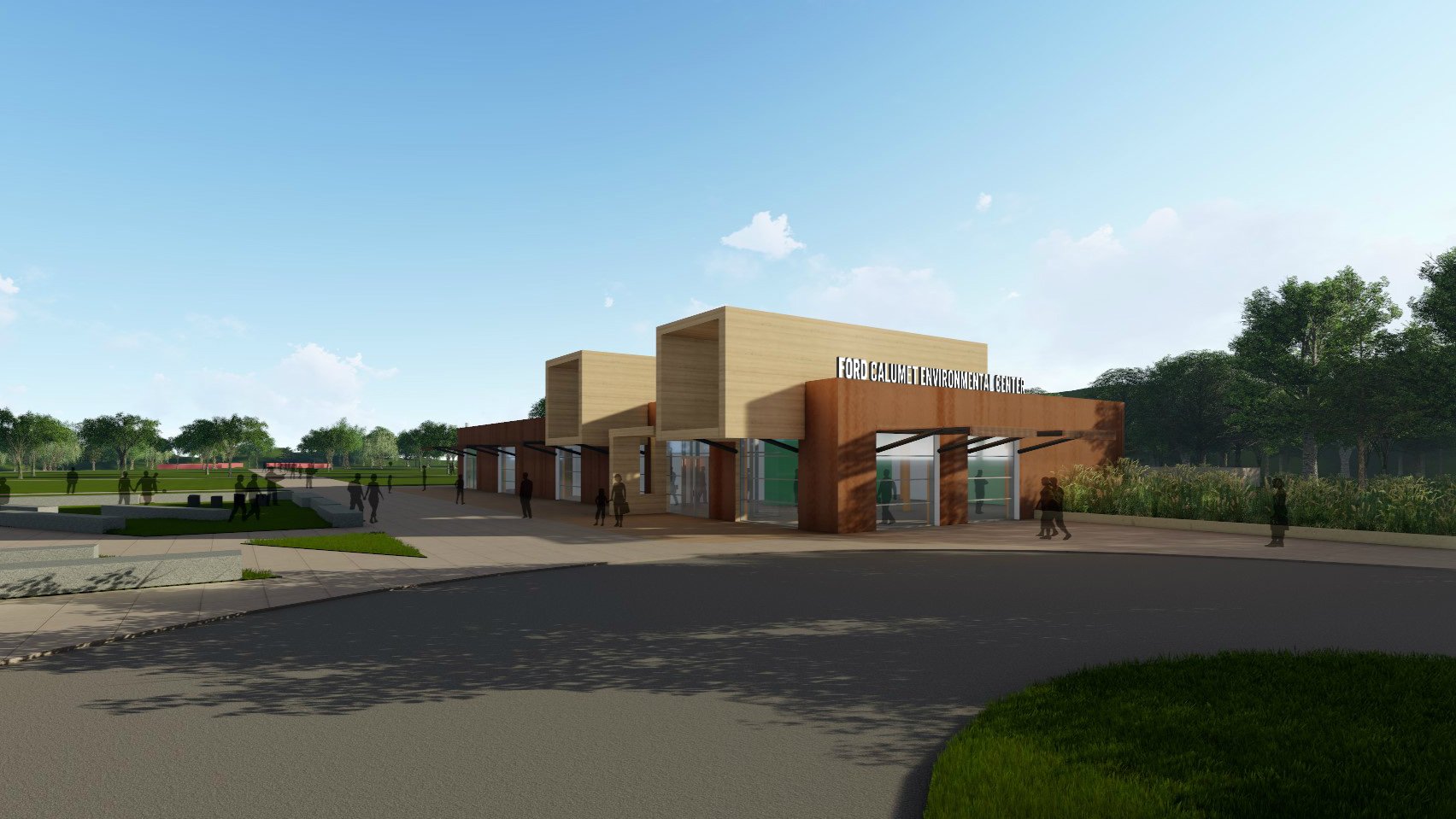 A rendering of the Ford Calumet Environmental Center, set to open in late spring or early summer. (Facebook / Ford Calumet Environmental Center)
The center's location was ultimately shifted to Big Marsh, Freer said, where it's better situated to serve as an educational and community hub for all of the southeast parks, and a launching point for further exploration of nearby Wolf Lake and Pullman National Monument to the west. 
"I think the entire area will benefit from people understanding that it's beautiful," said Fitzgerald. "There's a sense that this was always industrial, that there was always steel and waste management. But that's recent history. A hundred and fifty years ago, Lake Calumet was in different shape."
One piece of recent history Fitzgerald does want remembered is the work of pioneering environmental justice leaders Hazel Johnson and Marian Byrnes, whose efforts led the late Mayor Harold Washington to enact in 1984 a moratorium on landfills that's still in effect. (Van Vlissingen Prairie, north of Big Marsh, was recently renamed the Marian R. Byrnes Natural Area.)
"Their work left a Calumet area that was able to be recovered," Fitzgerald said. "All of these lands represent people having access to and being able to enjoy green space in our own backyard. The area was developed to benefit industry. We're at a point now where we can work to benefit the community."
---