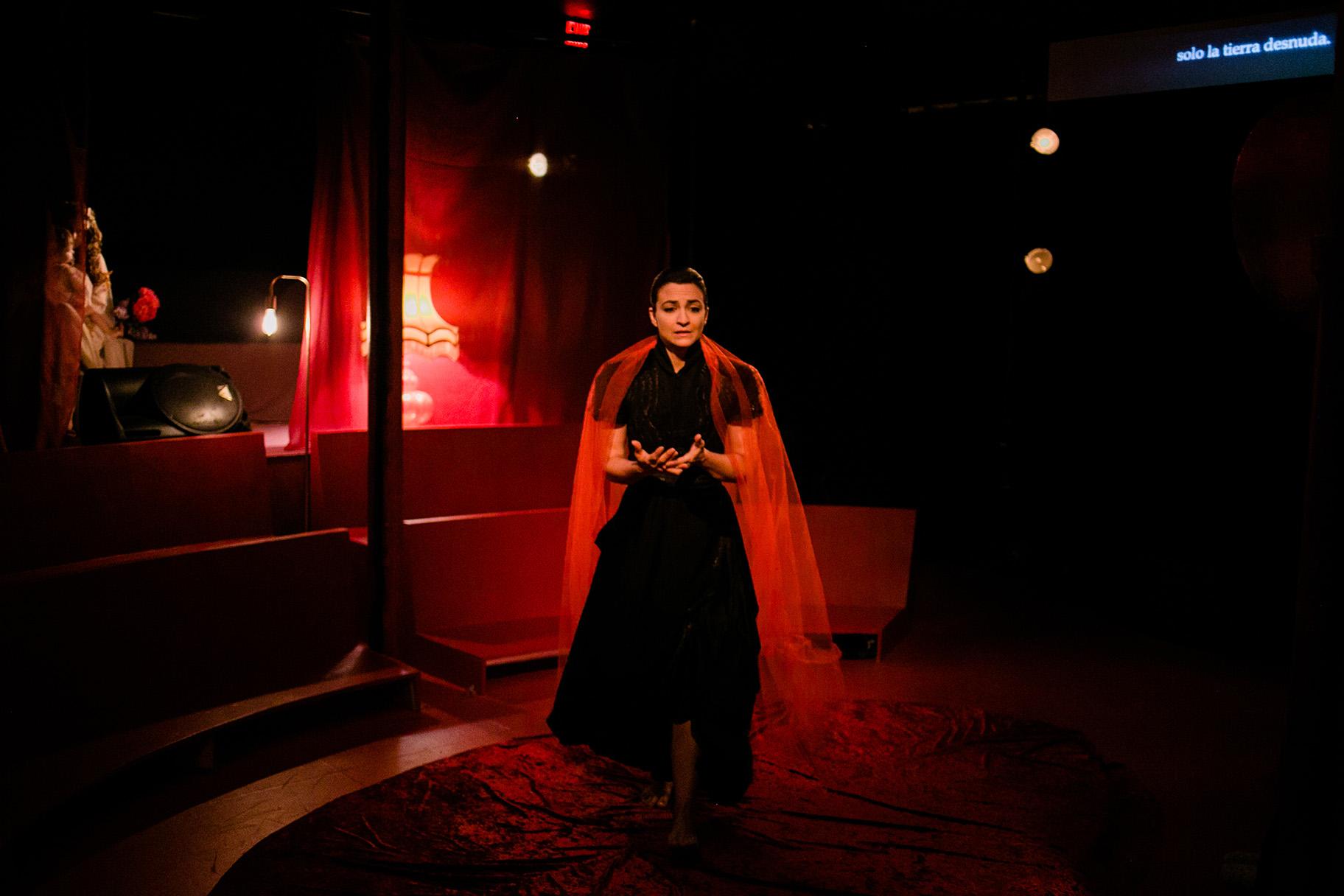 Melissa Lorraine in András Visky's "Juliet" directed by Kevin V. Smith at Theatre Y. (Credit: Devron Enarson)
Enter the modest Lincoln Square storefront venue where Theatre Y – the company that operates as an international laboratory – is presenting playwright Andras Visky's "Juliet," and you will find a cast unlike any you have ever experienced.
The play's title character is played by Melissa Lorraine, an experienced actress and Theatre Y co-founder. Dressed in black, she is laid out on a small, tomblike platform enveloped in a sheer red curtain. But here's the stunner: Forming a chorus on the theater's red velvet circular stage area is a chorus of three women dressed in white, each holding a baby (ranging in age from 6 months to 18 months) dressed in nothing but a diaper, and with their bare, luminous skin warmed by an overhead lamp.
The trio of mothers speak in muffled tones and gently calm their babies who, at moments, suck on pacifiers or grab hold of a stuffed animal during a crying jag. (Improv is of the essence here.) But mostly these infant "actors" are like little cherubs, often gazing wide-eyed into the audience that is seated on benches in a horseshoe configuration. You cannot take your eyes off them.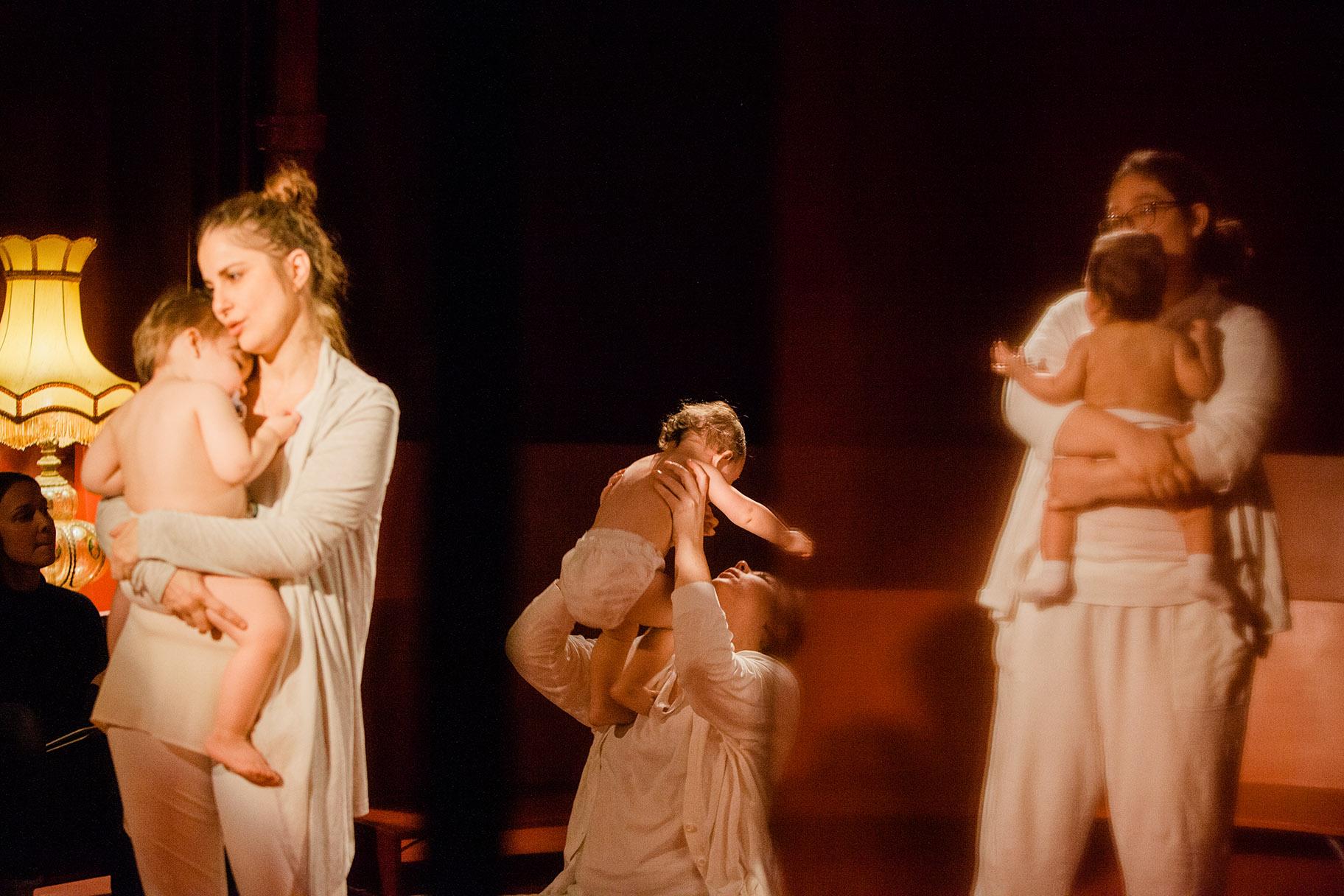 From left: Milan Campbell, Simina Contras, Emmaline Cross, Gabrielle Cross, Emma Xareni Musso and Tania Ramirez in András Visky's "Juliet." (Credit: Devron Enarson)
Visky, a Hungarian-Romanian playwright, poet and essayist, was born in 1957, the youngest of seven children. One year later his father was sentenced to 22 years in prison and forced labor by the Romanian Communist authorities, and his mother and siblings were deported to a remote encampment where they subsisted on alfalfa gruel and the sheer determination of a despairing mother and enterprising oldest brother who somehow kept the family alive.
Written by Visky as a monologue, and performed as such by Lorraine more than 300 times worldwide, the work vividly documents all this upheaval. But it also captures Juliet's devastation at losing her husband (her "Romeo," a gentlemanly pastor she adores), and his stoic act of departure overseen by brutal armed guards. Above all, it finds Juliet continually questioning God and wondering what his purpose in causing all this suffering could possibly be. Along the way, the desire for death (including a serious heart attack), as well as survival, become intertwined with the quest for a heavenly respite – the only alternative to a hellish earthly existence.
For this production it was director Kevin V. Smith who came up with the altogether brilliant notion of adding a mother-and-child chorus – a true touch of genius. At various moments, Smith also has used a mix of English and Spanish supertitles that act as a subtle but powerful reminder of the recent devastating separation of parents and children on the U. S.-Mexico border.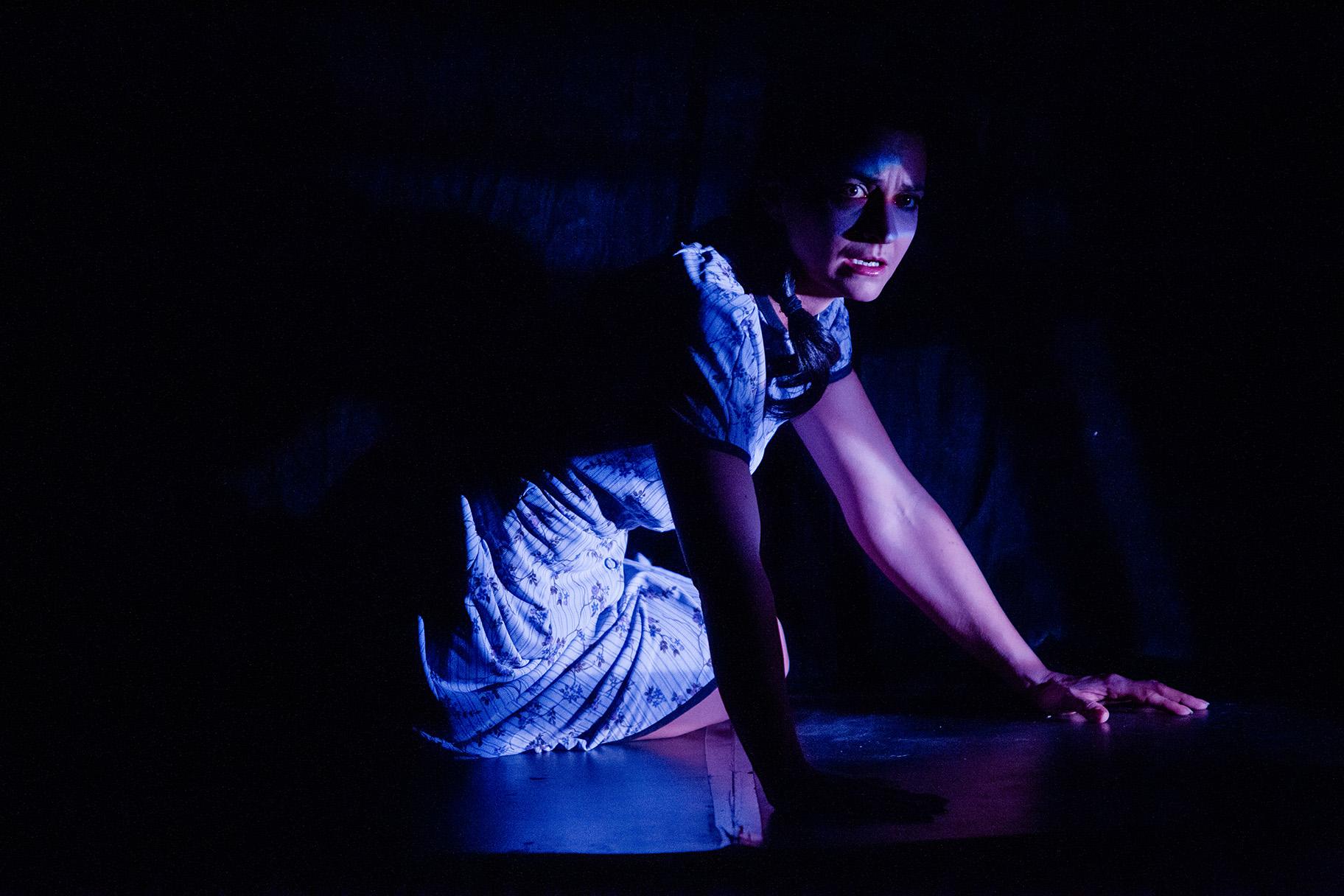 Melissa Lorraine in András Visky's "Juliet." (Credit: Devron Enarson)
Lorraine, a raven-haired beauty with a dancer's grace, clearly owns the role of Juliet, making it something of a bravura, wholly internalized aria. But the three mothers – Simina Contras, Gabrielle Cross and Tania Ramirez – are remarkable, too. And if the babies (Milan Campbell, Emmaline or Franklin Cross and Emma Xareni Musso) steal much of the applause during curtain calls, you will find it wholly justified.
Cheers, too, for designers Henry Wilkinson (set), Rebecca Hinsdale (costumes), Darby Fitzsimons (lights) and Dominic Johnson (sound).
At once haunting, sad and beautiful, "Juliet" is a work of both real life and pure poetry.
"Juliet" runs through Feb. 16 at Theatre Y, 4546 N. Western Ave. (one block south of Wilson Avenue). For tickets call (773) 908-2248 or visit theatre-y.com. Running time is 90 minutes with no intermission. Theatre Y is part of the Free Theatre Movement so the public can attend performances free of charge, although any and all donations are most welcome.
Note: The company will be celebrating Visky's work throughout 2020, with a remount of his "Eva" and "Teresa" in Chicago in March, followed by a visit to a theater festival in Hungary in April.
Follow Hedy Weiss on Twitter: @HedyWeissCritic
---