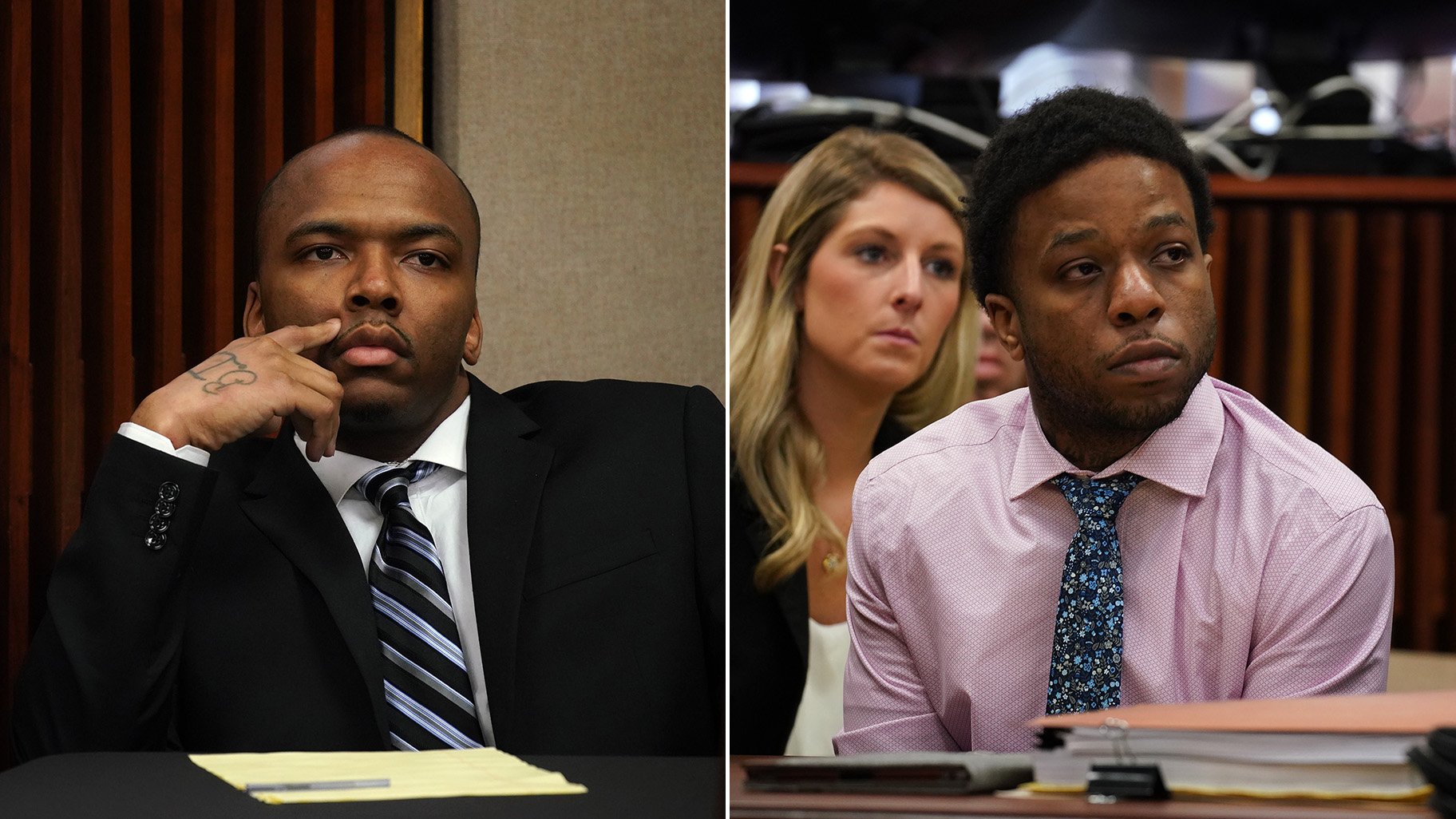 Dwright Boone-Doty, left, and Corey Morgan appear during opening statements in the murder trial of 9-year-old Tyshawn Lee at the Leighton Criminal Court building in Chicago on Tuesday, Sept. 17, 2019. (E. Jason Wambsgans / Chicago Tribune / pool)
The two gang members convicted in the heinous 2015 execution of 9-year-old Tyshawn Lee in an Auburn Gresham alley will each spend multiple decades behind bars.
Convicted gunman Dwright Boone-Doty, 26, will spend 90 years in prison, while 31-year-old Corey Morgan, who Cook County prosecutors' deemed the "driving force" behind Lee's murder, received a 65-year sentence during a hearing Wednesday afternoon.
"Where does this stop?" Cook County Circuit Court Judge Thaddeus Wilson asked as he handed down the sentences. "Where does this mind-numbing, debilitating, senseless violence stop?"
According to prosecutors, the shooting was the result of a feud between the defendants' Bang Bang Gang/Terror Dome faction of the Black P Stones and the Killa Ward faction of the Black Gangster Disciples, which Lee's father, Pierre Stokes, allegedly belonged to.
Prosecutors argued Morgan had sought revenge against the rival faction, which he blamed for a previous shooting that left his brother dead and his mother wounded. They alleged Morgan, Boone-Doty and a third man, Kevin Edwards, traveled to Dawes Park on the afternoon of Nov. 2, 2015 intent on avenging Morgan's family.
"He didn't care how old the person was," Assistant State's Attorney Thomas Darman said, calling the murder a "dark day" for Chicago. "He was gonna take revenge no matter what."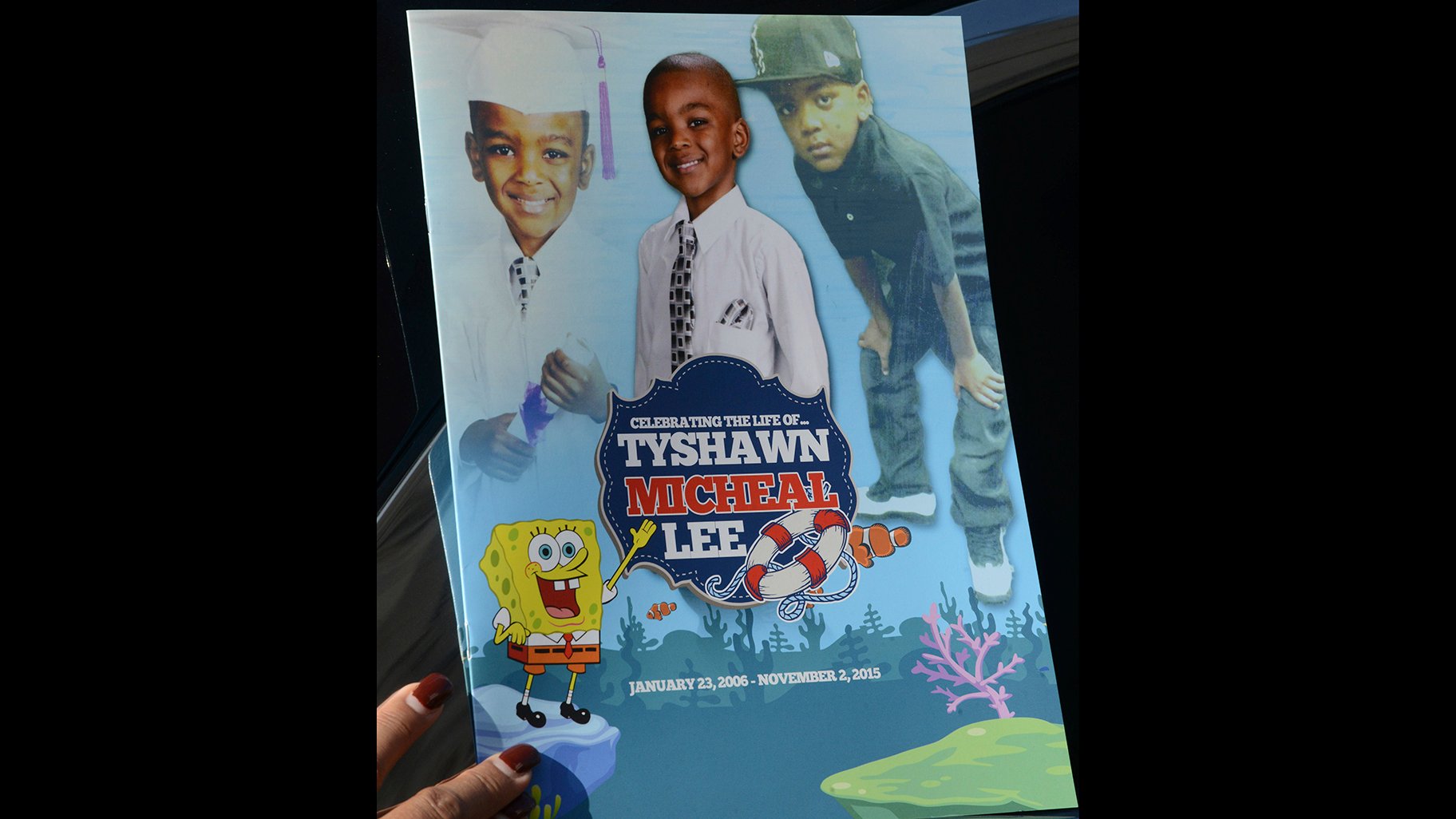 In this Tuesday, Nov. 10, 2015, file photo, a mourner holds the program for the funeral of 9-year-old Tyshawn Lee at St. Sabina Church in Chicago. (Brian Jackson / Chicago Sun-Times via AP, File)
After locating Lee in the park, Edwards and Morgan waited in an SUV nearby while Boone-Doty approached the boy, struck up a conversation, dribbled his basketball and offered to buy him a juice box before leading him into an alley. There he shot Lee seven times as the fourth grader tried in vain to defend himself.
Neither defendant made statements to the court during Wednesday's hearing.
Both men were convicted of first-degree murder. But due to sentencing enhancements relating to Lee's age and the use of a firearm to commit the murder, Boone-Doty faced a sentence of 45 years to life. Morgan had a sentencing range of 35 to 115 years.
Wilson ordered that both men's sentences be served at 100%.
"This case has rocked all of us in the city of Chicago, and quite frankly the nation, with its heinous and horrific nature," said Cook County State's Attorney Kim Foxx, who watched the sentencing hearing from the courtroom gallery. "Today's sentencing … will never be enough for Tyshawn or his family."
The unique three-week trial took place in front of one judge at the Leighton Criminal Court Building. But the two cases were heard by separate juries, which would filter in and out of a single fourth-floor courtroom during testimony and arguments.
Edwards pleaded guilty to first-degree murder days before the Morgan and Boone-Doty trials began. He was previously sentenced to 25 years in prison.
Boone-Doty was tied to the murder through DNA found both on Lee's basketball and the trio's getaway vehicle. Morgan's case was more circumstantial. Eyewitnesses testified Morgan and Edwards were seen in the park just before the shooting, though those IDs were challenged by the defense at trial.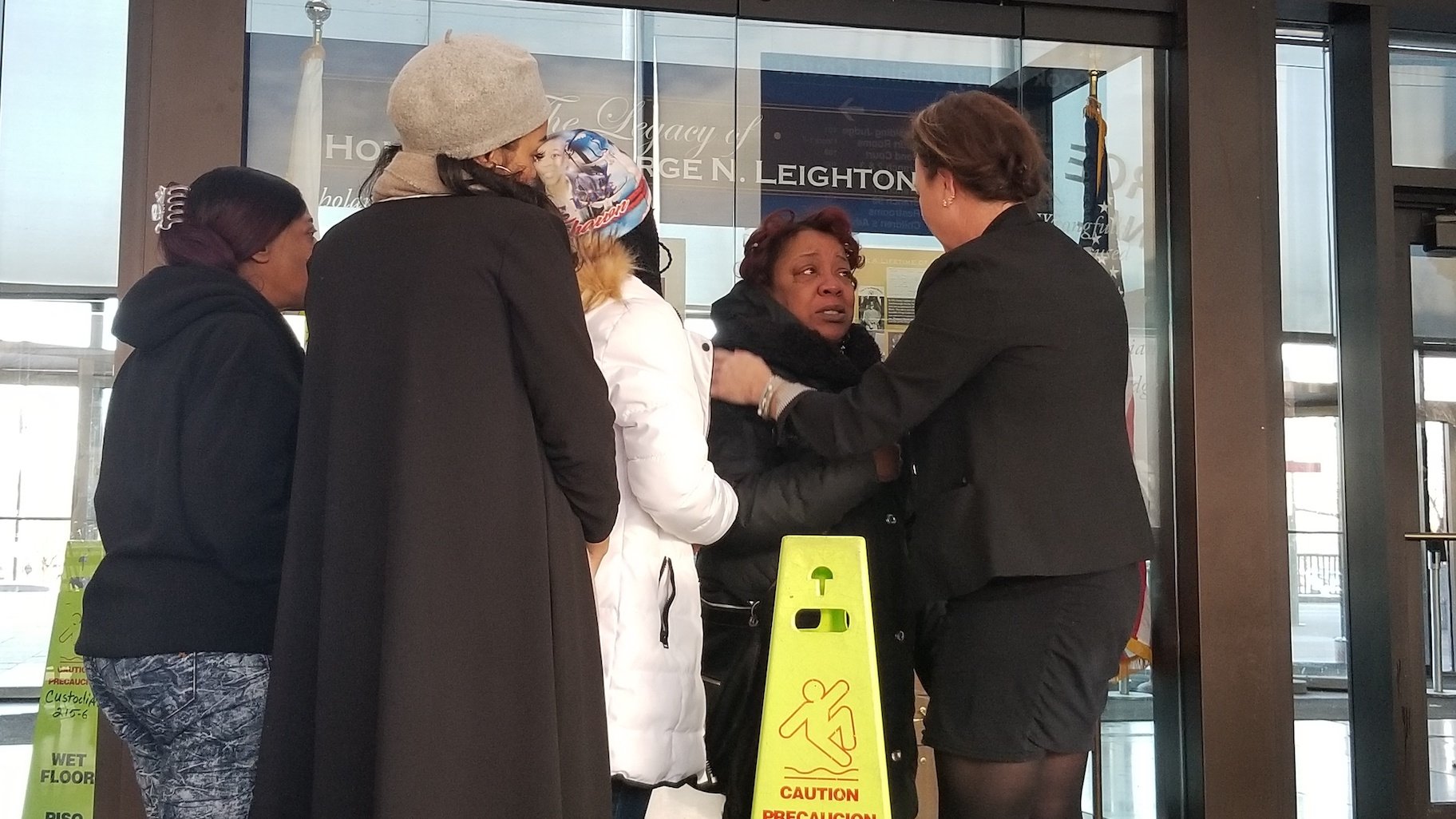 Members of Tyshawn Lee's family grew emotional after the sentencing hearing Wednesday, Dec. 18, 2019 at the Leighton Criminal Court Building. (Matt Masterson / WTTW News)
Asked if she felt the sentences represented justice for Tyshawn, his mother Karla Lee said, "Yes it is."
"I'm happy about the outcome," she said. "I'm happy about the sentence .. It's been really hard for me. I've been waiting for this day for four years. It's finally here and I'm happy about it."
In a victim impact letter, Lee's grandmother and great-grandmother lamented the fact that the boy would never get to grow up and graduate high school or meet the love of his life.
"You left his little 9-year-old body in a cold alley to die and you just drove off like he was some kind of animal," said Assistant State's Attorney Patrick Waller, reading off the letter to the court. "He was just an innocent little boy ... Who would commit such a heinous crime?"
Wilson focused much of his sentencing statements on the scourge of gun violence in Chicago, saying people in communities where gang violence is rampant don't feel safe walking outside or playing in their parks.
"We have gun-toting adults and children indiscriminately shooting and taking out lives in the process," he said. "Many couldn't shoot the broad side of a barn from 2 feet away, yet they have a gun."
The Associated Press contributed to this report.
Contact Matt Masterson: @ByMattMasterson | (773) 509-5431 | [email protected] 
---
Related stories:
'Driving Force' Behind Murder of 9-Year-Old Tyshawn Lee Guilty of Murder
Gunman Guilty in Brutal Slaying of 9-Year-Old Tyshawn Lee
Trial to Begin in 9-Year-Old's Killing That Shocked Chicago
Police: Shootings, Murders Fall in August
Police: 2 Chicago Moms Killed in Shooting Likely Not Targets
---