Corey Morgan is found guilty of first-degree murder for the killing of 9-year-old Tyshawn Lee during his trial at the Leighton Criminal Court Building in Chicago on Friday, Oct. 4, 2019. (E. Jason Wambsgans / Chicago Tribune / pool)
While he didn't fire the fatal shots that killed 9-year-old Tyshawn Lee, Cook County prosecutors say Corey Morgan was the "driving force" behind the boy's execution in an Auburn Gresham alley in 2015. On Friday, Morgan was found guilty of murder for his role in one of Chicago's most horrific crimes.
A Cook County jury convicted Morgan, 30, of first-degree murder hours into its second day of deliberations Friday. A separate jury found Dwright Boone-Doty, the gunman who shot Lee, guilty of first-degree murder Thursday night following weekslong trials for the two men then went on simultaneously before the same judge.
Morgan faces up to 100 years in prison at sentencing.
The shooting was the result of a feud between the defendants' Bang Bang Gang/Terror Dome faction of the Black P Stones and the Killa Ward faction of the Black Gangster Disciples, which the slain boy's father, Pierre Stokes, allegedly belonged to.
Prosecutors argued Morgan had sought revenge against the rival gang faction he blamed for a previous shooting that left his brother dead and his mother wounded.
"This was a 9-year-old boy who was targeted and executed," Assistant State's Attorney Craig Engebretson told a packed courtroom Thursday during closing arguments. "Who would want to do that? Who in this world has a bigger motive to make sure this happens to Tyshawn Lee than that man right there?"
Prosecutors alleged Morgan, Boone-Doty and a third man, Kevin Edwards, traveled to Dawes Park on the afternoon of Nov. 2, 2015 intent on avenging Morgan's family.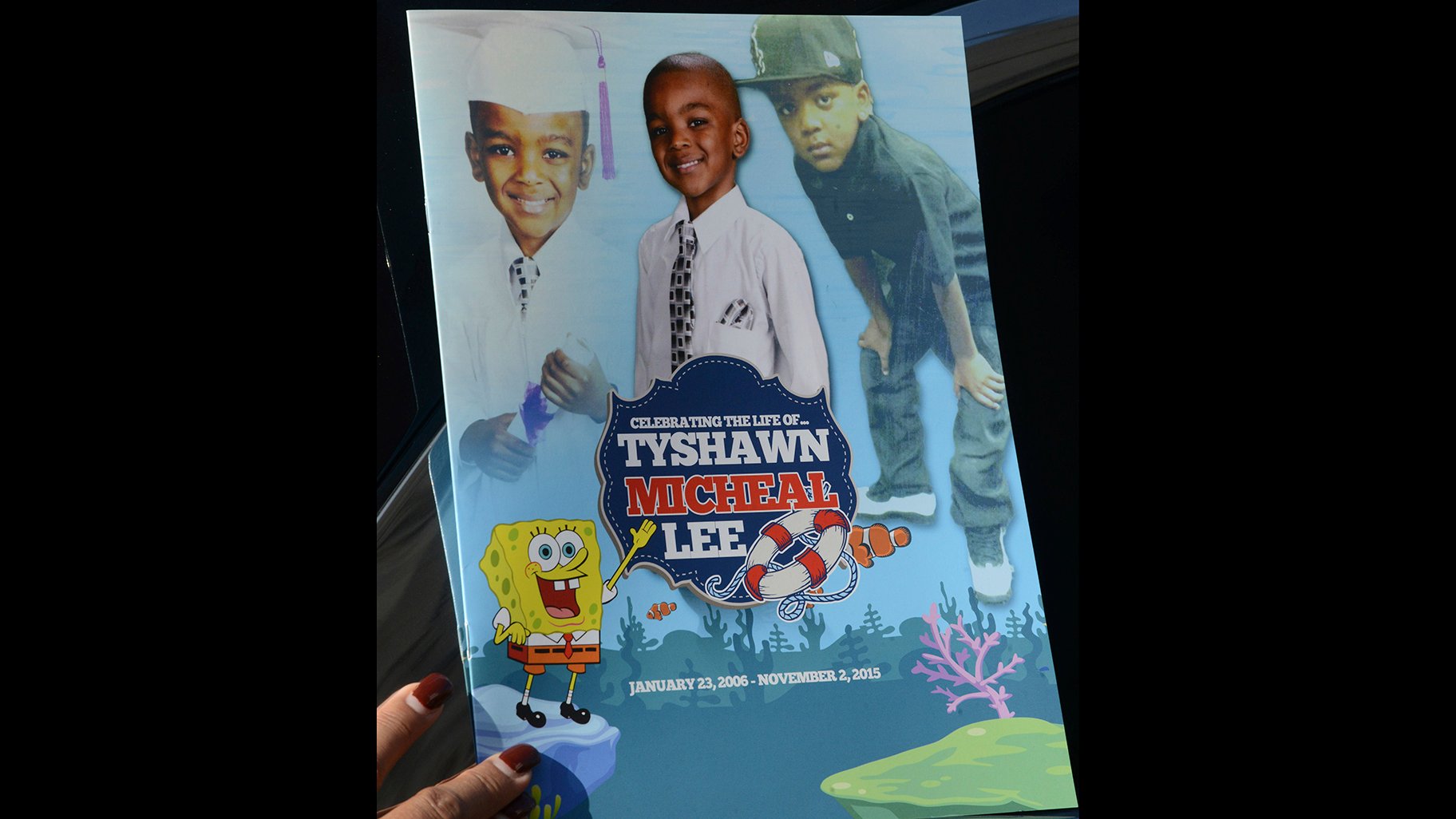 In this Tuesday, Nov. 10, 2015, file photo, a mourner holds the program for the funeral of 9-year-old Tyshawn Lee at St. Sabina Church in Chicago. (Brian Jackson / Chicago Sun-Times via AP, File)
After locating Lee in the park, Edwards and Morgan waited in an SUV nearby while Boone-Doty approached the boy, struck up a conversation, dribbled his basketball and offered to buy him a juice box before leading him into an alley. There he shot Lee seven times as the fourth grader tried in vain to defend himself.
Boone-Doty was tied to the murder through DNA found both on Lee's basketball and the trio's getaway vehicle. Morgan's case was more circumstantial. Eyewitnesses testified Morgan and Edwards were seen in the park just before the shooting, but Morgan's defense attorneys challenged the validity of those identifications.
Morgan's defense attorney Todd Pugh told reporters after the verdict it was a "difficult" case that posed an "uphill battle." He said jurors may have been overwhelmed by the "emotionally charged" details of the case.
"The jurors being allowed to hear everything about gang membership and tattoos and everything about these violent gangs and the history in the Auburn Gresham neighborhood," he said. "All of that in line made it very difficult, I think, for the jurors to see the facts in the light that we would want them to."
Pugh added he believes there's a "tremendous amount" of appealable issues in this case.
Following Boone-Doty's conviction Thursday, Cook County State's Attorney Kim Foxx issued a statement saying she hoped the verdict would bring "some measure of closure and peace" to Lee's family.
"Even at a time when we've become nearly numb to headlines about violence, this case shook us to our core," Foxx said. "We grieve for 9-year-old Tyshawn as we continue to hold close those who are laboring in his wake."
Edwards pleaded guilty to first-degree murder last month and was sentenced to 25 years in prison. Boone-Doty faces up to life in prison.
The Associated Press contributed to this report.
Contact Matt Masterson: @ByMattMasterson | (773) 509-5431 | [email protected] 
---
Related stories:
Gunman Guilty in Brutal Slaying of 9-Year-Old Tyshawn Lee
Trial to Begin in 9-Year-Old's Killing That Shocked Chicago
Police: Shootings, Murders Fall in August
Police: 2 Chicago Moms Killed in Shooting Likely Not Targets
---