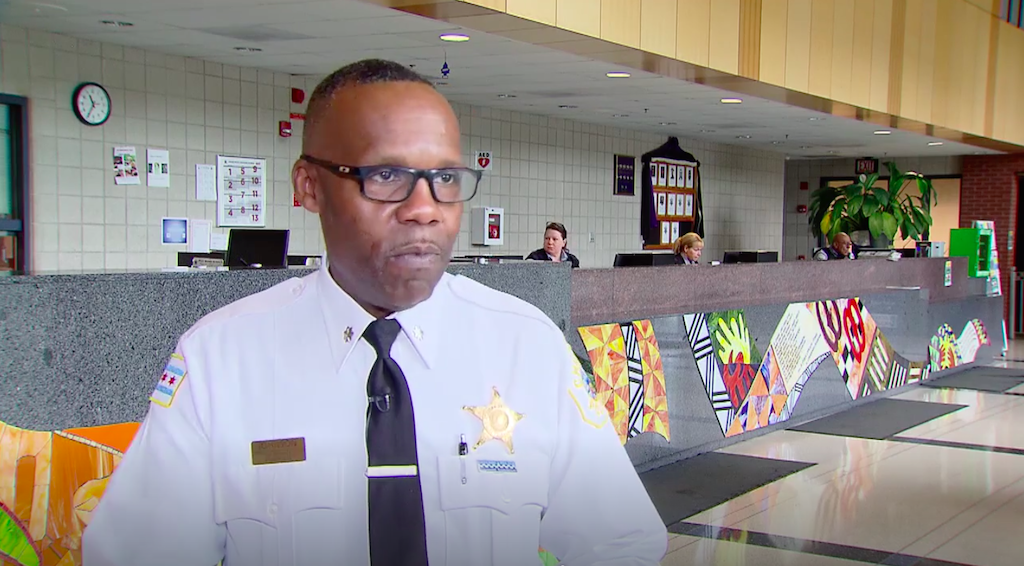 Retired police Commander Kenneth Johnson speaks to "Chicago Tonight" during an interview on May 4, 2017.
Former Chicago police Commander Kenneth Johnson received and spent monthly Social Security checks meant for his mother for more than two decades after her death, pulling in more than $360,000.
On Tuesday, he was sentenced to two years of probation.
Johnson, a 32-year Chicago Police Department veteran who worked as a commander in the department's 7th police district in Englewood before retiring in 2017, was sentenced after pleading guilty in federal court to one count of stealing Social Security benefits.
Federal prosecutors outlined how Johnson bilked the Social Security Administration out of $363,064 from about 1994 to 2017. His mother, identified in court documents only as Individual A, had been receiving monthly checks through the administration's Old-Age, Survivors, and Disability Insurance program.
Those checks were electronically deposited each month into a joint account shared by Johnson and his mother. But when she died in June 1994, Johnson failed to notify the Social Security Administration, so the checks kept coming in.
U.S. District Court Judge Manish Shah pointed to Johnson's years with the police department and asked him how many times he'd wished a defendant would come forward with information and accept the consequences for their actions. He called Johnson's refusal to do the same both "maddening" and "infuriating."
"At the end of the day," Shah told Johnson during sentencing, "the only thing preventing you from putting a stop to this was you own conscience."
Johnson's sentence includes six months of community confinement and an order to pay back the full amount of the funds he took. During sentencing, he apologized to the CPD, his family and the Englewood community, where he was lauded for his efforts to reduce crime and violence.
Though he recognized he repeatedly broke the law, Johnson hoped the good he did with the police department would help even the scales.
"I kind of thought, 'Yeah this is going on, but let me do some good. Let me balance this,'" he said.
Johnson said he'd been living under a "Sword of Damocles" for more than 20 years and refused to ask anyone to submit letters or speak on his behalf during Tuesday's hearing because of the shame and guilt he said he'd been dealing with.
He blamed that guilt for a chronic illness and the deterioration of his second marriage. 
Johnson was earning $160,000 per year as district commander before he retired. But prosecutors said he withdrew all but 59 cents from the joint account and used those funds "for his own personal benefit" on things like flights, hotels and groceries.
His attorney Michael Clancy acknowledged the crime was "motivated by greed" but argued that Johnson had demonstrated "acceptance of responsibility for his criminal conduct" and deserved a sentence of probation.
"He had this in the closet, he had this skeleton that ate him up on a day-to-day basis," Clancy told the judge. "He made that mistake on a day-to-day basis for 23 years and it tore him up."
Prosecutors had asked the judge for a sentence of 18 to 24 months in prison, arguing that his police career and lack of a previous criminal record did not warrant a more lenient sentence.
Despite Johnson's claims that this was a "horrible mistake," Assistant U.S. Attorney Jared Jodrey said the defendant had 23 years' worth of opportunities to do the right thing and continuously refused to do so.
"This was not a crime of necessity or desperation," he wrote in the prosecution's sentencing memo. "Nor was it an isolated incident or a momentary lapse in judgment. Despite having a well-paying job with the Chicago Police Department, Johnson decided to steal from Social Security every month for over 23 years."
"This was simply greed," Jodrey added at sentencing. "That's a betrayal of the public trust."
Contact Matt Masterson: @ByMattMasterson | [email protected] | (773) 509-5431
---
Related stories:
Ex-Commander Enters Plea in Social Security Fraud Case
Retired Police Commander Allegedly Stole $360,000 in Social Security Funds
Chicago Police Sergeant Implicated in Beating of 2 Men Outside Bar
Suburban Police Chief Charged With Distributing Sexual Recordings
---