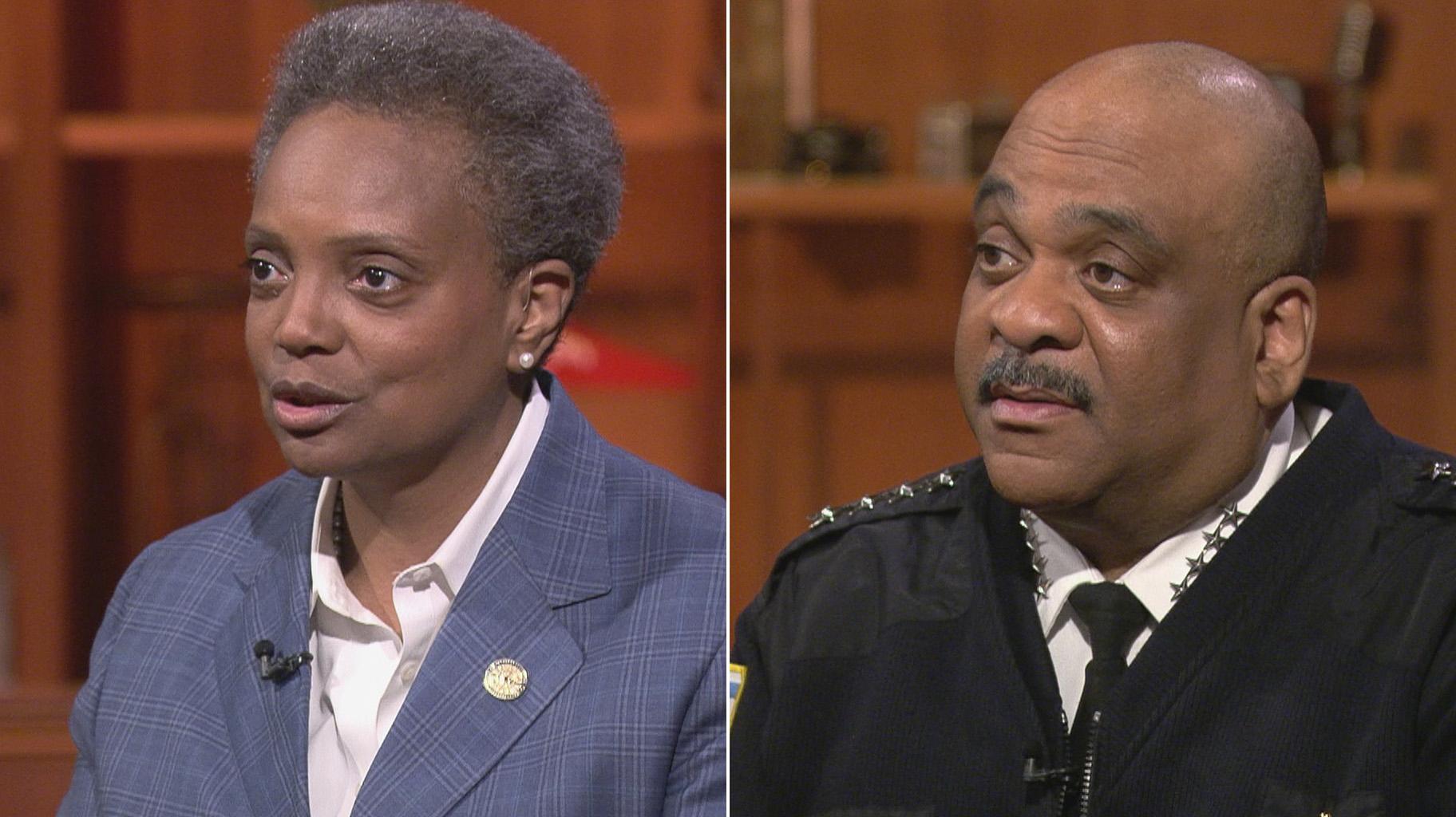 Mayor Lori Lightfoot and Chicago Police Superintendent Eddie Johnson on "Chicago Tonight" during separate appearances in 2019. (WTTW News)
Former Chicago Police Superintendent Eddie Johnson is making his first public comments a day after Mayor Lori Lightfoot abruptly terminated him amid claims that he "repeatedly lied" to both the mayor and the public.
Johnson disputes Lightfoot's assertion that he was "intentionally dishonest" with her about what happened just after midnight on Oct. 17, when Johnson was found slumped over and passed out behind the wheel of his car. Johnson, who had intended to retire at the end of December, says he's disappointed he can't finish his career on his own terms, but says that he's leaving the department with his integrity intact.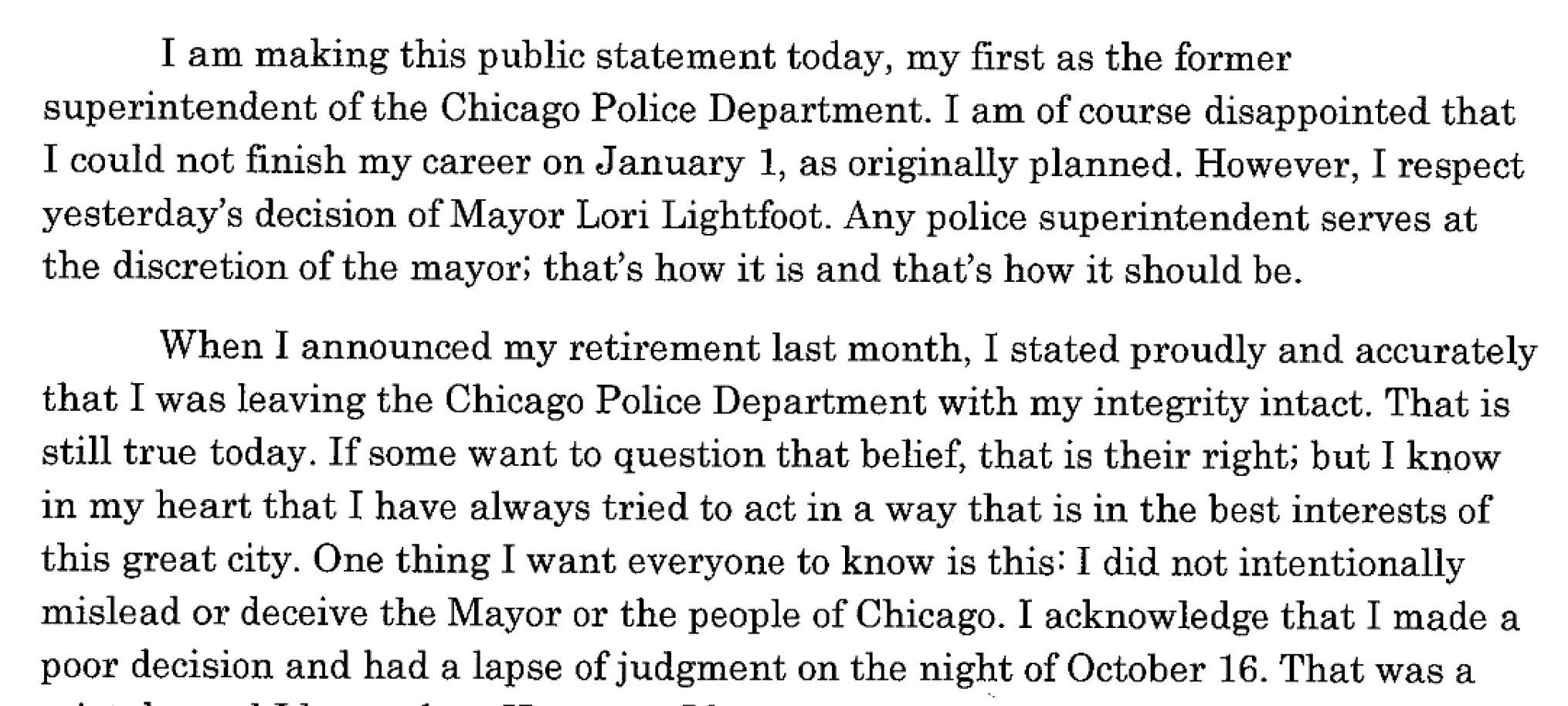 Document: Read Eddie Johnson's full statement. "One thing I want everyone to know is this: I did not intentionally mislead or deceive the mayor or the people of Chicago. I acknowledge that I made a poor decision and had a lapse of judgement on the night of October 16," Johnson said in a written statement sent to WTTW by his attorney, Tom Needham. "That was a mistake, and I know that."
Lightfoot made the decision to fire Johnson only weeks after supporting him at a laudatory press conference in which he announced his retirement from a 30-year career. Chicago's Inspector General Joe Ferguson is probing the October incident; Lightfoot says she didn't know then what she knows now.
"Had I known all the facts at the time, I would have relieved him of his duties as superintendent then and there," Lightfoot said Monday.
Ferguson's office says the investigation is not yet complete. Johnson initially told Lightfoot that he had had a couple of drinks before driving himself home late at night, but that he had fallen asleep because of a change in blood pressure medication he was taking. After someone called 911 to report a man sleeping inside his vehicle, responding officers found Johnson slumped over, but allowed him to drive home and did not administer a Breathalyzer test or a field sobriety test.
Lightfoot did not specify what new information she learned from the investigation, but said his actions were "intolerable for any leader in a position of trust, particularly head of the Chicago Police Department."
Various news outlets are reporting that Johnson had been drinking at the Ceres Bar at the Chicago Board of Trade with a woman who was not his wife.
When asked by WTTW News at his retirement announcement why he chose to drive himself instead of using one of the multiple police department-assigned drivers to take him home, Johnson says he sent his driver home to prepare for the Chicago Public Schools strike with his family.
"My drivers are people too, and they have family commitments, so I let him go home so he and his wife could figure that out," Johnson said.
In his statement Tuesday, Johnson said he hopes the public will judge him on the entirety of his 3 1/2-year term as superintendent, during which violent crime dropped and the department began its work to comply with a federal consent decree on police reform.
While Johnson acknowledged in his statement that he made a mistake, he says he has "no interest in fighting a battle for my reputation with those that want to question it now. Reputations are not built in a day and not damaged in a day either."
Former Los Angeles Police Chief Charlie Beck has taken over for Johnson as interim superintendent while the Chicago Police Board conducts a search for a permanent replacement.
Follow Paris Schutz on Twitter: @paschutz
---
Related stories:
Reports Shed New Light on Chicago Police Chief's Firing
Lightfoot Fires Top Cop Eddie Johnson for 'Intolerable Actions'
Spotlight Politics: Top Cop Ousted Weeks Before Retirement
---