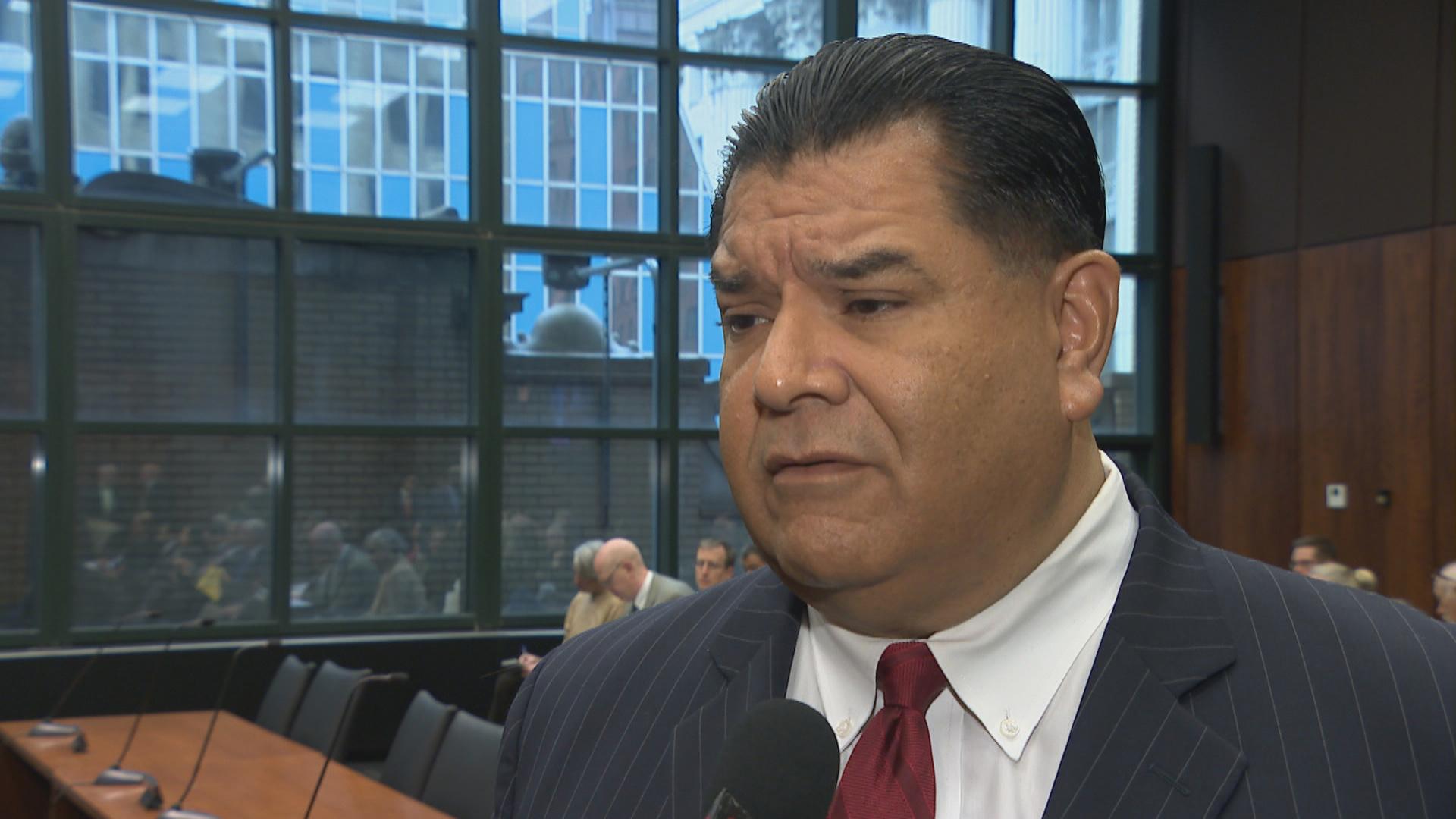 In this file photo, state Sen. Martin Sandoval speaks with WTTW News.
Besieged Illinois Sen. Martin Sandoval resigned his post chairing the chamber's transportation committee Friday, the same day the Senate released an uncensored version of a search warrant for Sandoval's office in Springfield.
The previously released, heavily redacted copy of the search warrant showed that agents were looking for "items related to any official action taken in exchange for a benefit" when they carried out the Sept. 24 raid.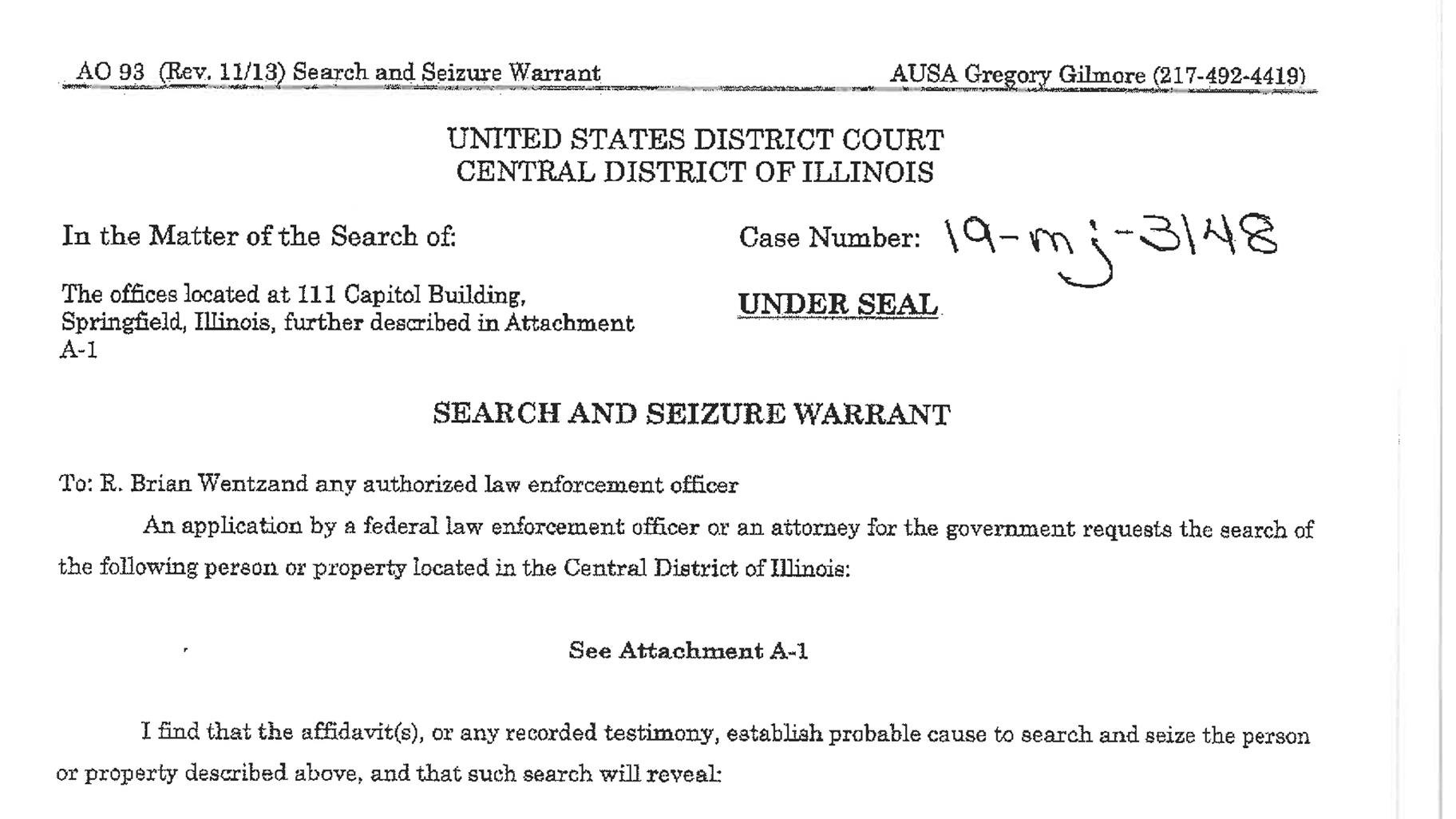 Document: Read the search warrant. The version made public Friday brings into focus what the feds are interested in, including items related to: red-light camera company SafeSpeed, Cook County Commissioner Jeff Tobolski, asphalt titan Michael Vondra, at least four Commonwealth Edison or Exelon executives, and the video gambling company Gold Rush Gaming plus its CEO Rick Heidner, who is developing a new horse race track and casino in Tinley Park.
Even as FBI agents swarmed Sandoval's office Sept. 24, the state racing board gave its initial approval for the so-called racino, which is feasible thanks to a new gambling expansion law that's supposed to pay for statewide infrastructure projects. Sandoval was a vocal advocate of a capital program.
Sandoval has not been criminally charged.
His letter Friday announcing his resignation from the powerful committee post was brief.
"I am resigning as Chairperson of the Senate Transportation Committee," it reads.
Other individual or company names listed on the warrant: developer Vahooman "Shadow" Mirkhaef, Summit police Chief John Kosmowski, Summit Mayor Sergio Rodriguez, Democrat Bill Mundy, Klein Creek Gold Club (where Sandoval has held fundraisers), and an unidentified construction company as well as several highway, Illinois Department of Transportation and municipal officials.
Architect and Berwyn Ald. Cesar Santoy, who Gov. J.B. Pritzker in February appointed to the state tollway board, is also listed. At the governor's request, Santoy on Friday left the board.   
Agents ended up seizing three computers, an iPad, five iPhones, seven USB drivers and a flash drive "with Landek written on it."
Landek is the last name of Democratic state Sen. Steve Landek, who is also mayor of Bridgeview.
Agents also raided Sandoval's legislative office in Cicero as well as his Chicago home on Sept. 24.
Sandoval is the second senator currently caught in a legal maelstrom. State Sen. Tom Cullerton, D-Villa Park (a distant cousin of Senate President John Cullerton) has pleaded not guilty to embezzlement charges.
"The unredacted warrant provides another glimpse into the vast network of background players involved in the corrupt Chicago Democrat machine that runs this state," Illinois Republican Party chairman Tim Schneider said in a statement. "From another close (House Speaker Michael) Madigan ally to Pritzker's Tollway appointee, there is virtually no level of state and local government in Cook County that is not teeming with self dealing Democrats looking to screw over taxpayers. The Illinois Democratic Party is a crime ring masquerading as a political party."
Sandoval, a senator since 2003, represents portions of Chicago's South Side and south suburbs, including several also visited by the feds in late September: McCook, Lyons and Summit. 
Follow Amanda Vinicky on Twitter: @AmandaVinicky
---
Related stories:
Investigations Touch Illinois Powerbroker's Confidants
Spotlight Politics: Another Day, Another Politician, Another FBI Raid
Raid at Home, Office of Powerful State Sen. Martin Sandoval
---