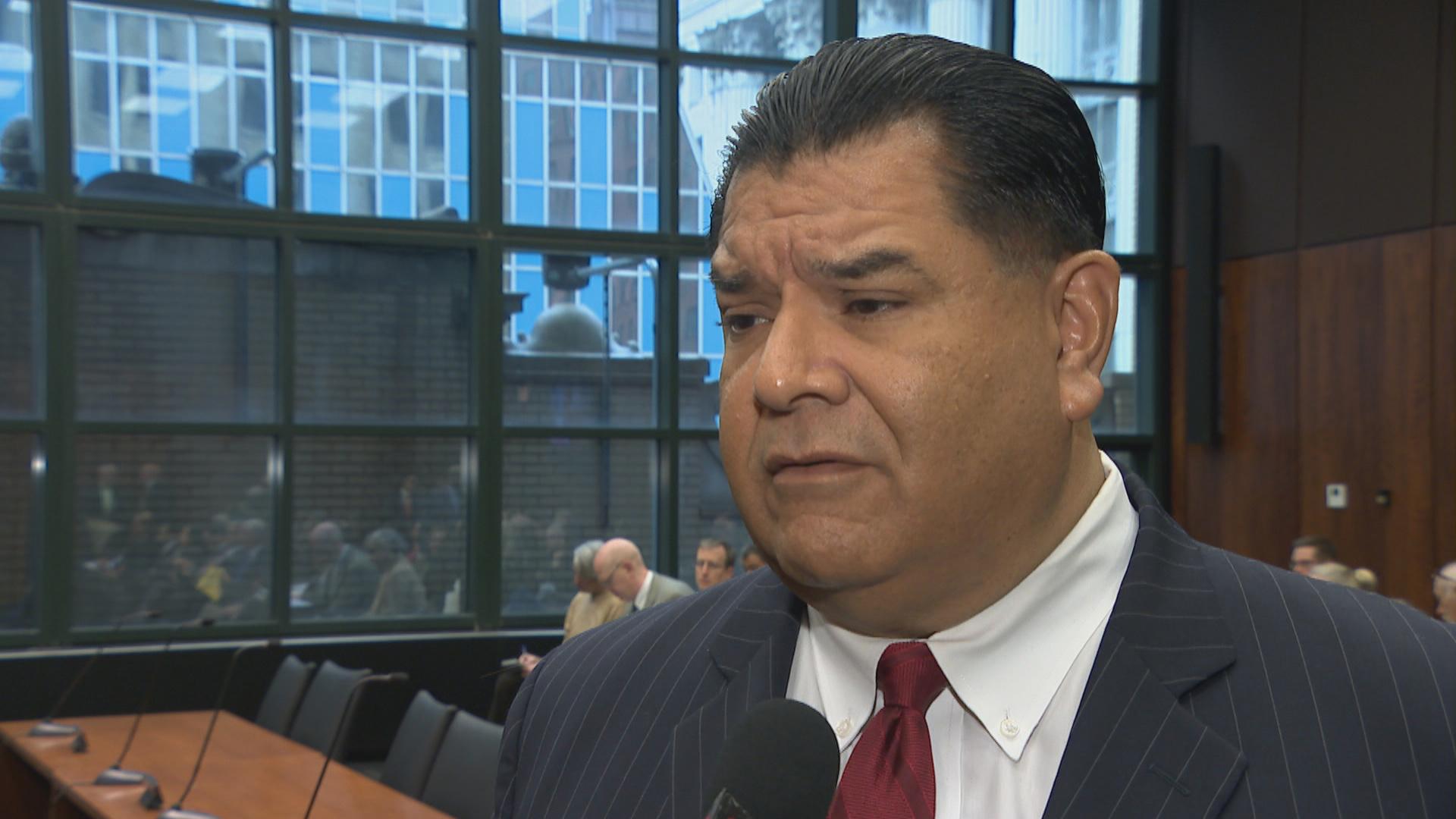 In this undated file photo, state Sen. Martin Sandoval speaks with WTTW News.
The Federal Bureau of Investigation has honed in on another powerful elected official from Chicago: State Sen. Martin Sandoval.
Suit-wearing agents who raided his Springfield office Tuesday were photographed leaving with cardboard evidence boxes. There were reports of law enforcement at Sandoval's district office in Cicero, and a search was underway Tuesday afternoon at the senator's home.
The agency isn't saying why it took the action.
"FBI personnel are engaged in an authorized law enforcement activity at the Illinois State Capitol," said John Althen of the FBI-Chicago Media Office via email.
Althen also confirmed that FBI agents "are (were)" present at Chicago home with an address matching Sandoval's.
Yet despite media reports of action at Sandoval's district office, Althen wrote that "FBI-Chicago does not have personnel conducting activity in Cicero."
Since becoming a member of the Illinois Senate in 2003, Sandoval has developed a reputation as a bombastic politician who advocates for Latinos. He chairs the Senate's transportation committee.
His 11th State Senate District on the Southwest Side is comprised in part by the 22nd State House District represented by Illinois House Speaker Michael Madigan, who is chairman of the Democratic Party of Illinois.
The FBI has in recent months carried out raids on others linked to Madigan, including former 23rd Ward Ald. Mike R. Zalewski (whose son is state Rep. Michael J. Zalewski), Commonwealth Edison lobbyist Mike McClain of Quincy, and former Madigan campaign aid Kevin Quinn (the brother of 13th Ward Ald. Marty Quinn).
It is not known whether there is any connection to the FBI activity centered on Sandoval.
"FBI-Chicago has no further comment on the matter," Althen wrote. 
Sandoval made national news in August when social media pictures of his fundraiser surfaced in which a man pointed a fake gun at someone wearing a Donald Trump mask. He later issued an apology.
The senator, who is of Mexican descent, grew up in the Back of the Yards neighborhood and is married with three children. Sandoval tried to use his clout and campaign money to help one of his children, daughter Angie Sandoval, get elected to the Cook County Board. Alma Anaya instead won the seat that was previously held by U.S. Rep. Jesus "Chuy" Garcia before he went to Washington.
Follow Amanda Vinicky on Twitter: @AmandaVinicky
---
Related stories:
Report Outlines Culture of Fear, Harassment on Speaker Madigan's Watch
Spotlight Politics: Has Madigan's Political Luck Run Out?
---