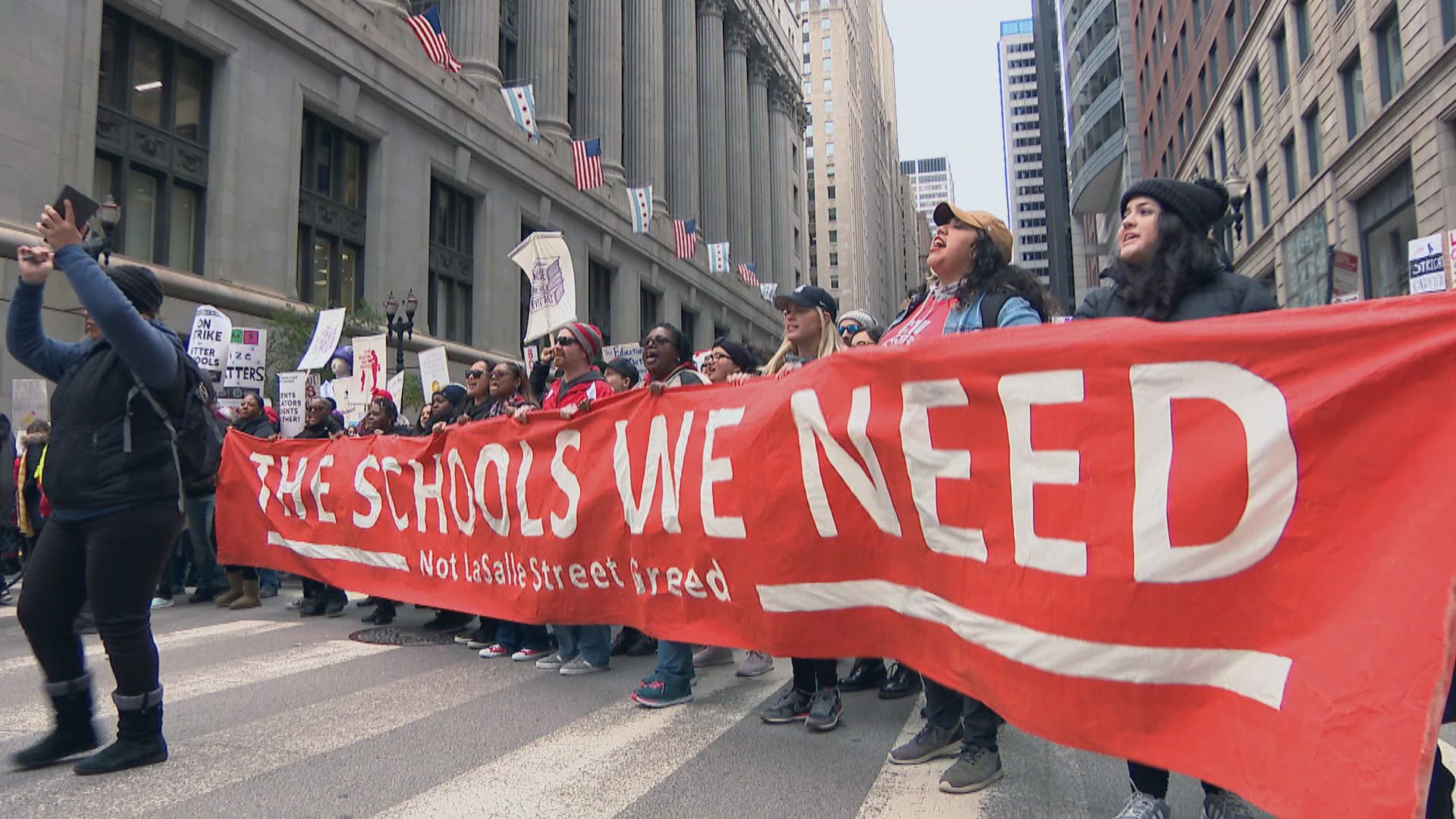 The Chicago Teachers Union and SEIU Local 73 hold a massive demonstration in the Loop on Wednesday, Oct. 23, 2019 -- day five of the Chicago teachers strike. (WTTW News)
The Chicago Teachers Union's 11-day strike is suspended, but it's not officially over until some 25,000 rank-and-file members vote to ratify a five-year tentative contract agreement reached with the city. That vote begins Thursday.
Two weeks after the union halted its longest work stoppage in more than 30 years, teachers will decide whether to accept the new contract or reject it and head back into negotiations with Mayor Lori Lightfoot and Chicago Public Schools.
Reopening negotiations is unlikely, but remains a possibility until CTU approves the deal.
The union has scheduled two days – Thursday and Friday – for teachers to vote on the tentative deal, but it's urging members to get their votes in as soon as possible. Beyond the teachers vote, the tentative agreement must also be adopted by the Chicago Board of Education. Its seven members will hold their own vote on the contract next Wednesday at their regular monthly meeting.
Only active CTU members currently employed by CPS will be allowed to vote. Teachers will submit secret ballots to their elected union delegates inside each school. On top of in-school voting, teachers may also cast ballots at CTU headquarters from 7 a.m. to 6 p.m. on both Thursday and Friday.
Once all votes are collected, the ballots will be taken to the union's headquarters where they'll be counted and certified by volunteers.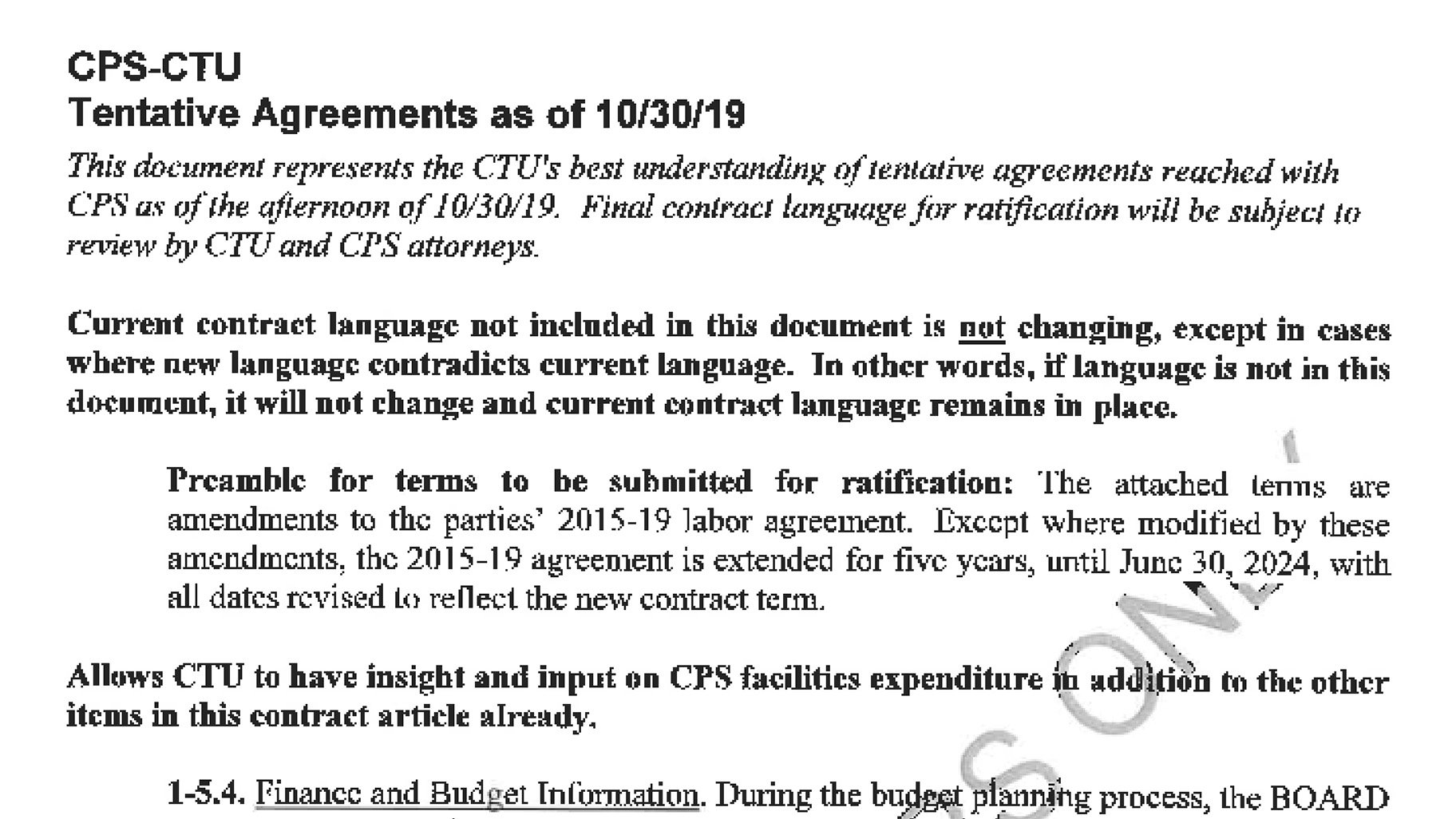 Document: Read the tentative agreement.
If the tentative agreement is ratified by a simple majority, the strike officially ends, according to CTU's constitution. If not, the union's House of Delegates must convene within five days and set a date to resume its strike.
Back when the union agreed to suspend its work stoppage, CTU President Jesse Sharkey expressed his belief that the new contract would provide "real and lasting change" for Chicago students and schools.
Included in that deal is a 16% raise for teachers over the next five years. The union also pushed for and won things like enforceable staffing increases and class size guarantees that will go into effect in the coming years, a moratorium on charter school openings, and special education improvements.
Specifically, the deal includes $35 million each year to reduce overcrowded classes, another $10 million for sustainable schools and $25 million over the life of the deal in additional veteran teachers pay.
But even so, many teachers have continued to express concerns about the tentative agreement. Union delegates who approved the deal back in October did so on a relatively close vote of 362 yays to 242 nays.
Some members have also expressed concerns about the contract length – teachers had pushed for a deal shorter than five years – and the proposed make-up days scattered throughout the remainder of the school year.
The school district plans to add back five school days. But rather than tacking those all on to the end of the school year in June, some will be added in November and January – shortening Thanksgiving and winter breaks for schools.
Union leadership had pushed for all 11 strike days to be made up.
A CTU spokesman said the union's voting results could be announced as early as Friday evening.
Contact Matt Masterson: @ByMattMasterson | [email protected] | (773) 509-5431
---
Related stories:
The Week in Review: 11-Day Teachers Strike Comes to an End
Strike-Ending Deal Will Shape Chicago Schools for Years
Chicago Teachers Strike Comes to an End, Classes Resume Friday
CTU Reaches Tentative Deal But Won't Return to Work Thursday
---