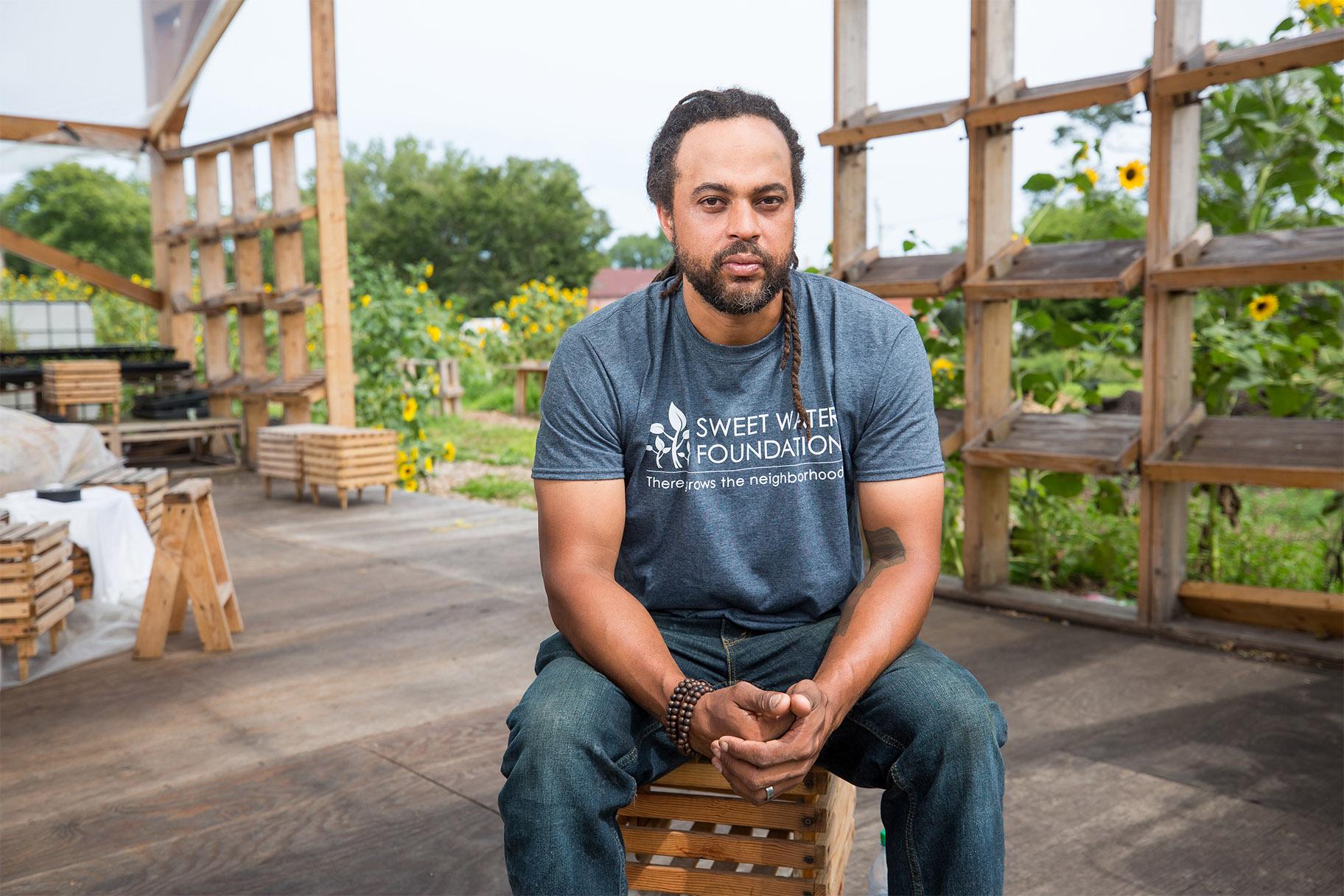 Emmanuel Pratt (Courtesy MacArthur Foundation)
Emmanuel Pratt has gained notoriety for his unique approach to redeveloping struggling neighborhoods in Chicago through a strategy that involves urban farming, carpentry and furniture design.
Now, Pratt, a 2019 recipient of the MacArthur Foundation's prestigious "genius grant," is expanding his work through a new environmental sustainability course being taught this fall at the University of Chicago.
The class, "ReRooting: Cultivating the Ecology of Place," will examine urban ecological theory – the study of how humans and other living organisms relate with each other and their surrounding environment. The course is part of the university's Chicago Studies program, which aims to increase collaboration between the campus and the city.
Like Pratt's holistic approach to urban redevelopment, the course will be nontraditional, with students leaving the classroom to observe neighborhoods in transition. One destination will be the Perry Avenue Commons, a community farm in the Washington Park and Englewood neighborhoods started by Pratt's Sweet Water Foundation.
Built on the site of a former correctional school for boys, the Commons features several acres of gardens, a formerly foreclosed home converted into a house for cooking demonstrations and design workshops, solar-powered art galleries and greenhouses made from shipping containers.
The components that make up the Commons, which were built by Pratt and neighborhood residents, also host career training and apprenticeship workshops for youth and unemployed members of the community.
"When you start to revitalize the neighborhood and people can see you do the work and the labor, combining agriculture and carpentry, that's basically urban ecology," Pratt said during a recent appearance on "Chicago Tonight" after being named as a 2019 MacArthur Fellow.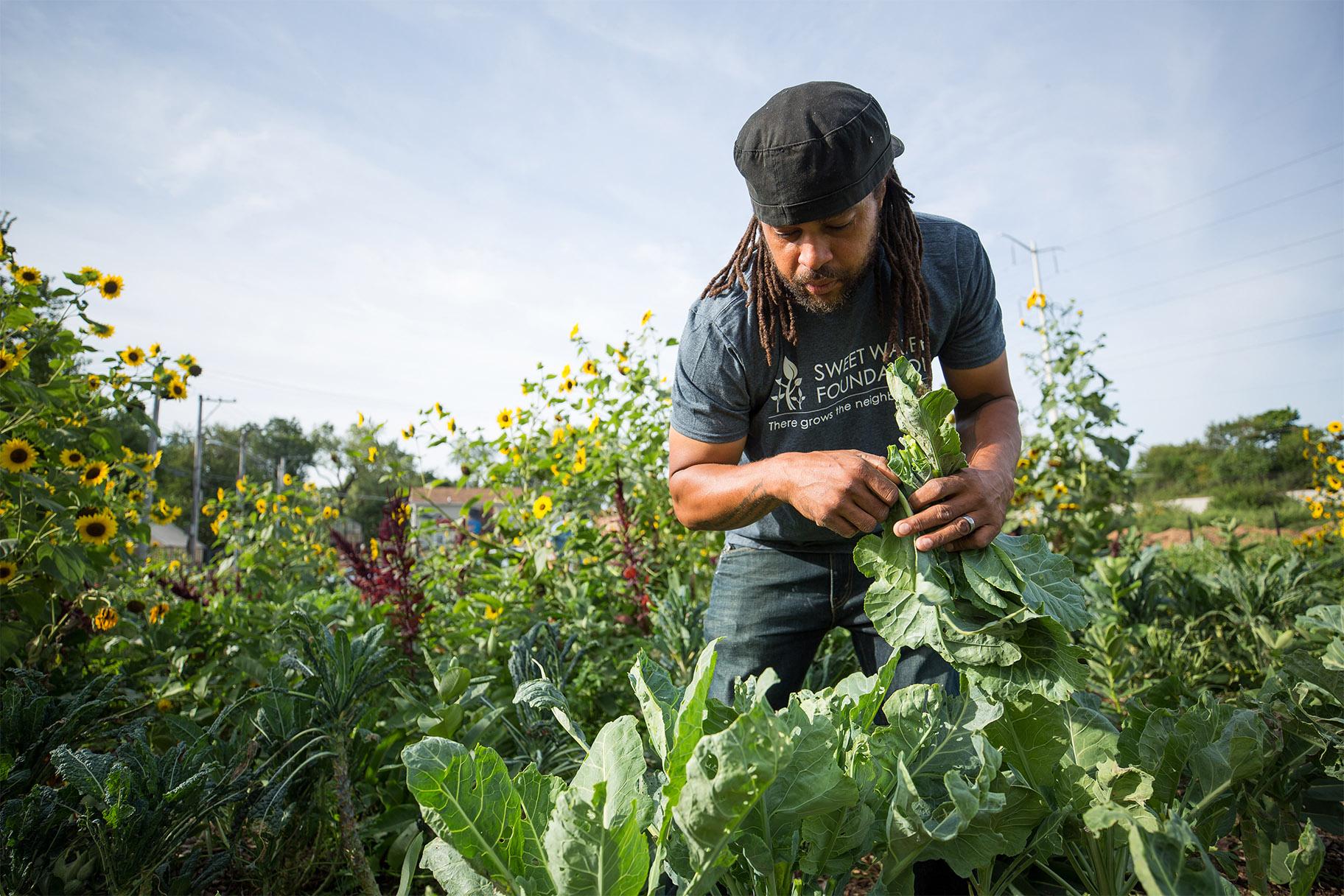 Pratt's approach to redeveloping neighborhoods combines urban gardening, carpentry and other nontraditional techniques. (Courtesy MacArthur Foundation)
Pratt and this year's 25 other fellows will receive a $625,000 stipend distributed over five years to "advance their expertise, engage in bold new work, or, if they wish, to change fields or alter the direction of their careers," according to the MacArthur Foundation. The fellowships are awarded directly to individuals rather than through institutions in keeping with the program's purpose of "encouraging people of outstanding talent to pursue their own creative, intellectual and professional inclinations."
As part of his new UChicago course, Pratt will use the Perry Avenue Commons as a "living laboratory" for field observations, case studies and research on contemporary urban sustainability initiatives, according to the university's course description.
For Pratt, such efforts must go beyond typical development approaches that prioritize profits.
"For us, it's a regenerative neighborhood development strategy," he said on "Chicago Tonight." "It's a shift from a traditional paradigm of a single, bottom line, return on investment [strategy]. It actually looks at a triple bottom line: people, planet and profits."
For more information on Pratt's new course, visit UChicago's Chicago Studies website.
Contact Alex Ruppenthal: @arupp | (773) 509-5623 | [email protected]
---
Related stories:
Two Longtime Chicagoans Among 2019 'Genius Grant' Recipients
10,000 Cabbages Growing in Garfield Park for New 'Living Exhibit'
Free Soil Tests Offered as U. of I. Studies Lead's Impact on Urban Farming
---