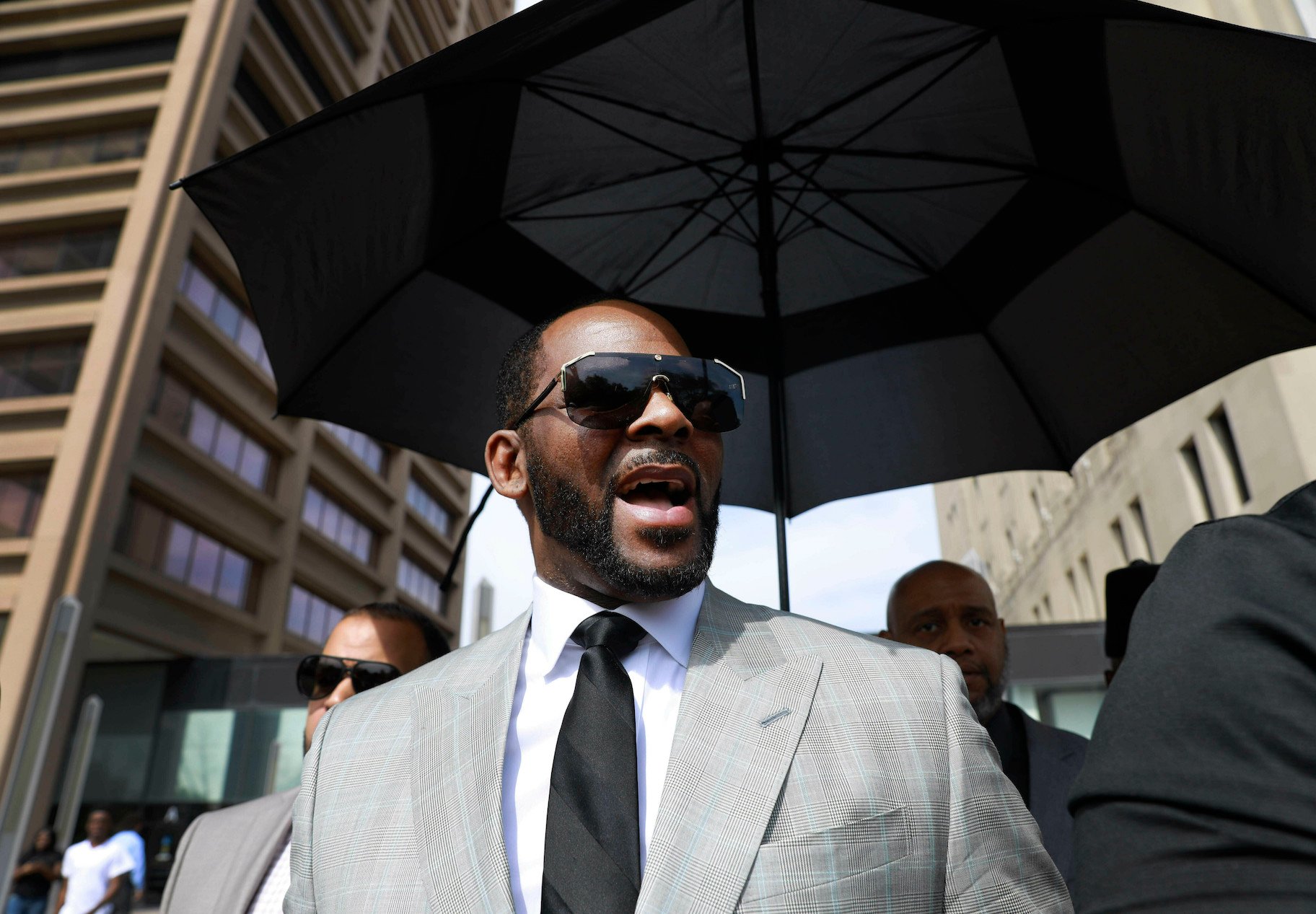 In this June 6, 2019 file photo, musician R. Kelly departs the Leighton Criminal Court building after pleading not guilty to 11 additional sex-related charges in Chicago. (AP Photo / Amr Alfiky, File)
R&B singer R. Kelly failed to appear Wednesday for the latest hearing in his federal child pornography case in Chicago after his attorney said he's been hobbled by a toe infection that's made it difficult for him to move around.
"They had to pull off his toenail to treat it and he's in a walking boot because of that," Kelly's defense attorney Steve Greenberg told reporters after the brief hearing Wednesday. "He didn't want to come today because in the process when you're handcuffed to other inmates and so forth, someone could step on your foot … it could be quite painful."
Greenberg said the injury isn't "life threatening or anything like that," but said his client deserves treatment like anyone else because he has not yet been convicted of any crimes.
This isn't the first time Kelly, 52, has been a no-show for his own hearing. He failed to appear at an August hearing in Cook County court for his ongoing criminal sexual assault cases in that jurisdiction.
The judge in that case was bothered by Kelly's lack of appearance. But U.S. District Court Judge Harry Leinenweber, who is handling Kelly's federal case, waived the singer's appearance Wednesday without issue.
A number of motions had been scheduled before the court Wednesday in the singer's ongoing federal case in Chicago.
Kelly, who remains held at the Metropolitan Correctional Center downtown, has asked Leinenweber to reconsider his decision to deny him bail. He and one of his co-defendants and former business manager, Derrel McDavid, have also filed a motion seeking to dismiss some of the obstruction of justice charges they were hit with over the summer.
"We also think that legally the counts are insufficient, that as a matter of law they won't be able to prove it," Greenberg said of the federal prosecutors' case. "The allegations don't comply with the allegations they need to make in order to make a case for obstruction."
But those motions will likely have to wait until next year to be argued. Kelly isn't due back in court until February 2020, though Greenberg implied there will be more hearings before that date.
In a 13-count indictment filed in July, federal authorities claimed Kelly paid hundreds of thousands of dollars to cover up sexually explicit videos of himself with underage girls and used physical abuse and blackmail to keep his alleged victims from cooperating with investigators.
A separate indictment filed in the Eastern District of New York includes charges of racketeering, kidnapping, forced labor and the sexual exploitation of a child. It alleges Kelly and his managers, bodyguards and other assistants picked out women and girls at concerts and other venues and arranged for them to travel to see Kelly.
Earlier this week, a federal judge handling the singer's divorce case ordered that Kelly's ex-wife will be allowed to use his royalty checks from his music sales to cover the $20,000 Kelly owes her monthly for child support.
Kelly's trial date in this case has already been set for next April, but he faces the possibility of three other trials in Cook County court, New York and Minnesota stemming from other charges
The 40 separate counts Kelly faces across the various jurisdictions carry a combined maximum prison sentence of more than 500 years, meaning he could spend the rest of his life behind bars.
The Associated Press contributed to this report.
Contact Matt Masterson: @ByMattMasterson | (773) 509-5431 | [email protected]
---
Related stories:
R. Kelly is a No-Show at Cook County Court Hearing
R. Kelly Accused of Soliciting 17-Year-Old Girl in Minnesota
R. Kelly Pleads Not Guilty to Sexually Abusing Women, Girls
R. Kelly's Attorney Wants Judge to Reconsider Bond Ruling
Prosecutor: More People Could be Charged in R. Kelly Case
Lifetime to Follow Up on 'Surviving R. Kelly' Docu-Series
R. Kelly Denied Bond, Pleads Not Guilty to New Federal Charges
---