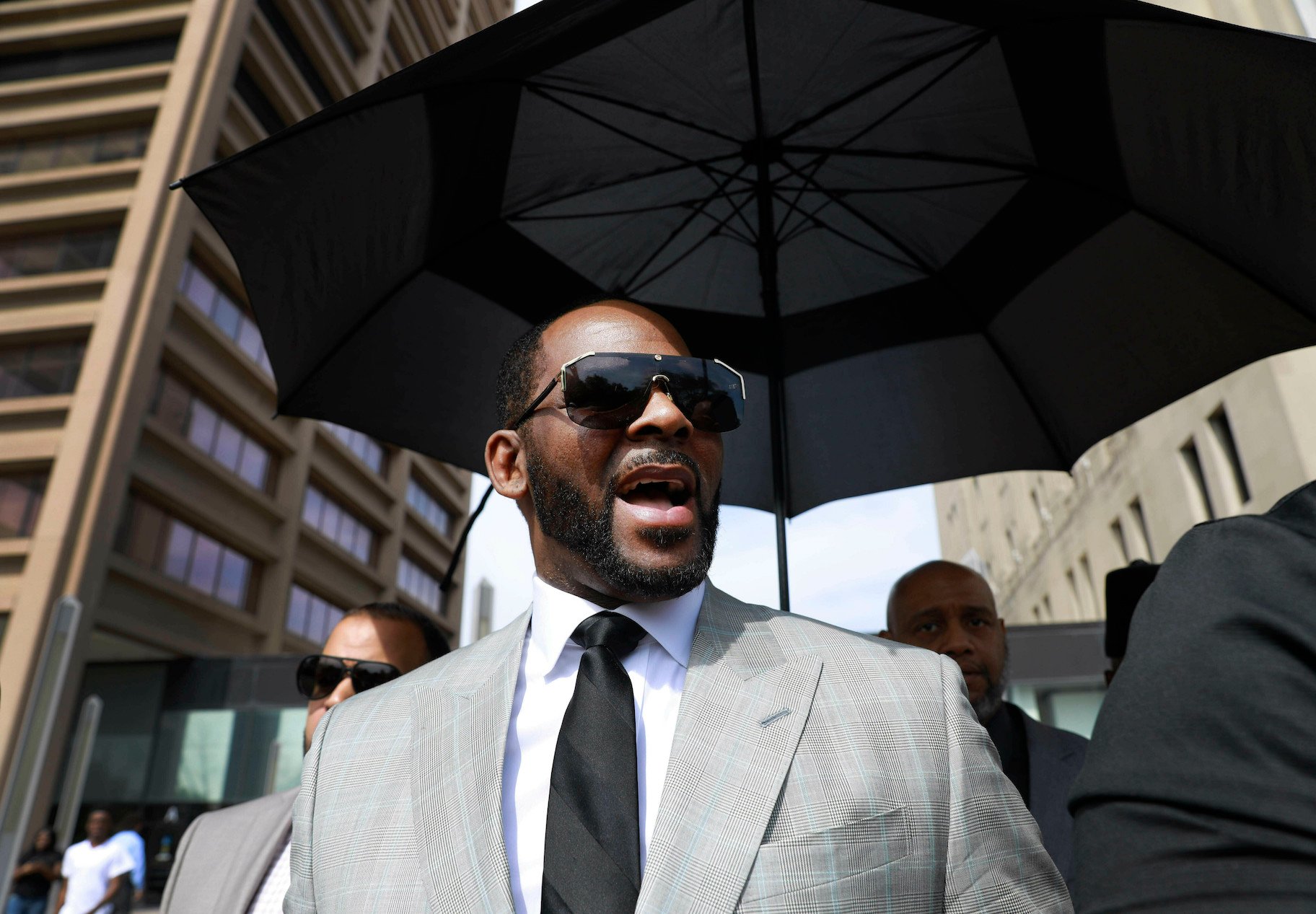 In this June 6, 2019 file photo, musician R. Kelly departs the Leighton Criminal Court building after pleading not guilty to 11 additional sex-related charges in Chicago. A U.S. Attorney's office spokesman says Kelly was arrested Thursday night, July 11 on federal sex-crime charges in Chicago. (AP Photo/Amr Alfiky, File)
R. Kelly won't be allowed to walk free while facing his latest legal battle.
A federal judge in Chicago has ordered the R&B superstar held without bond following new charges filed last week accusing him of paying off underage victims he allegedly sexually assaulted to keep them from cooperating with investigators.
Kelly appeared in a 19th floor courtroom at the Dirksen U.S. Courthouse for his detention hearing Tuesday afternoon donning an orange jail jumpsuit. After he was denied bond, he entered a plea of not guilty on his Chicago charges.
In a 13-count indictment filed Friday in Chicago, federal authorities claim Kelly paid hundreds of thousands of dollars to cover up sexually explicit videos of himself with underage girls and used physical abuse and blackmail to keep his alleged victims from cooperating with investigators.
A separate indictment also unsealed Friday in the Eastern District of New York includes charges of racketeering, kidnapping, forced labor and the sexual exploitation of a child. It alleges Kelly and his managers, bodyguards and other assistants picked out women and girls at concerts and other venues and arranged for them to travel to see Kelly.
Arguing for limited bail, his attorney Steve Greenberg told U.S. District Court Judge Harry Leinenweber his client has no reason to flee jurisdiction and no money to pay off any possible bail after declaring bankruptcy years ago and losing the rights to his music.
Greenberg dismissed several of Kelly's opportunists as adults looking to make a buck off a celebrity.
"There's no evidence he's a risk to minors at all at this point," he said.
He also argued that many of the government's claims date back decades, to which Assistant U.S. Attorney Angel Krull replied: "So what?"
"There is no statute of limitations of producing child porn and enticing a minor into performing sexual activity," Krull said, adding that the "vast majority" of the 12 victims in these cases were minors at the time of the alleged offenses. "Being attracted to young girls is not something you can turn on and turn off like a light switch."
Krull said the government has "overwhelming" evidence of Kelly's abuse, including three videotapes they say depict the singer sexually abusing a 14-year-old girl. One of those tapes was involved in the 2008 child pornography trial in which he was acquitted, but the other two have never before been disclosed and show close-ups of Kelly's face and specific rooms inside his home.
Both the New York and Chicago indictments accuse Kelly of "manipulative and controlling behaviors," claiming he threatened and intimidated victims into remaining silent.
"These victims fear him," Krull said.
These are just the latest legal challenges for the embattled singer.
Kelly was charged earlier this year in Cook County court with multiple felony sexual assault charges that span more than a decade. At that time, his attorney described Kelly's financial situation as "a mess" after being dropped by his record label and facing outstanding child support payments.
He spent a weekend in Cook County Jail after being held on $1 million bail in that case, but was eventually bailed out by a female acquaintance who put up the $100,000 necessary for him to leave.
On Monday, celebrity attorney Michael Avenatti – who currently faces federal extortion charges – claimed Kelly "bought his acquittal" in that trial by paying $2 million to his alleged victim to keep them from testifying. Avenatti said he now represents three of Kelly's alleged victims.
Kelly has remained held in federal custody since his arrest last week.
Along with Kelly, two of his associates, Derrel McDavid and Milton Brown, have also been charged in this case, with McDavid accused of helping obstruct justice.
Greenberg again denied any claim that Kelly has obstructed justice, telling reporters after the hearing that if anyone did use Kelly's money to pay people off, his client wasn't aware of it.
"The prosecutors said the people previously tampered with witnesses on his behalf, they didn't say it was at his behest," he said. "They didn't say that he knew anything about it."
The Associated Press contributed to this report.
Contact Matt Masterson: @ByMattMasterson | (773) 509-5431 | [email protected]
---
Related stories:
R. Kelly's Lawyers Ask Judge to Dismiss Sex Abuse Lawsuit
Alleged Sex Tape in R. Kelly Case Turned Over to Defense
Judge Says R. Kelly's Lawyers Have Week to Answer Lawsuit
R. Kelly Pleads Not Guilty to New Sexual Abuse Charges
In 'Soulless,' Jim DeRogatis Details 'The Case Against R. Kelly'
---