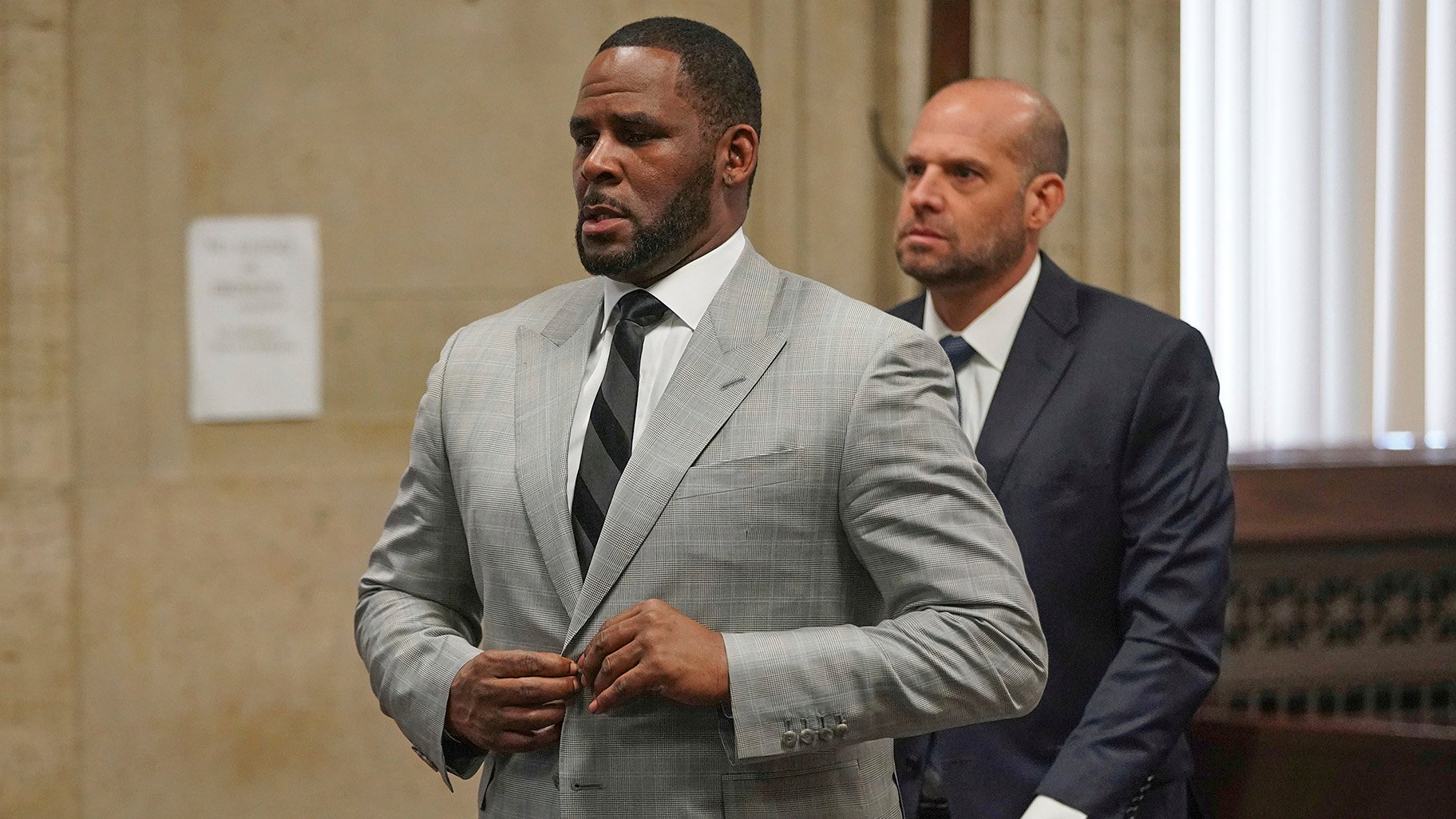 In this June 6, 2019 file photo, singer R. Kelly appears at a court hearing before Judge Lawrence Flood in Chicago. (E. Jason Wambsgans / Chicago Tribune via AP, Pool)
Cook County prosecutors are asking a judge to increase bond requirements for R&B superstar R. Kelly, one month after he was arrested on a pair of federal indictments in Illinois and New York. But Kelly, who was expected to appear in court Thursday morning, wasn't there to be heard on that request.
Kelly refused transport to the Leighton Criminal Court Building for the hearing, according to Assistant Cook County State's Attorney Jennifer Gonzalez. Defense attorney Steve Greenberg said that claim is not "100% accurate," but declined to give a specific reason for his client's absence other than saying it's a "big undertaking" to transport Kelly.
Cook County Judge Lawrence Flood, who has been trying to move this case along despite a wave of new criminal indictments filed against Kelly in other jurisdictions, was not pleased.
"He has to be here," Flood told Greenberg.
Gonzalez said transportation had been organized for Kelly from the federal correctional center where he's being held to the Cook County courthouse for Thursday's hearing.
The judge delayed ruling on Gonzalez's bail motion until next month to give Greenberg a chance to respond.
Kelly faces four counts of aggravated criminal sexual assault, criminal sexual assault and aggravated criminal sexual abuse in Cook County. Each are Class X felonies which carry a six-year minimum sentence and up to 30 years per count.
He's faced those charges since February, but he's since been indicted in multiple other jurisdictions across the country. He's facing additional federal sex crime charges in Illinois as well as charges of racketeering, kidnapping, forced labor and the sexual exploitation of a child in New York.
Kelly has pleaded not guilty and has denied any wrongdoing.
But a federal judge in Chicago ordered the singer to he held without bail following those indictments, marking Kelly's most significant stint in jail despite decades of serious criminal allegations.
Just this month, Minnesota prosecutors filed prostitution and solicitation charges against Kelly stemming from an alleged 2001 incident in which he invited a 17-year-old girl to his hotel room and paid her to dance naked.
Gonzalez on Thursday said her office has turned over about 90% of its discovery evidence to Kelly's attorneys. She said there have been conversations about how to proceed on the various cases between the different jurisdictions, but it's not yet clear where Kelly could face trial first.
"Everyone wants to go first," Greenberg said.
Despite the other cases, Flood wants to ensure the case before him moves at a brisk pace. Gonzalez suggested setting Kelly's next court date in November, but the judge demanded an earlier appearance.
The singer is now due back in court on Sept. 17, and Flood expects regular monthly appearances until the case moves to trial.
"I'm not gonna drag these cases out," he said. "At this particular point in the case … we're proceeding ahead with these cases."
The Associated Press contributed to this report.
Contact Matt Masterson: @ByMattMasterson | [email protected] | (773) 509-5431
---
Related stories:
R. Kelly Accused of Soliciting 17-Year-Old Girl in Minnesota
R. Kelly Pleads Not Guilty to Sexually Abusing Women, Girls
R. Kelly's Attorney Wants Judge to Reconsider Bond Ruling
Prosecutor: More People Could be Charged in R. Kelly Case
Lifetime to Follow Up on 'Surviving R. Kelly' Docu-Series
R. Kelly Denied Bond, Pleads Not Guilty to New Federal Charges
---