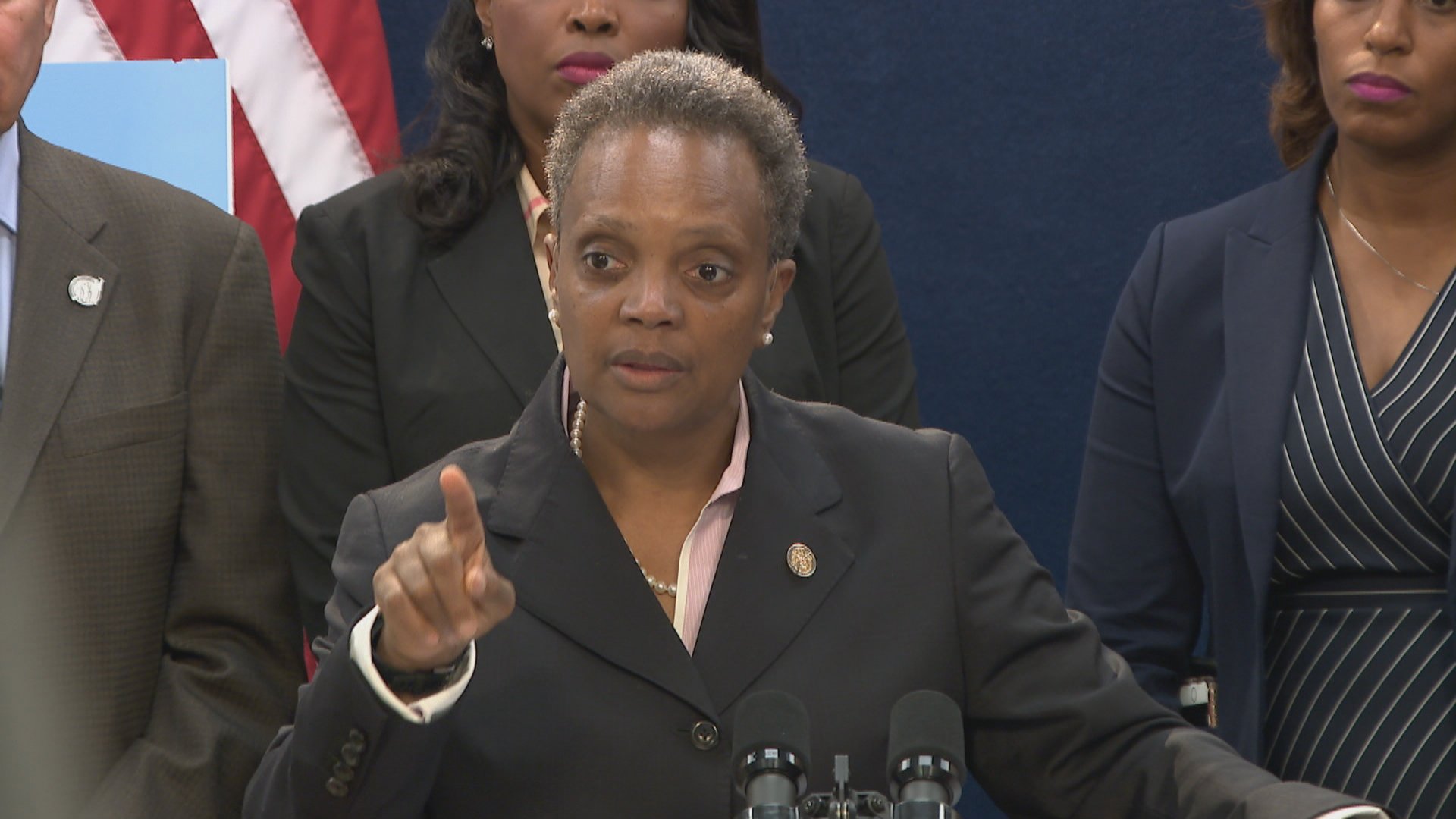 On Monday, Oct. 7, 2019, Mayor Lori Lightfoot said the Chicago Teachers Union must offer a comprehensive response to the city's contract proposal before bargaining can move forward. (WTTW News)
With the clock ticking down toward a potential teachers strike, Mayor Lori Lightfoot on Monday expressed her "significant concern" that Chicago Teachers Union leadership isn't participating properly in ongoing contract negotiations.
Lightfoot said the union has not provided a "comprehensive counteroffer" to the city's contract proposal since she took office 141 days ago. Teachers will go on strike Oct. 17 if an agreement between the sides has not been reached.
CTU leaders have called for written assurances in a new deal to limit classroom overcrowding and bring on additional nurses, case managers and social workers. But the mayor said they've not responded to more substantive issues like compensation or health insurance.
"This morning we are here to express our significant concern," Lightfoot told reporters Monday morning. "I'm concerned that CTU leadership is not exhibiting this sense of urgency needed to move these negotiations forward in a substantive way to avoid a strike, to advance our shared mission of serving Chicago's youth."
Lightfoot said that, by all accounts, the city's current offer on the table is the "best offer provided to CTU in its history." That includes a 16% pay raise over the next five years for teachers, which they say would bring the average teacher's salary within CPS up to almost $100,000.
But the union has been consistent in its message that the contract is about more than money. While Lightfoot and Chicago Public Schools CEO Janice Jackson have pledged to hire more school staffers, CTU leadership wants those promises codified in any new deal they agree to.
And while teachers' salaries will increase under the proposed deal, CTU President Jesse Sharkey said the union has hundreds of paraprofessionals and teaching assistants who make less than $30,000 per year.
Lightfoot said the city has revised its offer several times during negotiations, but CTU has refused to back down from any of the initial demands they made when bargaining began back in January.
"That's not how bargaining works," Lightfoot said, claiming the union has spent more time preparing for a strike than working to prevent one.
"We can't negotiate with ourselves," added Chicago Board of Education President Miguel del Valle, who said he would join the negotiation process as soon as CTU turns in a comprehensive counteroffer. "CTU has to be a partner in that process. They're an important partner and I think as I said before this agreement is within reach."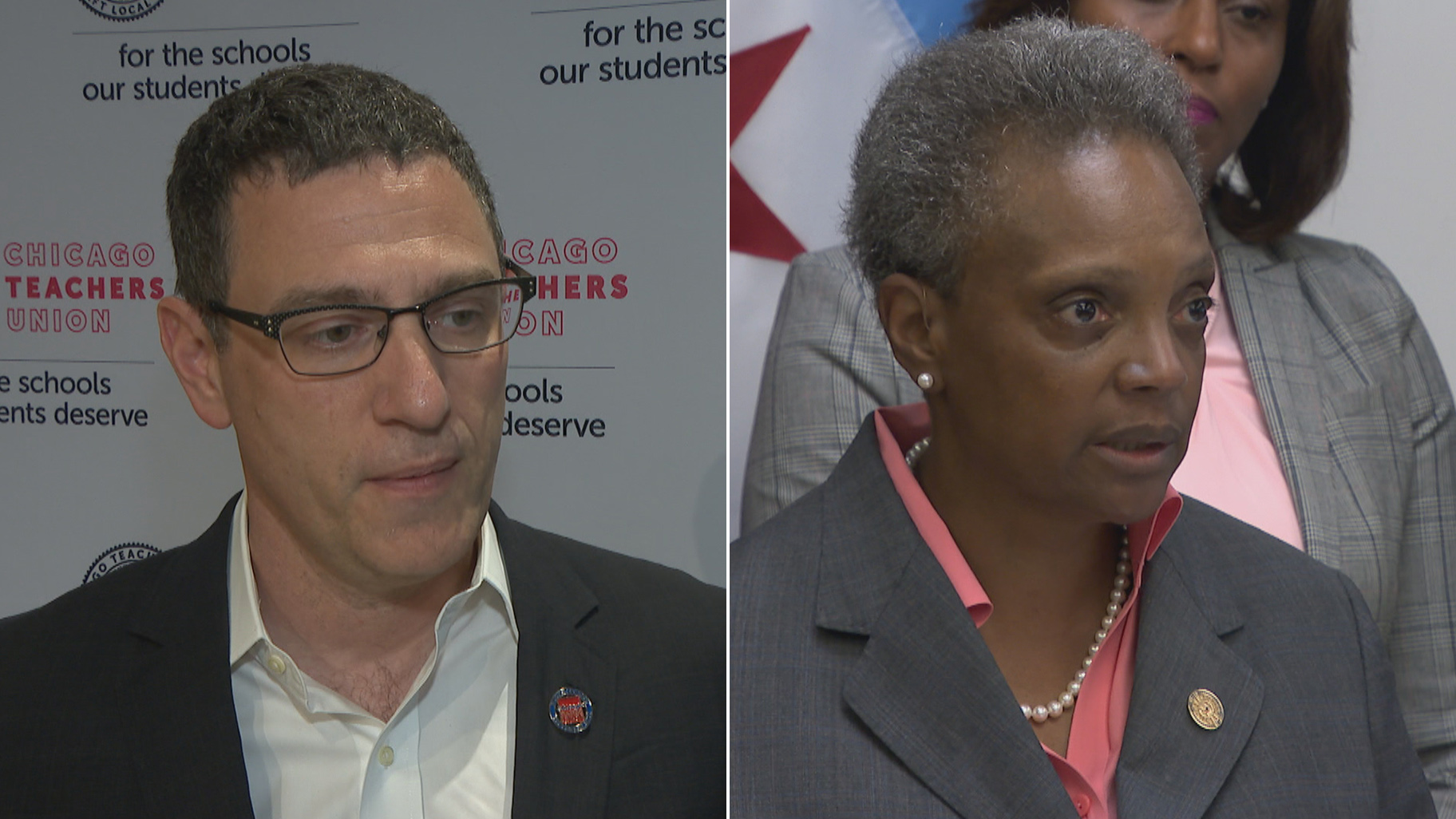 Chicago Teachers Union President Jesse Sharkey, left, and Chicago Mayor Lori Lightfoot speak about teacher contract negotiations on Monday, Aug. 26, 2019.
Lightfoot accused CTU leaders of speaking more to the media than to the city about its demands, and said her negotiators are ready to meet with the union 24/7 until a deal is reached.
Beyond teachers, CPS support staff including speech, occupational and physical therapists, special education assistants and bus drivers, as well as Chicago Park District employees, all of whom are represented by SEIU Local 73, may also go on strike Thursday, Oct. 17.
A strike would be the CTU's third work stoppage since 2011. Along with the seven-day strike in 2012, the union went on a one-day strike in April 2016.
In response, the CTU turned blame back toward the city and Board of Education, saying they have "done more stalling and stonewalling during negotiations than actual bargaining."
"Out of one side of their mouth, they're talking about what they want to do to help families," Monroe Elementary School teacher Lori Torres in a statement, "but they bring none of that to the bargaining table in terms of in staffing, class size and things that matter to all of the families that have children in Chicago's public schools."
Contact Matt Masterson: @ByMattMasterson | [email protected] | (773) 509-5431
---
Related stories:
Chicago Teachers Union Sets Oct. 17 Date for Strike If No Deal Reached
Teachers, Support Staff, Park District: A City on Triple Strike?
As Teachers Strike Looms, Principals Group Says CPS Misrepresented Its Views
Chicago Teachers Union Members Vote to Authorize Strike
---